World Series in Ephrata begins Saturday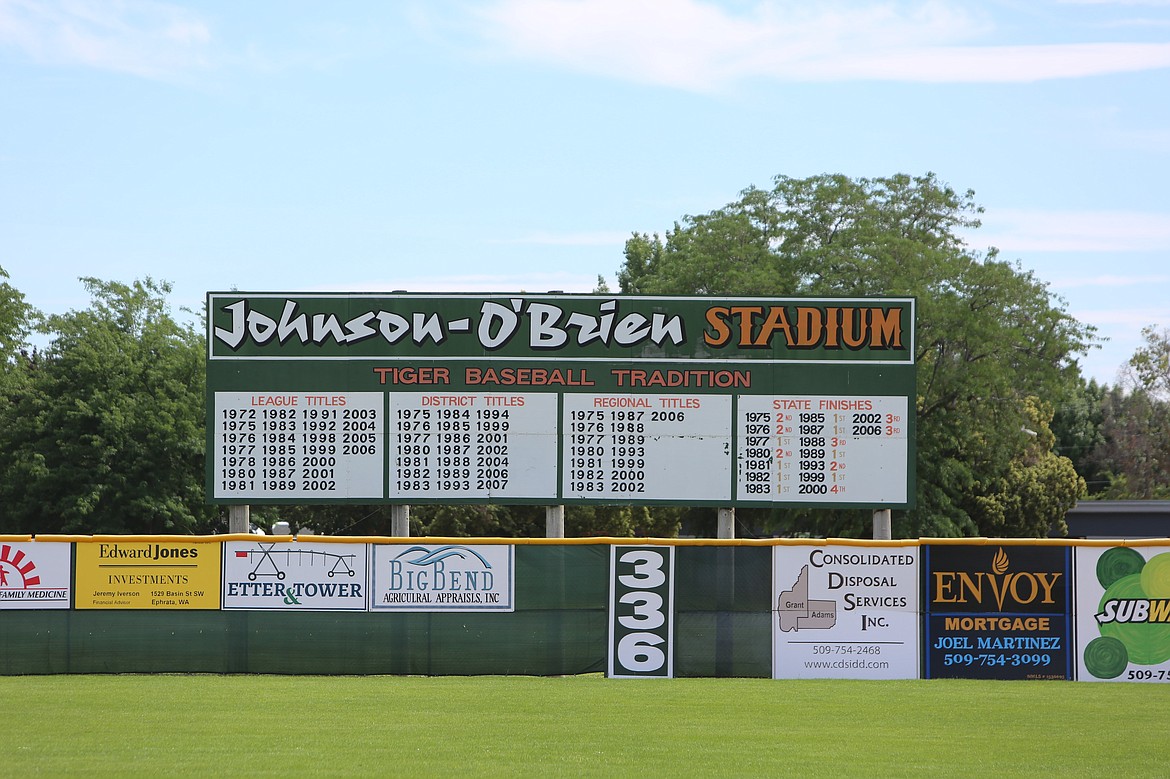 Johnson O'Brien Stadium at Ephrata High School will play host for the 2022 16-18U Babe Ruth World Series over the next nine days.
Ian Bivona/Columbia Basin Herald
EPHRATA – The 2022 16-18U Babe Ruth World Series makes its way to Ephrata this weekend, bringing in teams from around the United States.
The World Series, hosted by the Columbia Basin Riverdogs at Johnson O'Brien Stadium, gives players the chance to play against competition they've never seen before.
"We come in not knowing much about who we're playing," Riverdogs Head Coach Jason Laugen said. "We haven't played any of these teams. It's hard to really scout them because we don't know anybody that they've played."
Laugen said his team has been on a bit of a hot streak as of late, including a strong performance at recent tournaments in Boise, Idaho and Tri-Cities.
"We've been doing pretty well," he said. "We went down to Boise a few weeks ago and we finished second in the Northwest Nazarene Tournament out of 23 teams. We went 5-1 in that tournament, we're playing some pretty good baseball. Then we went down to Tri-Cities a couple weekends ago, and won that one, finishing 4-0. I think the smallest margin of victory we had was seven runs."
The Riverdogs are one of 10 teams in Ephrata for the 16-18U World Series, with other teams from Washington, Alabama, Oregon, Florida, Missouri, Pennsylvania, Connecticut and California. With teams from around the country, Laugen said that it can be a challenge toward preparation.
"You come in knowing that they're all their state champions in their respective leagues," Laugen said, "they're good teams. It's not necessarily about the opponent and who you're playing, it's about the opponent within. And if these guys can conquer their own demons and their own doubts, then there's not going to be a team that's really going to roll over us."
Team arrival day was on Thursday, with the Opening Ceremonies and warm-up games taking place on Friday. Pool play will begin on Saturday, running through August 10. As the host team the Riverdogs gain an advantage in making the schedule, as games are scheduled from mornings to late evenings.
"It's an advantage that you have as being the home team, you schedule your games for the end of the day," Laugen said. "So, we're playing in cooler temperatures."
Along with a scheduling advantage, there is something to be said for playing in your hometown.
"I mean, you sleep in your own bed every night," Laugen said. "... Our boys, they get to sleep in, their game schedule is set."
The 10 teams are divided into two divisions, the American and the National. Each team will play four games of pool play against the other teams in their division before bracket play begins.
The Riverdogs, in the National Division, will have their first matchup on Saturday at 8 p.m., facing off against the KUBA Kings from the Middle Atlantic region. They'll have other matchups on Sunday at 8 p.m. against the Northwest Bakersfield Waves from the Pacific Southwest region; on Monday at 7 p.m. against the Stamford Thunder from the New England region; and on Wednesday at 7 p.m. against Farmers Baseball, the Northern Washington state champion. The complete schedule can be found at https://www.baberuthworldseries.org/#/event/447.
"The excitement of going on a long trip to play baseball, and meeting new people," Laugen said of the excitement a World Series brings. "I know that there are kids in the past that have played in a World Series and met kids from other teams and they've built lifelong friendships."
Ian Bivona may be reached at ibivona@columbiabasinherald.com.
Recent Headlines
---