Moses Lake celebrates National Night Out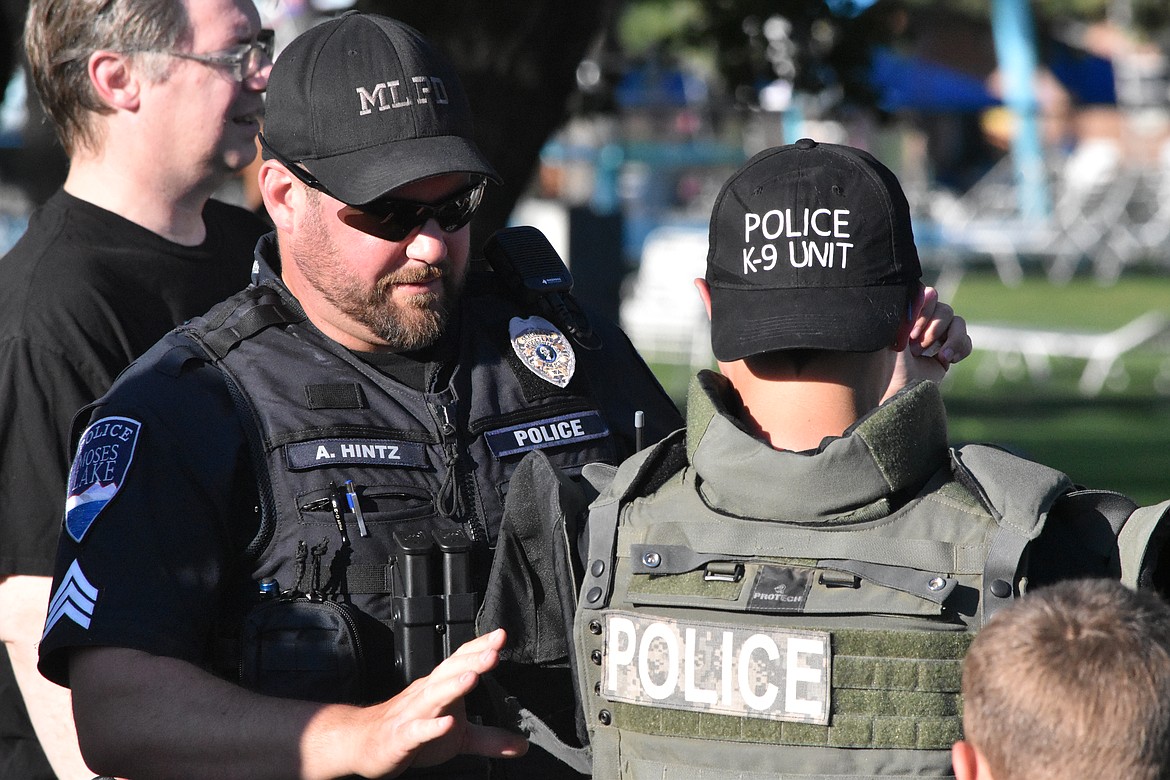 Moses Lake Police Officer Aaron Hintz helps a child try on a vest during the Moses Lake National Night Out. The annual event allows law enforcement and other first responders to get to know the public they serve in a lower.
REBECCA PETTINGILL/COLUMBIA BASIN HERALD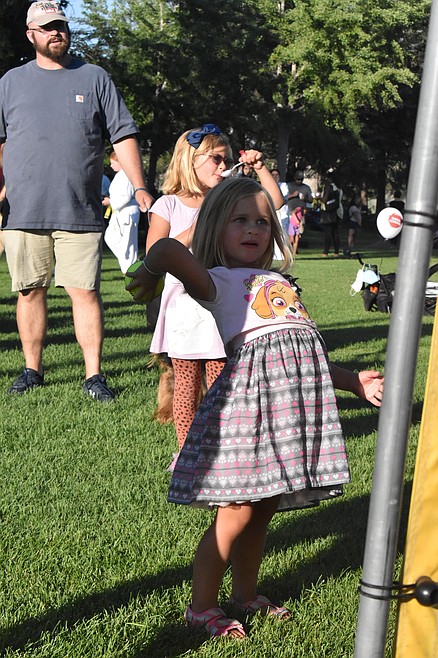 A young girl throws a ball at the target to dunk MLPD Chief Kevin Fuhr at the dunk tank.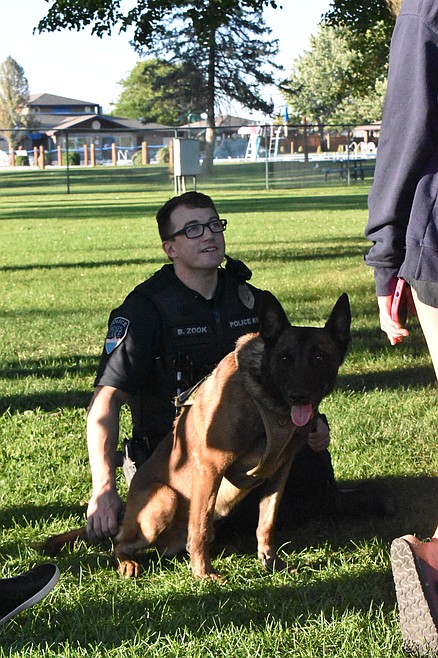 Moses Lake Police Officer Brad Zook and K-9 Rex were at Moses Lake National Night out Aug. 2.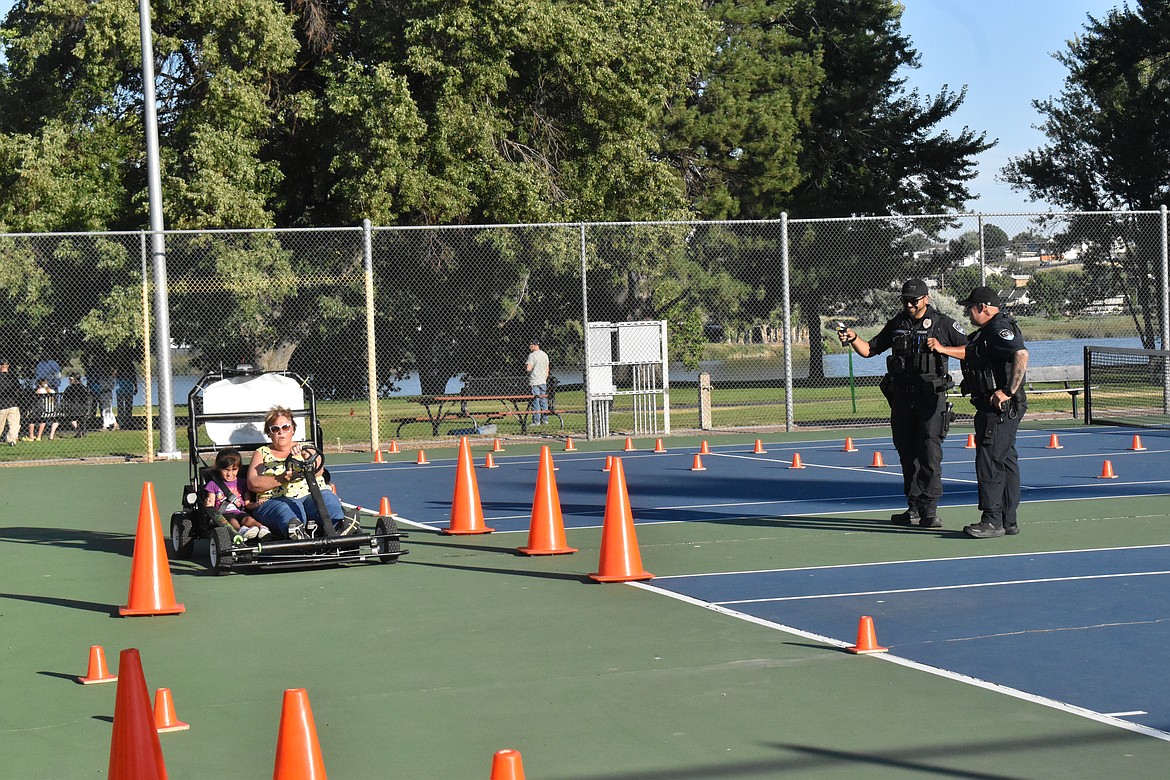 There was a small track set up with a GoKart for officers to 'speed check' attendees driving the kart.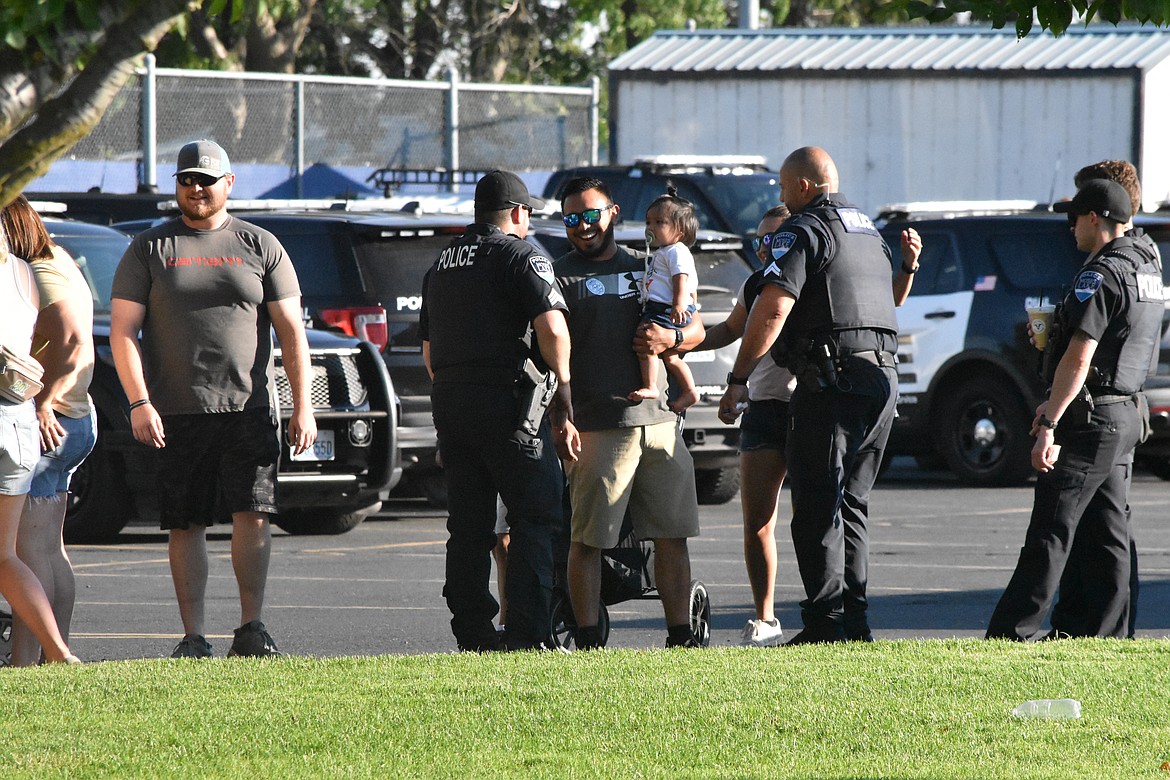 National Night Out gives communities the opportunity to get to know local law enforcement and build positive relationships.
Attendees of Moses Lake National Night Out got the opportunity to try on police gear and get inside an armored vehicle .
Previous
Next
by
REBECCA PETTINGILL
|
August 3, 2022 4:03 PM
MOSES LAKE - National Night Out returned to Moses Lake Tuesday night at McCosh Park for the first time since 2019.
"It's just all about us and our citizens," said Moses Lake Police Chief Kevin Fuhr.
Fuhr and Grant County Sheriff Ryan Rectenwald were the two victims in the dunk tank at the annual event that allows law enforcement officers to connect with the communities they serve, although if you asked them, it was their favorite part of the event.
Fuhr and Rectenwald mirrored each other in that the happiness that being dunked brought to the children was what they enjoyed.
"Anytime you can put a smile on a kid's face, and have them come out for an event like this, it's awesome," said Rectenwald.
First responders in attendance included the Moses Lake Police Department, City of Moses Lake Fire, Grant County Fire District 5 and different divisions of the Grant County Sheriff's Office.
Fuhr said over the years it has not been hard to keep National Night Out free for the public. He said there has been great community involvement with people stepping up to volunteer.
"Every booth we have here is people volunteering their time, giving their products out," said Fuhr.
There were more than a dozen other booths, each giving out different goodies. The Simplot trailer was serving french fries, there was a snow cone booth and even a table with hotdogs.
Many different groups participated as well, including but not limited to, Moses Lake Community Health Center, Community Health Plan of Washington, OIC of Washington and Moses Lake Community Coalition.
"The most important thing is the interaction that we get to have with our community when we're not dealing with crime, when we're not dealing with people that are victims of crimes, or suspects of crimes," said Fuhr. "It gives us an opportunity to meet people at their level, at our level, just human beings having a good time getting to know each other."
Rectenwald agreed and said it also gives law enforcement a chance to show their equipment and what they do, to the people who fund it, i.e. taxpayers.
"We will hold this every year from here on out, barring any other viruses," said Fuhr.
Rebecca Pettingill may be reached at rpettingill@columbiabasinherald.com.
Recent Headlines
---