David Abraham Adame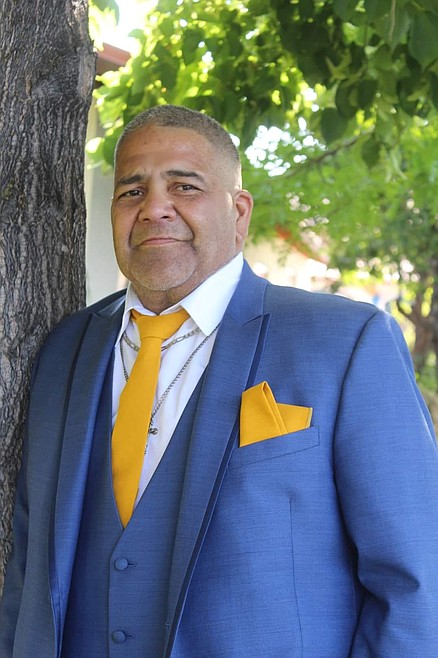 COURTESY THE ADAME FAMILY
David Abraham Adame was born in Moses Lake, Washington on June 19, 1964 to Conception & Maria Estela Adame. He was called home on July 28th, 2022.
As a child, he grew up in West Lake with his 7 brothers and sisters. They were better known as "The Westlake Water Dawgs". He was a wild child and very smart. He was his mom's baby and she made sure he always felt extra special. He graduated from Moses Lake High School class of 1982 and he obtained his Certificate as a Doctor of Motors that same year.
He was an amazing Dad to his 4 children: Johnny, Stephanie (Eddie), Victoria and Roni. He was an awesome Grandpa to his 12 grandchildren: Liliana, Nico, Aleyah, David, Madden, Natalie, Coraline, Zion, Gabriel, D'Kari, Draycen and Ezekiel.
He loved dinner dates with his family, mowing his daughters' lawns, Chico's pizza, animals, playing the harmonica, spoons, drums, guitar, and singing. He enjoyed working outdoors, using his hands and collecting clocks, keys, tools, bikes, helmets, watches, and hot wheels.
He was a very humble and kind man. The simple things filled his heart with great joy. He was the type of man that would give you the shirt off his back to help you, that's just who he was.
He told the best stories throwing in sound effects and elaboration wherever he felt it was needed. He could make you laugh like no one else. He wholeheartedly enjoyed life and never complained.
He will be greatly missed by his children, grandchildren, girlfriend carmelita and all his family and friends.
He is preceded in death and welcomed into heaven by his parents, his brothers Oscar Martinez, Cesar Adame and Javier Adame. And his nephews Rolando Adame, Gabriel Adame and Bryce Adame.
He will be deeply missed and forever in our hearts. We love you Dad.
Services will be held at Our Lady of Fatima Catholic Church in Moses Lake, Washington. Visitation will begin at 9:00 a.m., rosary at 9:50 a.m, mass at 10:30 a.m. followed by a burial at Pioneer Memorial Gardens in Moses Lake, Washington. There will be a luncheon at Zamora Park in Moses Lake following the burial.
Please express your thoughts and memories for the family at www.kayserschapel.com. Arrangements are under the care of Kayser's Chapel of Memories.
Recent Headlines
---