Rectenwald to remain as interim Grant Co. sheriff through Nov.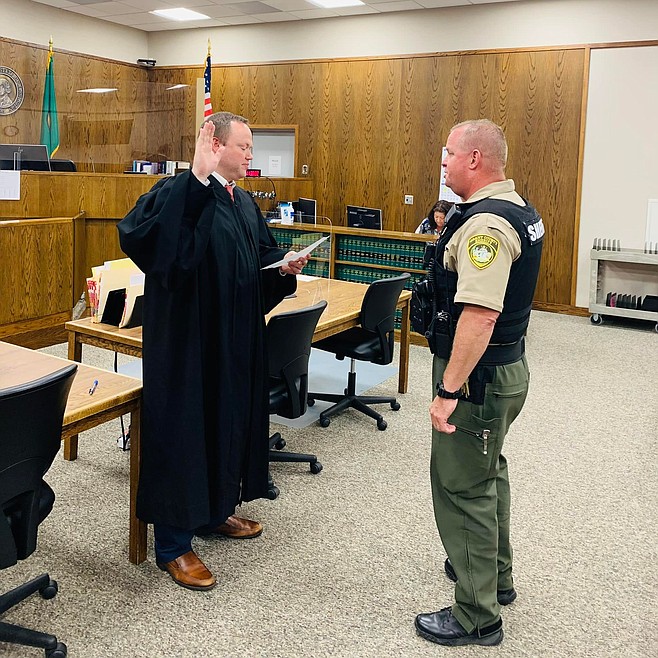 Ryan Rectenwald, right, was appointed by the Grant County Commissioners Monday to continue as interim Grant County Sheriff.
COURTESY PHOTO/GCSO
by
CHERYL SCHWEIZER
Staff Writer
|
August 1, 2022 3:58 PM
EPHRATA — Ryan Rectenwald will continue as interim Grant County Sheriff through mid-November when the 2022 election is certified. Rectenwald's appointment to the interim position was approved unanimously by the Grant County Commissioners Monday.
Rectenwald had been serving as sheriff since July 1, when former sheriff Tom Jones retired. Jones announced earlier this year he was not running for reelection. Three people are running for the position, including Joe Kriete, currently the chief deputy for investigations, former Mattawa Police Chief Joe Harris, and James Baker, a Moses Lake-area farmer.
State law sets up a procedure for appointing a replacement when an elective office is vacant. The former occupant's political party recommends candidates to replace the outgoing official to the county commissioners, and the commissioners make the final appointment.
Jones ran as a Republican, so the Grant County Republican party was asked to nominate up to three candidates for the commissioners to choose from. Rectenwald was the only candidate for the sheriff's job.
In the letter of recommendation submitted to the commission, Republican party leaders said the position originally attracted two candidates, but one withdrew.
Because Jones retired in July and the Republican party didn't nominate a successor until August, the commissioners appointed Rectenwald to fill the job for the month of July.
Speaking with commissioners Monday morning, Rectenwald said he hadn't sought elective office.
"The thought crossed my mind a little bit, but then it went away," he said. "I never thought this would happen."
Rectenwald started his law enforcement career with GCSO as a corrections officer, he said, after eight years in the armed services. He worked for the Ephrata Police Department as a patrol officer and detective before joining GCSO, he said. He was a patrol deputy, detective, chief deputy with GCSO, and was the undersheriff before taking over the interim sheriff job.
The sheriff's job, in his opinion, is to work for the best interests of Grant County residents and sheriff's office staff, Rectenwald said. If the personnel at the sheriff's office understand their role, he said. and do the right things for the right reasons, decisions aren't that hard.
Rectenwald said he's interested in looking forward, not back. While he is sheriff he plans to work on recruitment of new staff and retention of current staff, he said, and has some ideas for other initiatives.
Recent Headlines
---