Lowriders by the lake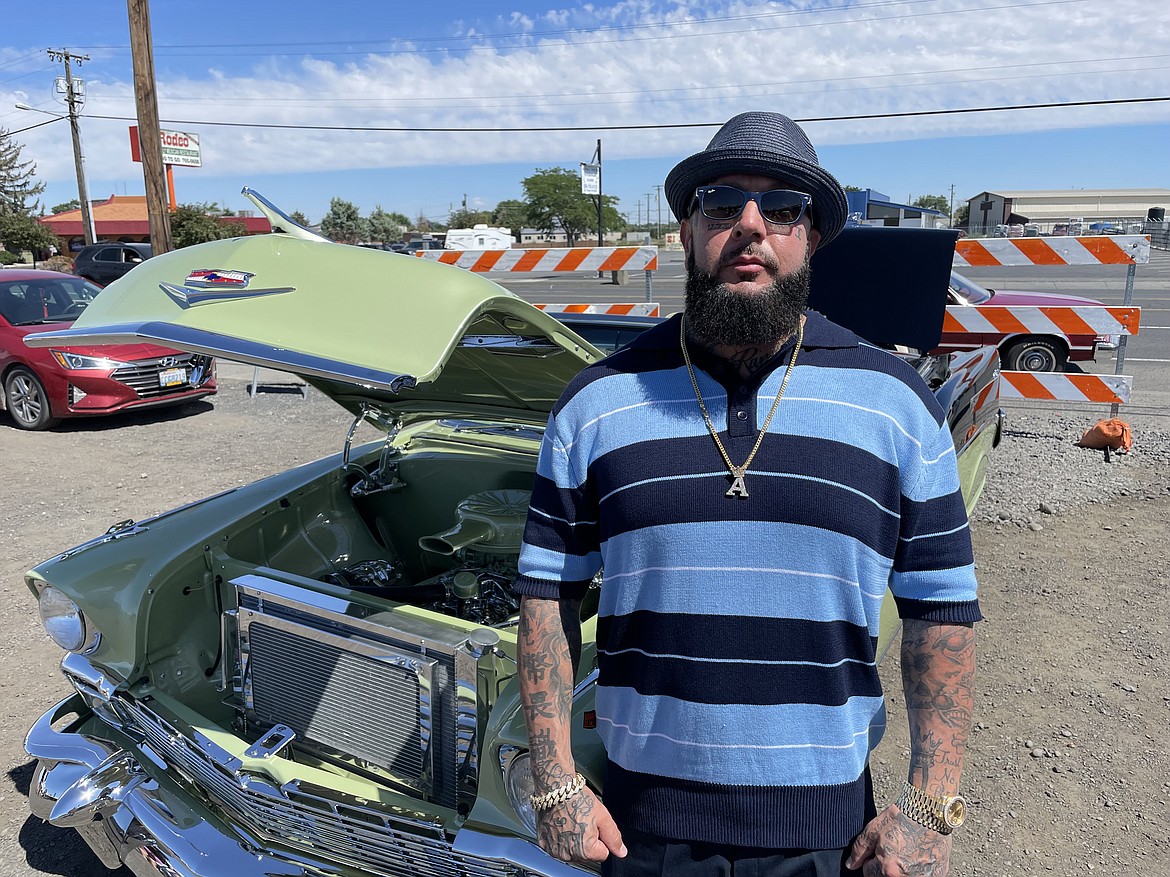 Dillon Arcega standing next to his customized 1956 Chevrolet Bel Air lowrider during the grand opening celebration at EDUBB C/S in Moses Lake on Saturday.
CHARLES H. FEATHERSTONE/COLUMBIA BASIN HERALD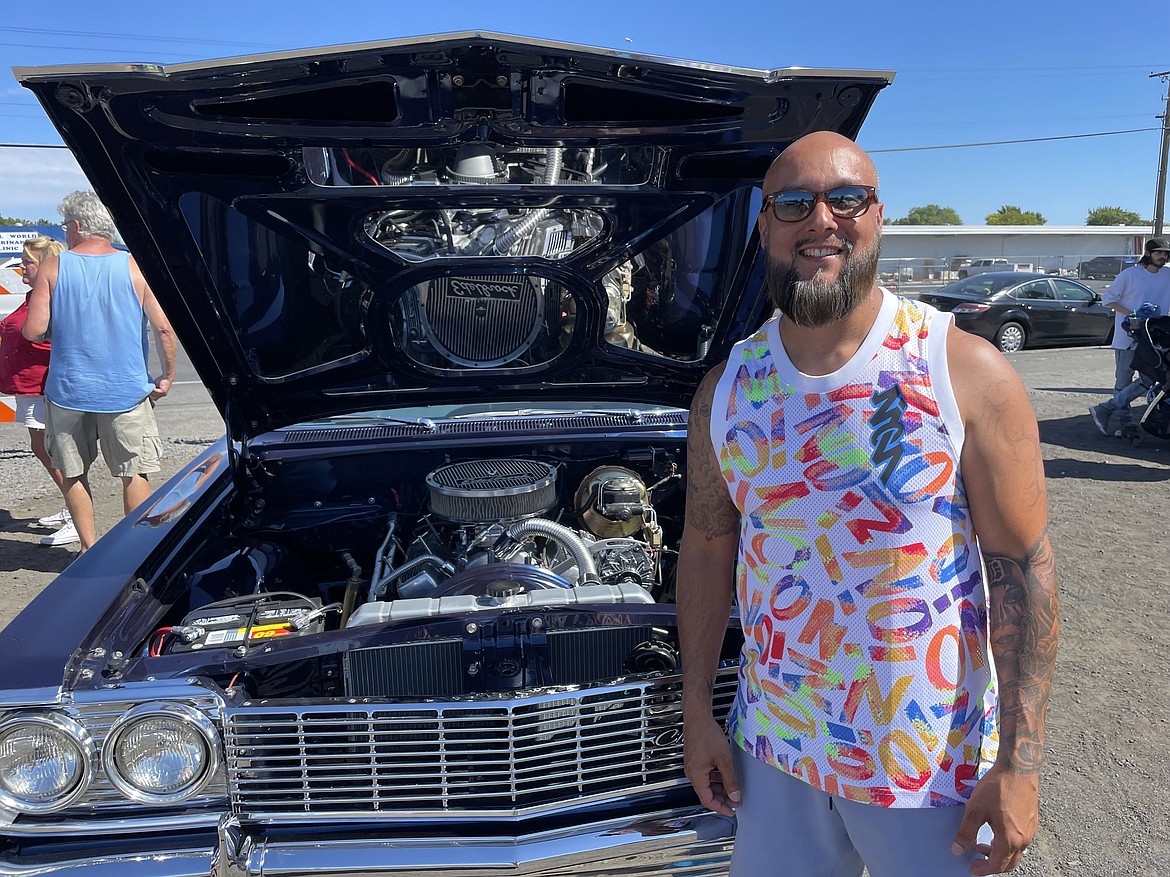 Derek Martinez with his customized 1964 Chevrolet Impala lowrider, complete with mirrors on the underside of the hood.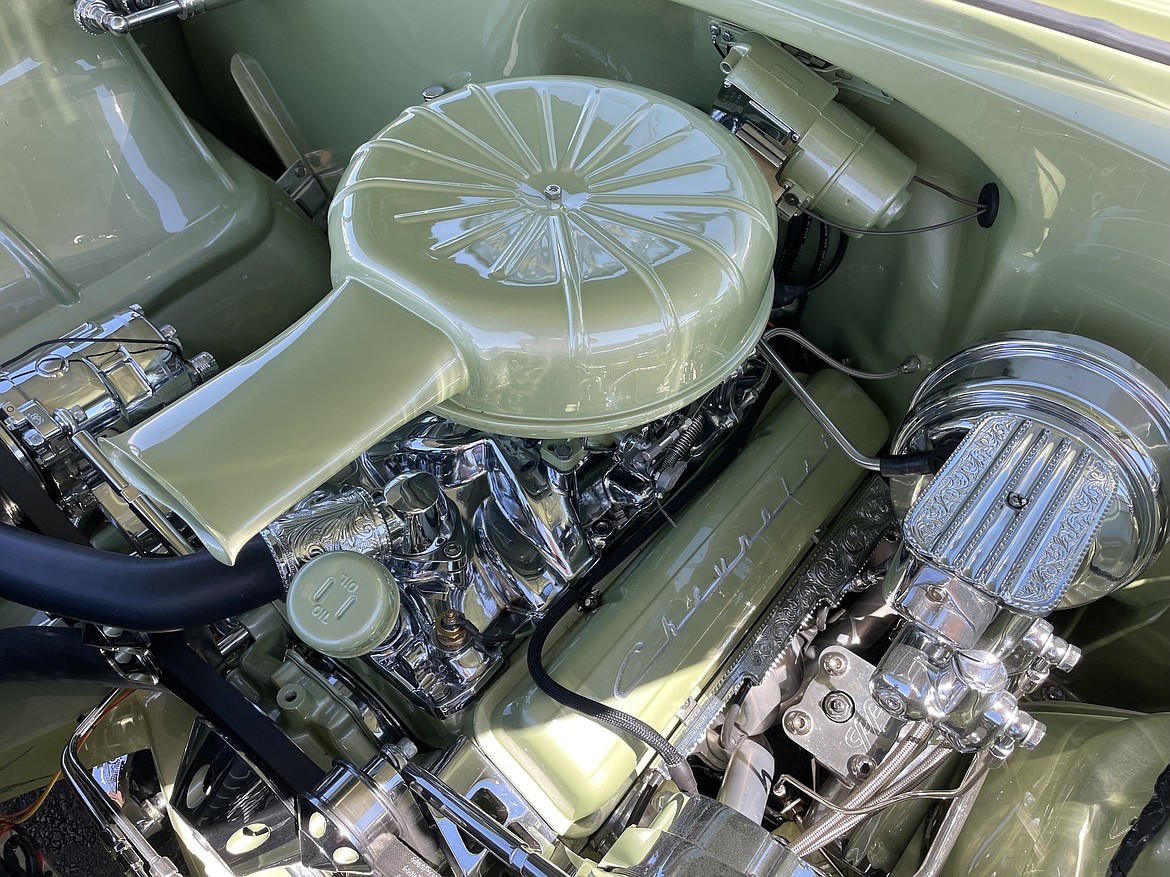 Details of the engine — including the chromework — of Dillon Arcega's 1956 Chevrolet Bel Air lowrider. Despite how clean the engine is, Arcega said he drives each of his four lowriders once a week, as well as driving them to and from shows.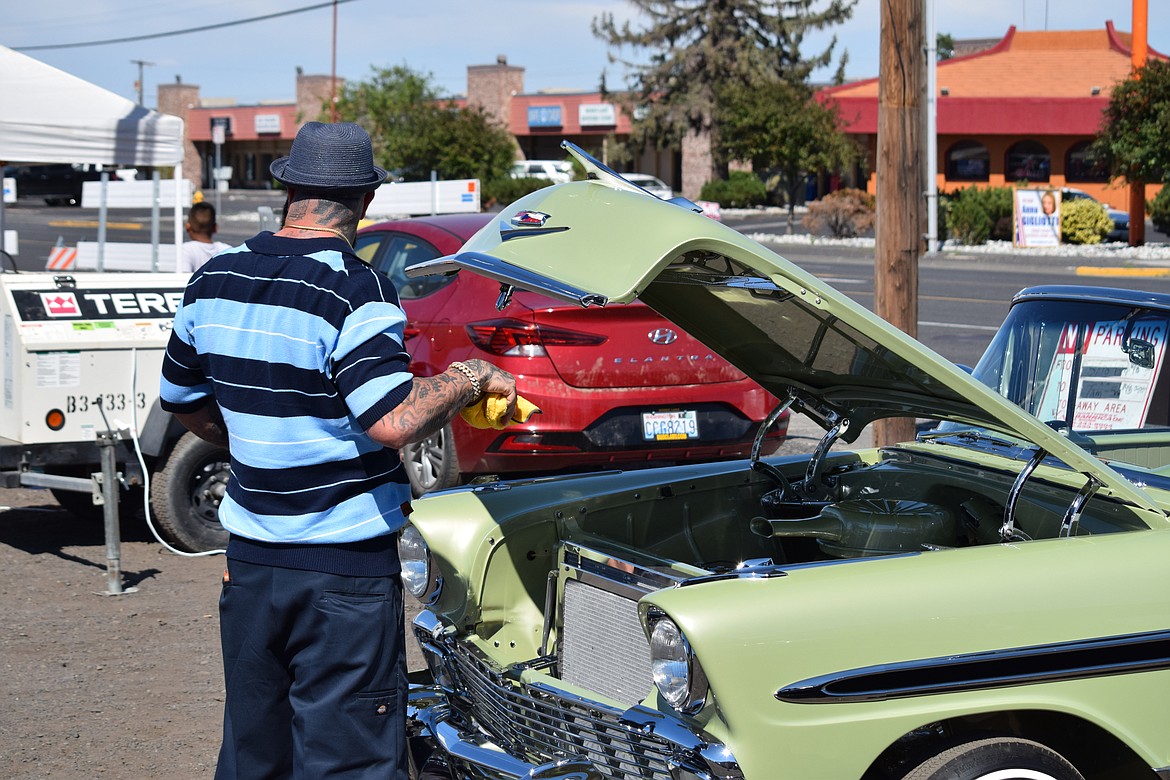 Dillon Arcega finished wiping off some of the chrome on his customized 1956 Chevrolet Bel Air lowrider.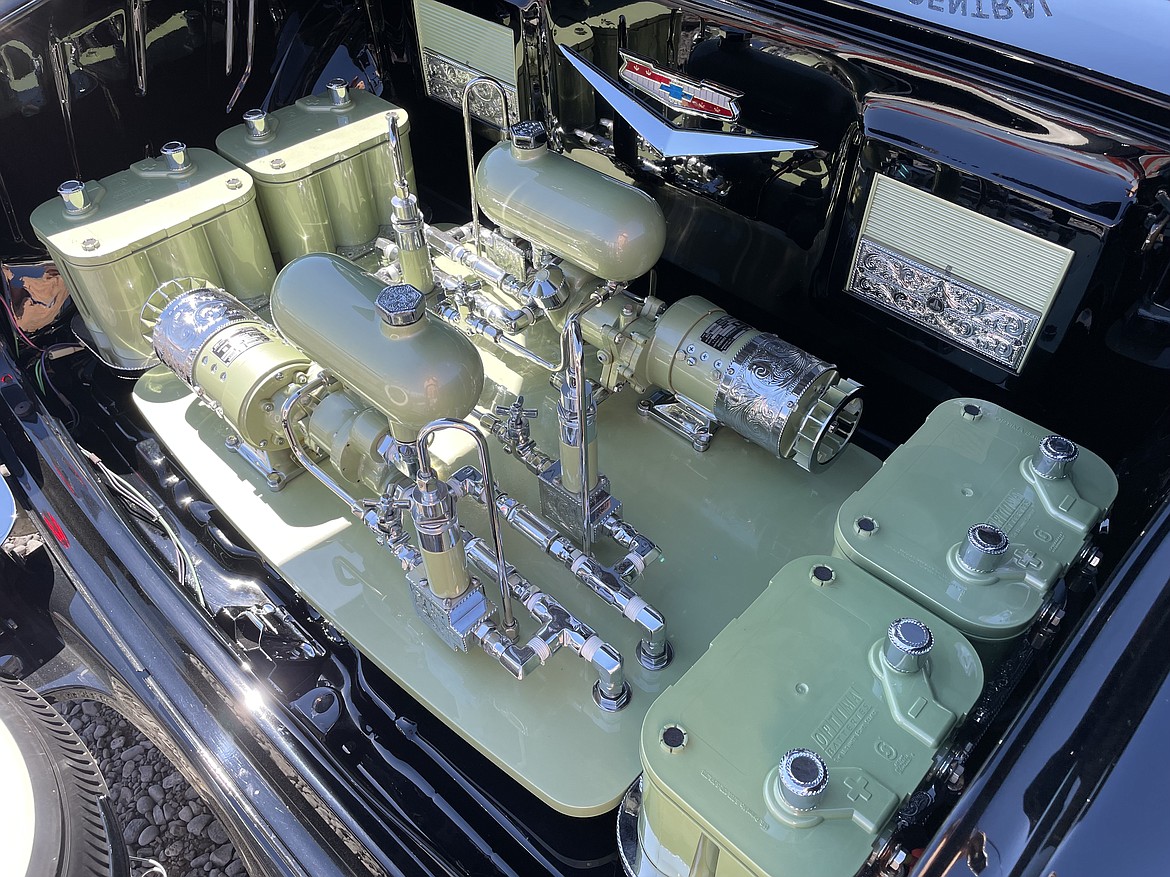 The hydraulic compressors in the trunk of Dillon Arcega's 1956 Chevrolet Bel Air lowrider. Arcega said he used aircraft hydraulic equipment in his car because it was made at the same time as the auto, and allows him to raise and lower the car's suspension.
Previous
Next
by
CHARLES H. FEATHERSTONE
Staff Writer
|
August 1, 2022 1:20 AM
MOSES LAKE — Dillon Arcega stood next to his pea-green and chrome 1956 Chevrolet Bel Air in the giant gravel parking lot of EDUBB C/S on Saturday. Both the hood and trunk are up to show off the engine and the hydraulics, all of which is the same green or chrome as the car's finish.
There's a lot of chrome on Arcega's car, some of it very ornately engraved with flowers and swirls and patterns similar to what you might find on a finely crafted leather bag or saddle.
"Even underneath," Arcego said. "I wish I could show under the car. It's painted. All of it's engraved."
Arcega was one of several lowrider owners to come out to EDUBB C/S on Saturday for the lowrider show, all part of the business's grand opening celebration that included Lucha Libre — see our story in last Friday's edition or at columbiabasinherald.com on that portion of the festivities — food trucks and a dunk tank for candidates running for Grant County Sheriff this fall. Paul Carney, the owner of EDUBB C/S, said one of the things his company does is create lowrider cars, automobiles with lowered suspensions designed to be driven slow, to show off both driver and car.
The lowrider arose in Southern California's Mexican American community in the 1940s and 1950s, cars designed for slow cruising. Many have hydraulic suspensions to raise and lower the car, or even give them the ability to bounce or hop. The lowriders on display at EDUBB C/S on Saturday are here for a contest, with the person judged to have the best car set to take home $1,000.
"Basically, lowriding is a passion for me. I have four lowriders," Arcega said.
It takes a lot of work, and a lot of money, to customize a car, Arcega said, especially if you want a car that you can both show and drive.
"I drive it just around town," he said. "I'll cruise here and there, but it's not like an everyday driver. But I do drive all my cars. I buy them to drive them."
"I get to mine at least once a week," added Derek Martinez, who brought a customized 1964 Chevrolet Impala.
Anthony Reyes of the Lakesiders, a Moses Lake lowrider club, said buying older cars and fixing them is a good hobby and a good way to build community. It's also a good way to learn some new skills, such as installing new airbags on an old Buick Regal, something Reyes said he and some buddies figured out how to do from YouTube videos.
"To fix it how you want to fix it makes it like a part of you," Reyes said. "I know lowriders get a lot of bad stigma. People think of gangs and all that, but that's not what we're about. We're more about family. We got kids and we always get together on the weekends at different members' houses and barbecue and listen to music."
Then, of course, there's cruising around town, Reyes added.
"We j cruise around town representing for Moses Lake, since that's where we're from. That's why a buddy over there came up with the name Lakesiders," he said.
Charles H. Featherstone can be reached at cfeatherstone@columbiabasinherald.com
Recent Headlines
---