Jacquelyn Wanzer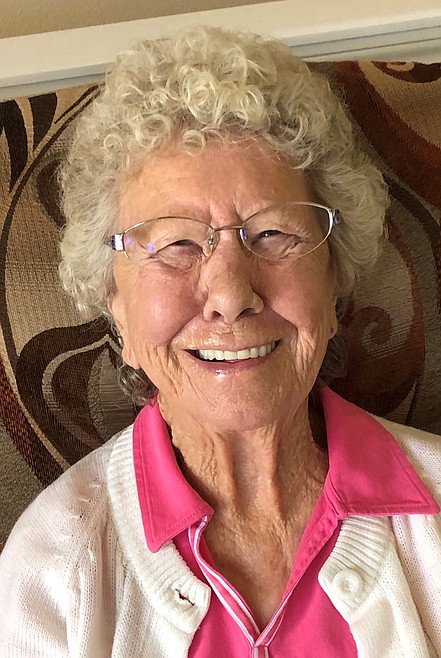 Jacquelyn "Jackie" LaRainne Wanzer, 91, of Spokane, Washington went home to Jesus on April 16, 2022.
September 29, 1930 – April 16, 2022
Jacquelyn "Jackie" LaRainne Wanzer, 91, of Spokane, Washington, went home to Jesus on April 16, 2022.
Jackie was born on Sept. 29, 1930, in Mott, North Dakota, to Emil and Wilma Svihovec. When she was a young girl the family moved to Yelm, Washington, then on to Moses Lake, Washington, where she met and married Cliff Wanzer in 1950. They had three children together: Steve, Gail, and Wayne. She was a wonderful mother and spent most of her time with her kids, sisters and working at House Laundry.
In 1971, a job opportunity for Cliff brought them to Spokane. Several years later they opened their own business called The Wanzer Co. where they sold and repaired ham radio equipment. She ran the office and maintained the storefront. She always had a fresh pot of coffee and sometimes a homemade treat for their customers. They sold the business and retired to Airway Heights in 1990.
Jackie most enjoyed spoiling grandkids, crocheting, baking and spending time with family and friends. In 2006 she became a member of the VFW Post 3386 Ladies Auxiliary. She was very involved in special dinners, parties, and memorials. She loved being part of the VFW crew. In 2019, she sold her house and moved back into Spokane to be closer to family.
She is survived by her four grandchildren Tom Wanzer, April Kalivas, Jennifer Wanzer and Sirena Wanzer-Harrison; six great grandchildren Colin, Jaclyn, Timothy, J.D., Adrien and Elizabeth; and numerous nieces and nephews. She was preceded in death by her husband and children.
A memorial service is scheduled for 12 p.m. on Friday, May 6 at Heritage Funeral Home with a reception to follow at the same location, 508 N. Government Way, Spokane, Washington. Burial will be in Moses Lake at Pioneer Cemetery at 4 p.m. All are welcome to attend and celebrate Jackie's life. The family would like to thank Hospice House North for their loving care of Jackie in her final days with us. Funeral services conducted by Heritage Funeral Home.
---