Cold weather means tough fishing at Potholes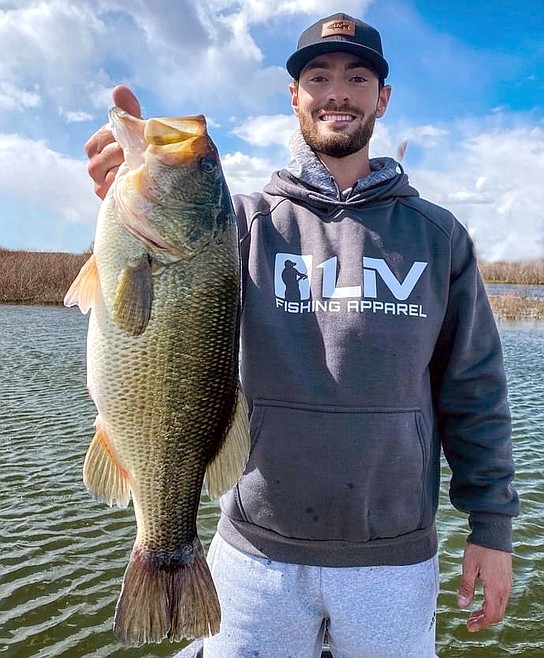 Matthew Milatz, shown here, and Austin Redding took first place in the Mount St. Helens Bassmasters Big Bass Tournament on Potholes Reservoir last Saturday. Milatz landed the 6.78-pound winning bass with less than 30 minutes left in the contest.
Courtesy photo
by
Pete Fisher, MarDon Resort
|
April 15, 2022 1:00 AM
The current water level on Potholes Reservoir is 1040.4 feet, dropping 0.35 feet over the past week. Surface temperatures on the main lake and back in the sand dunes are dropping with colder air temperatures this week. Water temperatures on the main lake are around the 40-degree mark and the sand dunes temps are back in the low 50s towards the back.
The cold spell we are experiencing should last about a week with highs in the mid-40s and lows in the upper 20s to 30s. There is some wind in the forecast, so check ahead of your trip.
Trout fishing has been fair this week on the reservoir. Troll spoons, such as the Wee Gee or Needle Fish, behind a 1- to 3-ounce banana weight with a 5-foot leader. From shore, fish along Medicare Beach with PowerBait. Upper Goose, Corral and Soda lakes have been producing trout both from shore and by boat. Troll smaller spoons and Rooster Tails. From shore, cast Rooster Tails or still-fish PowerBait on the bottom with a 24-inch leader.
Walleye fishing has been tough this week on the Potholes Reservoir. For walleye, jig a 1/2-ounce blade bait, Rapala Jigging Rap or Whistle Pigs in 10-40 feet of water. Some anglers are picking up walleye slowly trolling worms/slow death rigs. Soda Lake has been producing some decent walleye catches using the above techniques.
The largemouth bass fishing is a little tougher with the cold weather and dropping water, but the fish will remain back in the sand dunes. The key is finding the fish. They can be concentrated in certain spots this time of year. Top four baits for largemouth this time of year continue to be a black and blue 1/2-ounce AT Jig with a craw or swimmer trailer, a 1/2- or 3/8-ounce bladed jig such as Strike King's Thunder Cricket with a craw or swimmer trailer, a 3/8- or 1/2-ounce white spinner bait and a 3/8-ounce swim jig in black and blue or green pumpkin with a matching swimming trailer. Slow your presentation down a bit. Now is a great time of year to catch big bass, even with the colder days.
No reports of perch, crappie or bluegill being caught. There is still some time before they turn on.
If you plan to fish the Seep Lakes below the reservoir, double-check the regulations. The year-round lakes are obviously open, but because we no longer have the March opener, the other Seep Lakes do not open until the fourth Saturday in April. It is also that time to renew your fishing license – last year's expired March 31.
Recent Headlines
---