Mi Cocinita pushes through the pandemic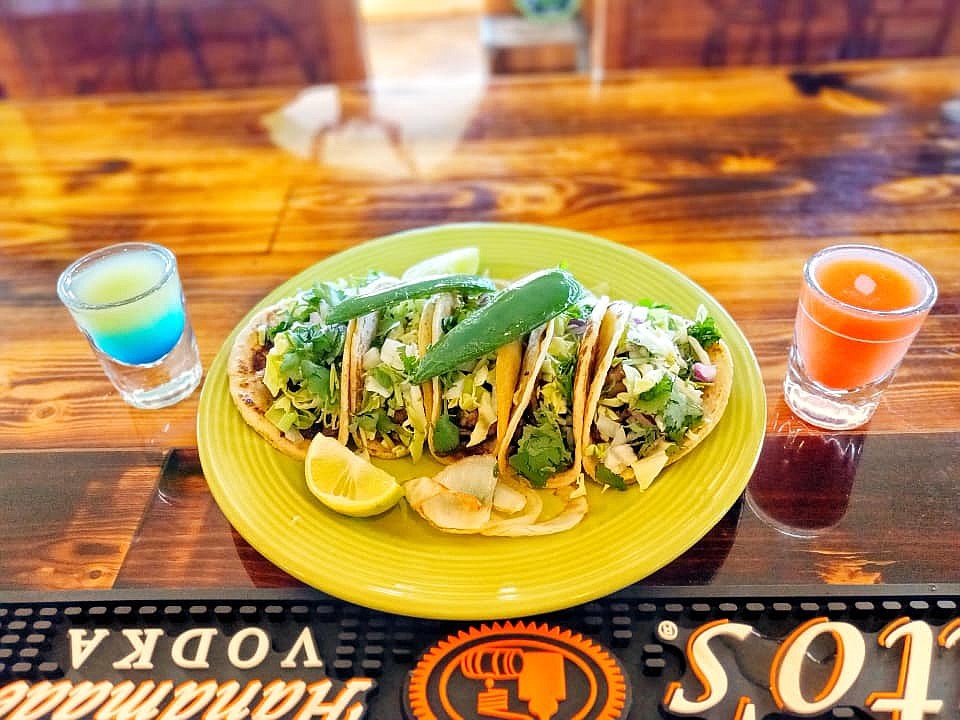 One of the many dishes Mi Cocinita in Soap Lake serves is tacos.
Courtesy Mi Cocinita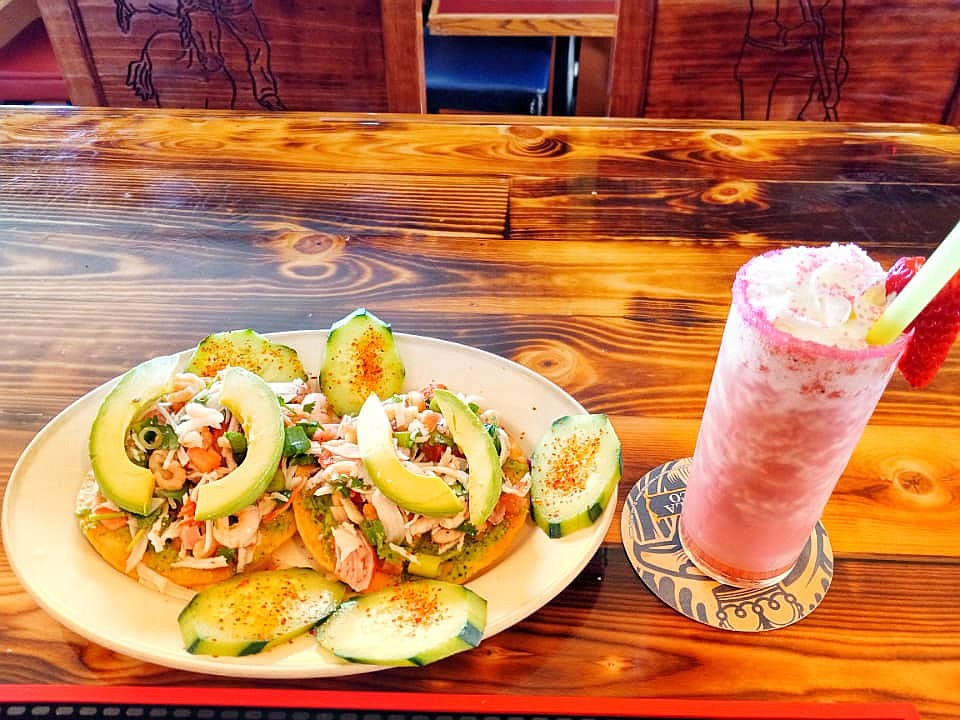 Mi Cocinita features homemade Mexican food including the tostadas pictured above.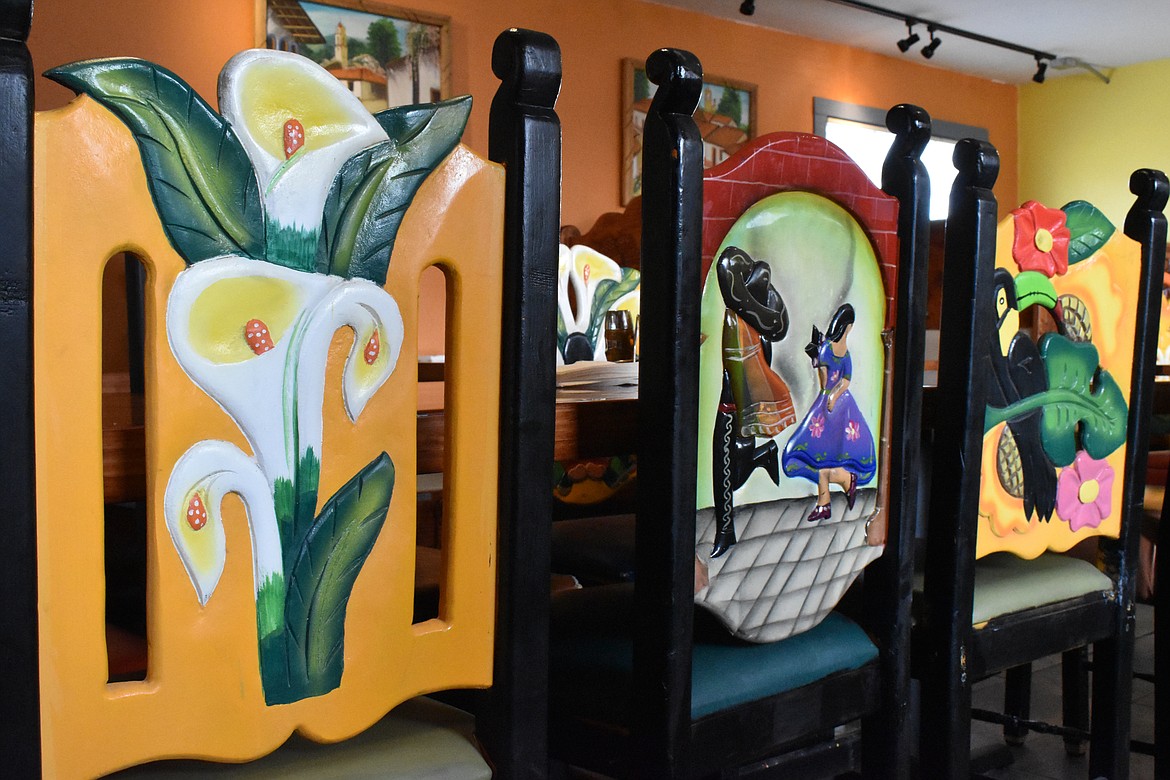 The chairs in the dining area at Mi Cocinita Grill and Cantina have unique, handmade pictures carved and painted into them.
The dining area of Mi Cocinita Mexican Grill and Cantina in Soap Lake is full of color and Mexican artwork.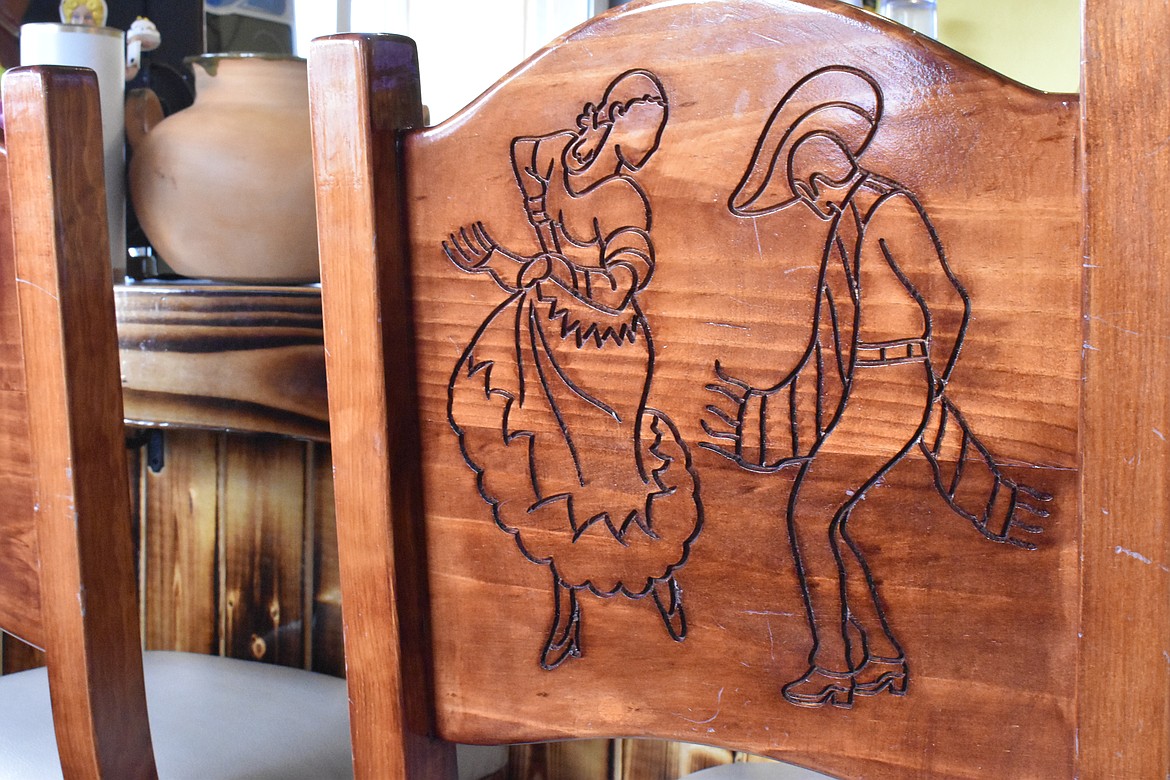 The chairs in the bar at Mi Cocinita Mexican Grill and Cantina have simple carvings of people on the back.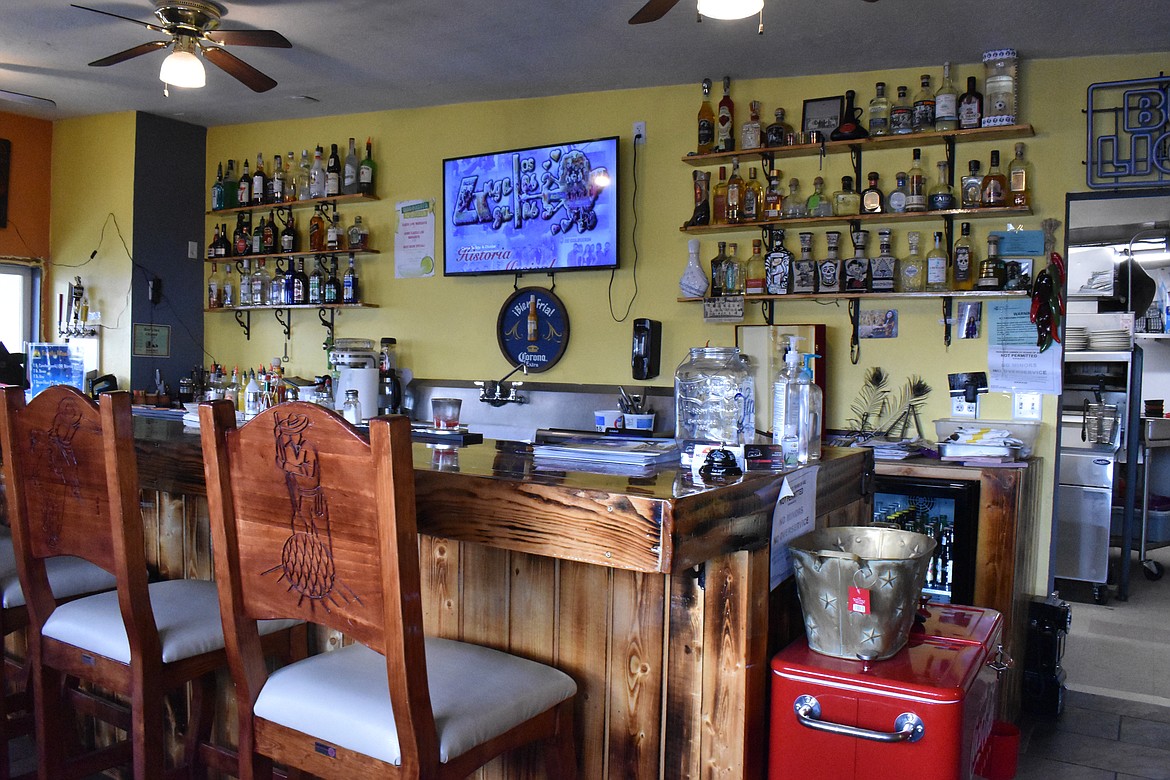 Mi Cocinita Mexican Grill and Cantina in Soap Lake features a full bar, which was custom-made by owner Emerita Villafana's son, Joaquin Hernandez.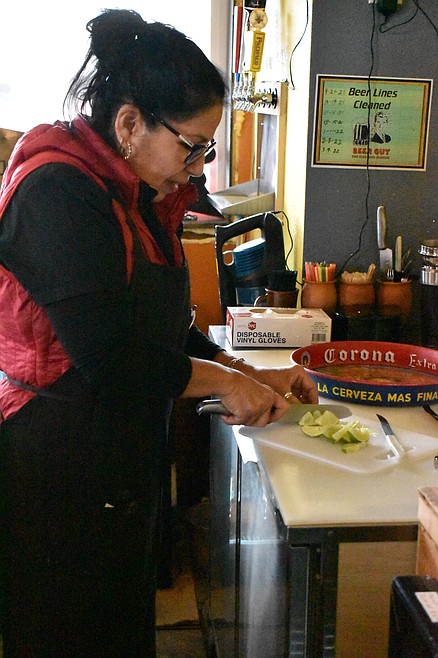 Emerita Villafana, owner and operator of Mi Cocinita Mexican Grill and Cantina in Soap Lake, cuts limes for an order.
Previous
Next
by
REBECCA PETTINGILL
Staff Writer
|
April 6, 2022 1:00 AM
SOAP LAKE — Emerita Villafana said the pandemic has been challenging for her as a business owner and she is looking forward to having business pick back up as the weather warms and the pandemic winds down.
"We can't give up, we are going to give it all we got," said Villafana.
Villafana is owner and operator of two businesses in the Columbia Basin; Mi Cocinita Mexican Grill and Cantina in Soap Lake and Mi Cocinita and Groceries in Ephrata.
Mi Cocinita and Groceries, located at 444 E. Division Ave., came first. Villafana said she has worked in a number of different fields, but decided to go into the food service industry while at a flea market in Mattawa. She said she was there to sell clothes and noticed the popularity of a stand that was selling Mexican fruit cups and other Hispanic snacks and products.
Villafana has a background in food, watching and helping her family cater parties. Her father was a chef while she was growing up in California.
Villafana decided to start looking for a location to start her new idea. She finally found a place she thought was the perfect spot for her restaurant in Ephrata.
One day, her priest came to visit her new business location and inspired her to name the business "Mi Cocinita," or "My Little Kitchen," because the kitchen was fairly small, she said.
In 2010, Mi Cocinita and Groceries came to life.
The Ephrata location is open 7 a.m. to 9 p.m. Monday through Saturday and 8 a.m. to 6 p.m. on Sunday.
Mi Cocinita Mexican Grill and Cantina, located at 222 Daisy St. S. in Soap Lake struggled considerably more through the pandemic than Mi Cocinita and Groceries, Villafana said. Shea dded that there was a point that Mi Cocinita and Groceries was the only thing keeping the restaurant afloat.
Part of the struggle was because many Soap Lake businesses rely on tourism in the summer for a large part of their customer base, Villafana said.
Another hurdle is that she opened the Soap Lake location in August 2019. This resulted in not very much time prior to the start of the pandemic for them to establish a customer base and positive reputation in the community.
While it has been hard, Villafana said she feels very fortunate to still be running a business that she loves.
"I love what I do," Villafana said. "I have faith that it will be a successful restaurant."
The restaurant in Soap Lake features a custom wood bar, hand-crafted by her son, as well as artwork from Mexico. Each chair has a unique picture carved and painted on it.
While they serve many items guests would expect a Mexican restaurant to have, they also have seasonal items such as oysters, which will be available around mid-April, Villafana said.
Villafana added that everything down to the corn and flour tortillas is homemade and comes from fresh ingredients.
She said some of their top selling dishes include carnitas, burritos and tamales.
The Soap Lake restaurant is open 11 a.m. to 10 p.m. Tuesday through Friday, 7 a.m. to 10 p.m. Saturday, 10 a.m. to 10 p.m. Sunday and closed each Monday.
Villafana said that while the menus may look different, any food item that is available at one location is available at both.
She also encourages patrons to ask if there is something they want that they do not see on the menu. Villafana said she can work with them to customize dishes to their liking.
Villafana runs the two businesses with her husband Javier Betancourt, and two children Andrea and Joaquin Hernandez.
"Together we are stronger," said Villafana.
Rebecca Pettingill may be reached at rpettingill@columbiabasinherald.com.
Recent Headlines
---