USDA Says National, Regional Grain Stocks Down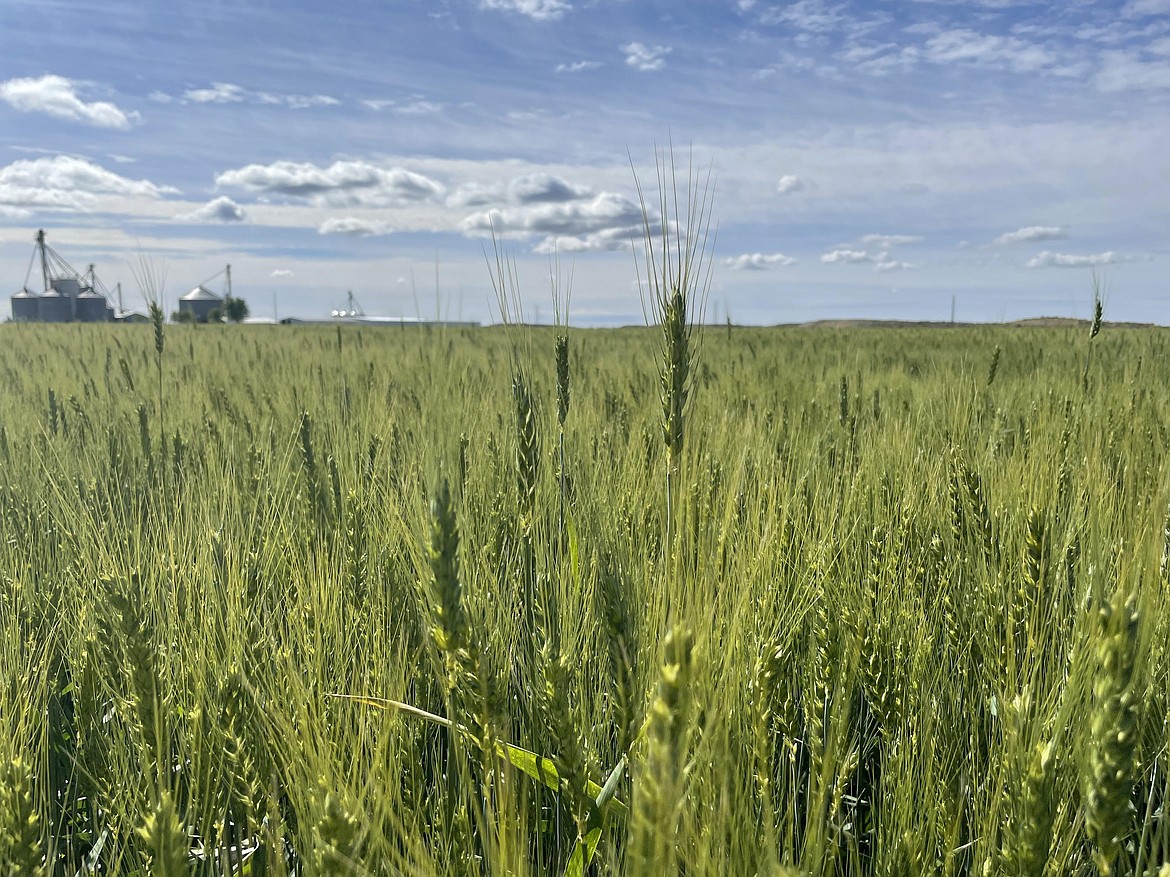 A field of grain ripening under the Columbia Basin sun in an irrigated field near Moses Lake in early June 2021. Most of the small grain acres grown in Eastern Washington are not irrigated, and the continuing drought has left much of the region's dry farmed soil drier than usual, according to USDA.
Charles H. Featherstone
by
Charles H. Featherstone
|
April 5, 2022 4:50 PM
OLYMPIA — Grain stocks in the Pacific Northwest are half of what they were last year, while a lack of soil moisture in portions of Adams County does not bode well for this year's winter wheat crop, according to a pair of reports from the U.S. Department of Agriculture's National Agricultural Statistic Service.
In NASS' monthly Pacific Northwest Grain Stocks report released at the end of March, 56.6 million bushels of wheat were reported stored both on and off-farm in Washington on March 1, 2022, compared with 99.5 million bushels in 2021, a decline of 43%.
Total wheat storage figures in Idaho fell as well during the same period to 36.7 million bushels from 53.3 million in 2021, down 31%, and wheat stored in Oregon fell more than half to 13.8 million bushels this year from 29.1 million in 2021.
Nationally, wheat stocks as of March 1 were down 22% to 1.02 billion bushels from 1.31 billion bushels in 2021, the NASS report said.
"The decline of stocks is just a reflection of the crop last year,"said Glen Squires, chief executive of the Washington Grain Commission in Spokane.
Squires said the 2021 Washington wheat crop came in at 87.1 million bushels — the lowest wheat crop in the state since 1964, largely because of the ongoing drought and the heat dome over the Pacific Northwest in late June that led to temperatures topping 115 degrees Fahrenheit in the Columbia Basin.
"We entered the year with pretty low stocks, and there's not a lot of wheat out there," Squires said. "We've been exporting, and stocks are pretty tight."
Most of the dry land wheat grown in Washington is soft white wheat, and much of the state's crop is exported to Asian countries where it is used to make noodles, cakes and other dessert treats.
In a separate report, the weekly Pacific Northwest Crop Progress Report, NASS said that while much of Washington's early planting looks good — especially among fruit trees and west of the Cascades — early conditions for dry land wheat farmers in the western portion of Adams County do not look good.
"In Adams County, the westerns edge of the county remained very short in topsoil and subsoil moisture,"the report read. "With very short moisture, this left winter wheat in poor condition."
The weekly Crop Progress Report also noted that as of the first week of April, 30% of Washington topsoils were short or very short of moisture — according to USDA, lacking enough water to allow for proper plant development — while 49% of subsoil (soils below 6 inches) were either short or very short.
"That area is dry," Squires said of Adams County. "The whole state is dry. We need more moisture."
The NASS report said south of the Columbia Basin, near Walla Walla, dry land farmers were also short of soil moisture "but winter crops looked good and spring crops were planted."
"The Palouse or Walla Walla are maybe not so dry, but we need moisture," Squires added.
According to the report, 27% of the state's spring wheat has been planted this year compared with 14% last year and a five-year average of 17%, while only 15% of potatoes, compared with 17% in 2021 and a five-year-average of 14%. Around 21% of Washington barley acres have been sown in 2022, compared with 9% last year and a five-year average of 11%, the report said.
According to the Pacific Northwest Grain Stocks Report, Washington barley stocks are also down significantly at 2.04 million bushels this year from 5.99 million in 2021. Nationally, U.S. barley stocks are off significantly as well at 72.6 million bushels from 120 million last year.
Squires said higher grain prices will likely contribute some to the current of price rises rippling through the economy, including costs for machinery and farm supplies like seed and fertilizer.
"Costs are up for everybody for everything," he said.
Charles H. FEATHERSTONE can be reached at cfeatherstone@columbiabasinherald.com
---