Broadway coming to the MLSD stage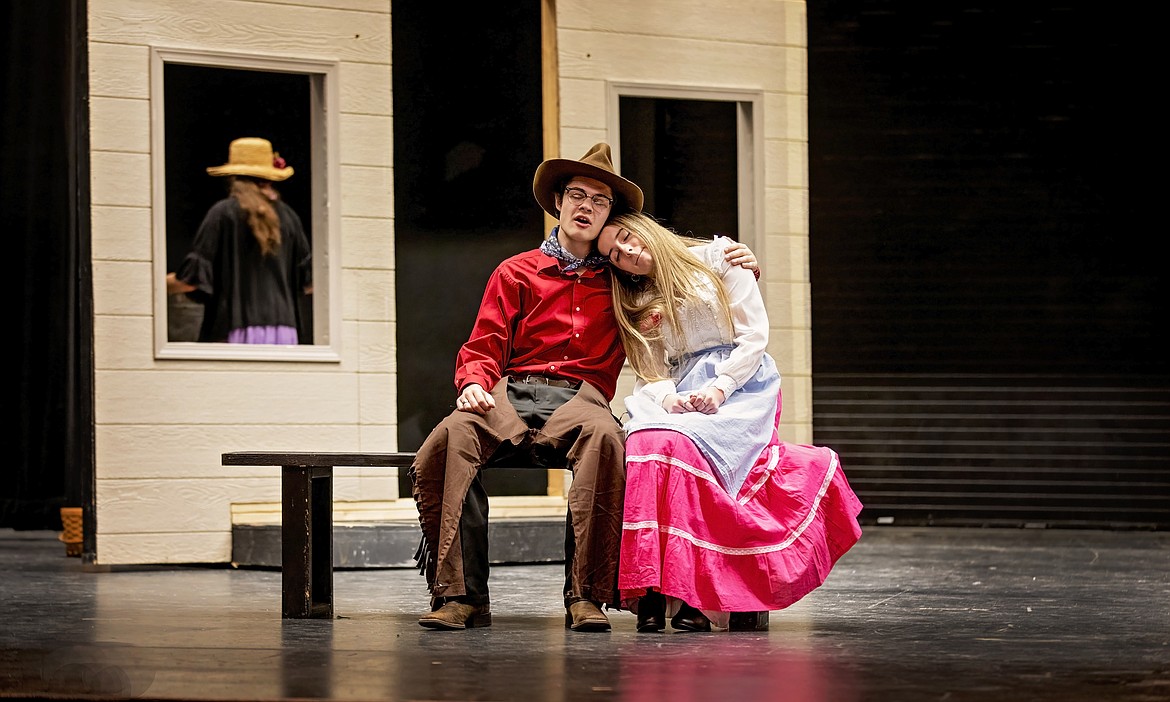 Curly (Ryan Horn, left) wants to ask Laurey (Summer Bowen, right) to the box social in the Moses Lake High School Drama production of "Oklahoma!"
COURTESY PHOTO/SHARON WINNINGHAM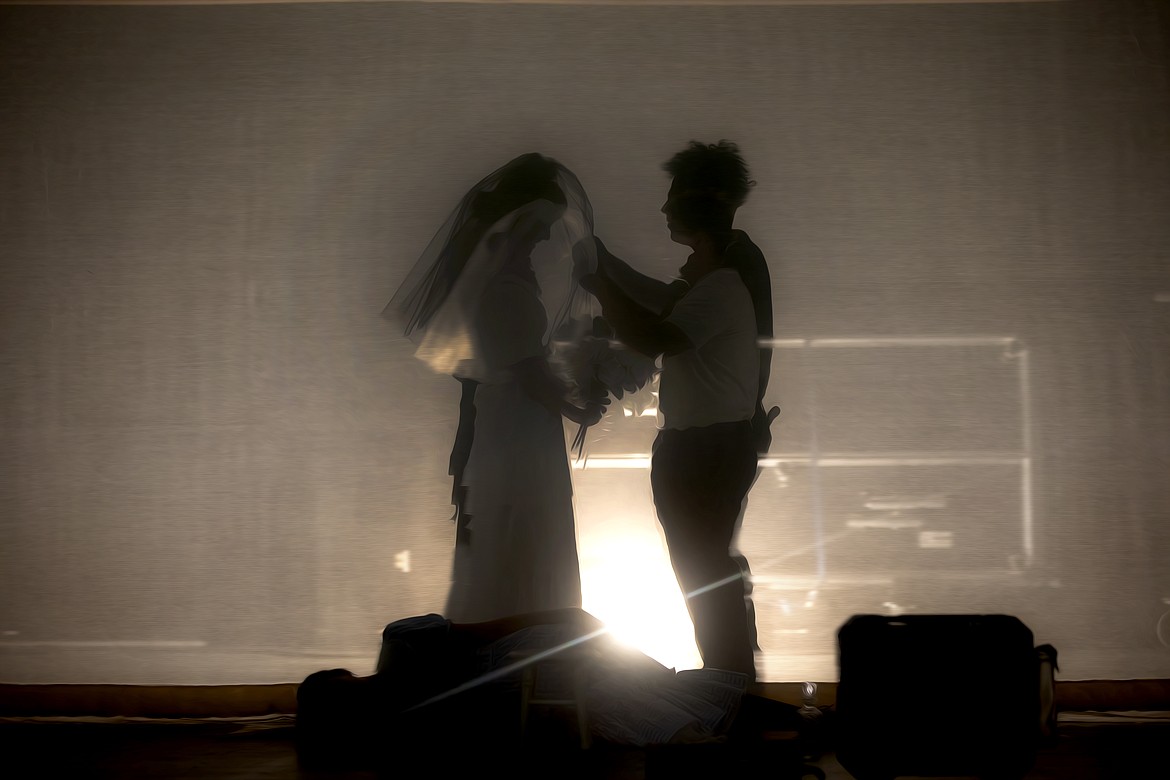 Laurey (Emily Kalmbach, left) has a disconcerting surprise during her dream about her wedding day - who is it that will be lifting the veil?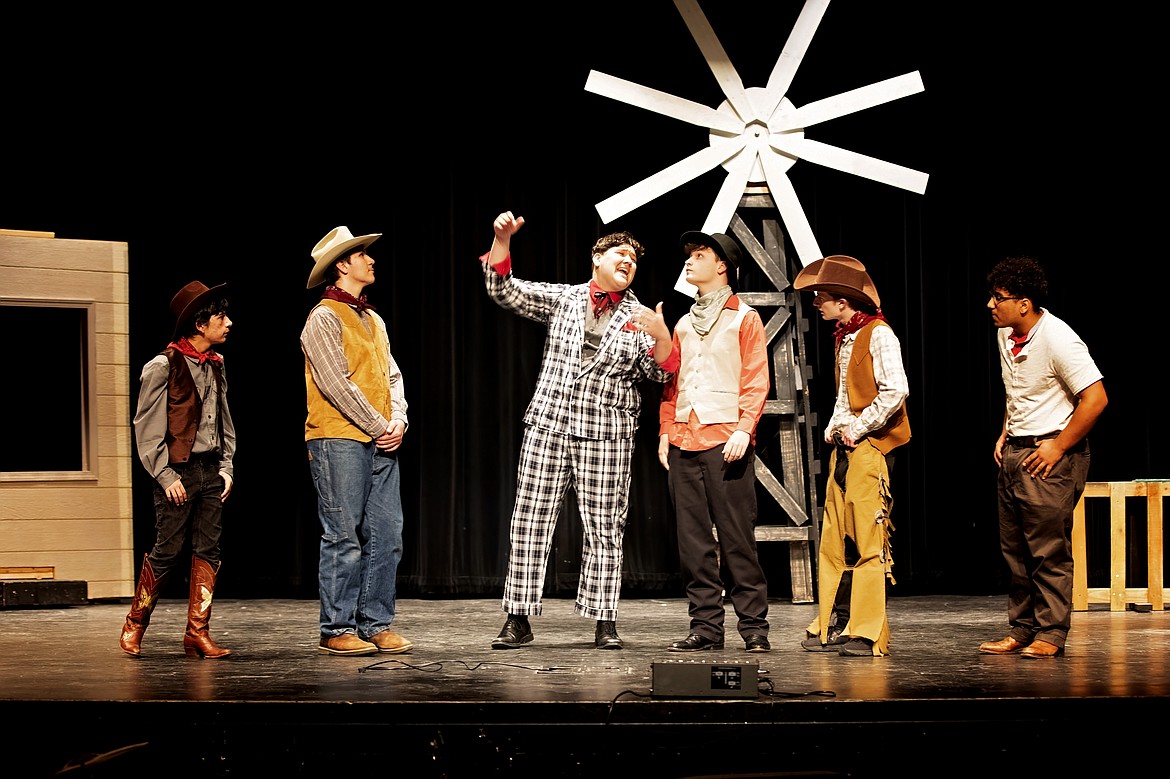 The cowboys hear a tall tale in the production of "Oklahoma!" by Moses Lake High School Drama. After two years of pandemic-related frustrations, students are excited to be back on stage.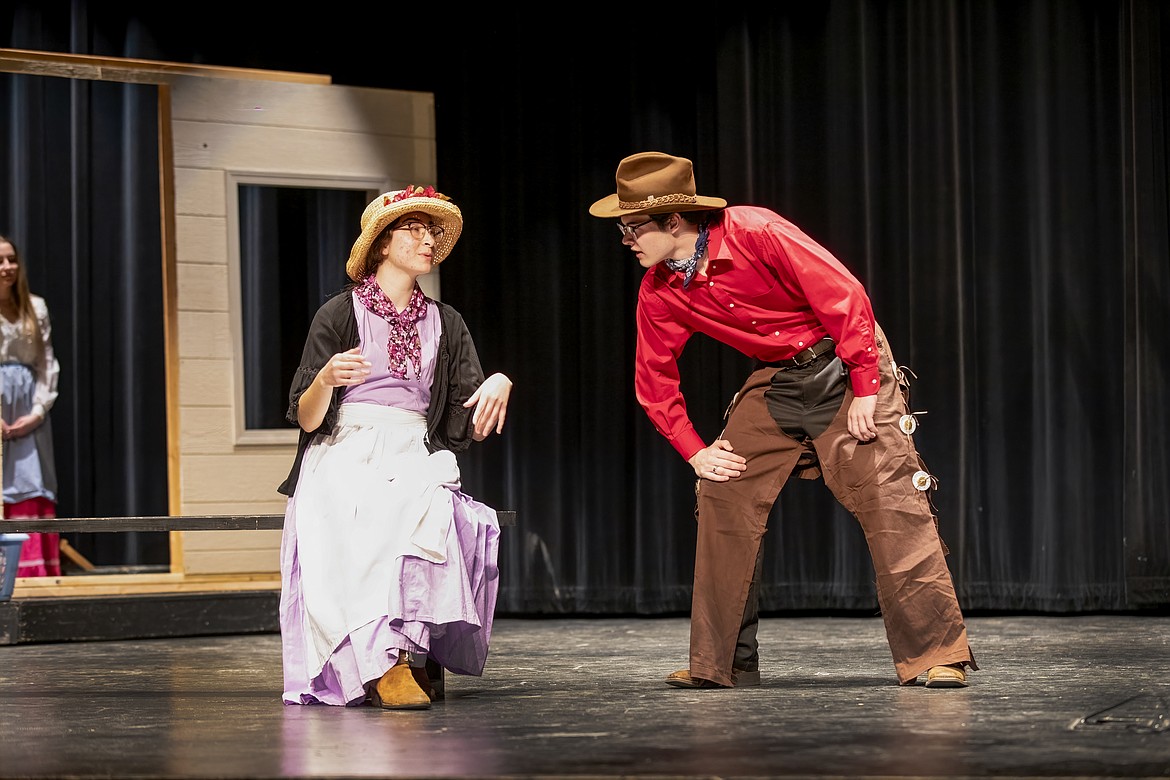 Curly (Ryan Hone, right) seeks relationship advice from Aunt Eller (Isabella Erickson, left) in the Moses Lake High School Drama production of "Oklahoma!" The young actors weren't familiar with the play initially, but warmed up to it quickly, they said.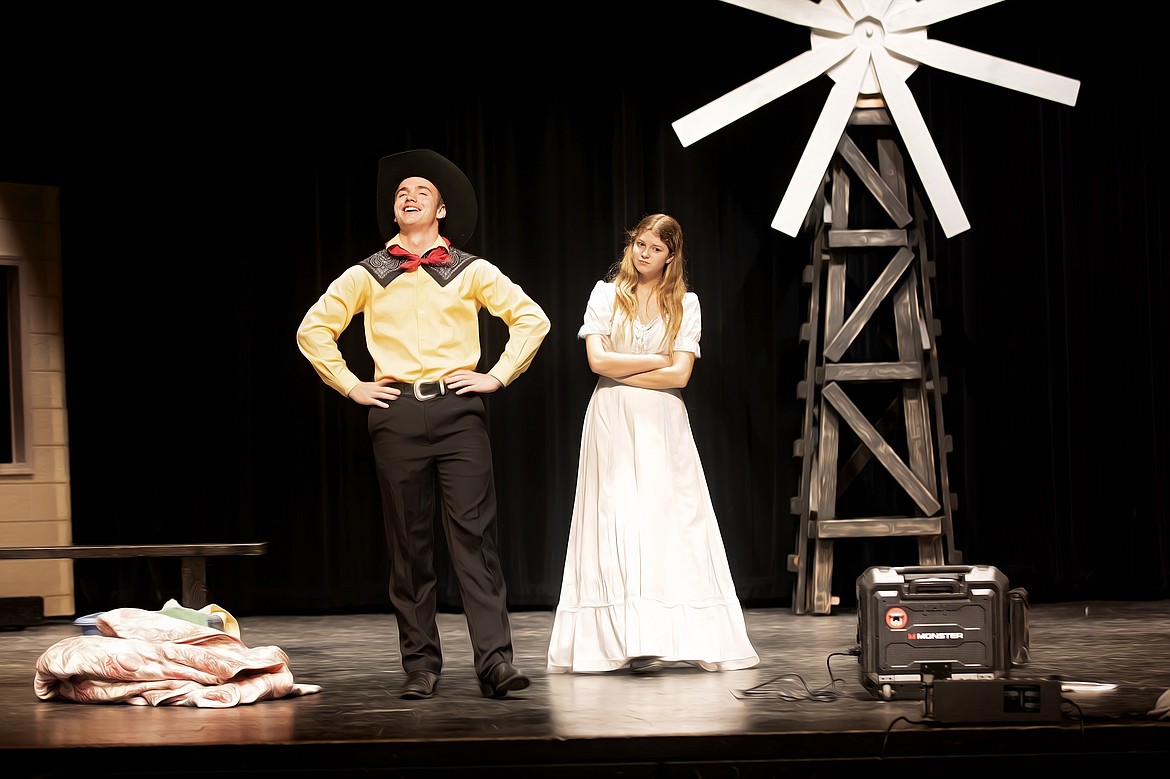 Will Parker (Ian Wiseman, right) makes his case to a skeptical Ado Annie (Zoe Sterner, right). "Oklahoma!" will be presented by Moses Lake High School Drama beginning April 15.
Previous
Next
by
CHERYL SCHWEIZER
Staff Writer
|
April 5, 2022 1:15 AM
MOSES LAKE — A classic Broadway tale of love, loneliness, jealousy and their consequences comes to the Moses Lake High School stage next week.
The MLHS Drama production of "Oklahoma!" opens April 15 at the MLHS theater, 803 East Sharon Ave. The curtain goes up at 7 p.m. April 15 through 19, with a matinee at 2 p.m. April 16.
"Oklahoma!" is always described as a classic of American theater, and being a classic also means it's been around a while. In this case, the play has been around since 1943, and the leads in the MLHS production had never heard of it.
"I hadn't seen this before. My dad was super-excited when I told him about it," said Ryan Hone, who plays Curly in the local production.
"I didn't know much about it before I started," said Emily Kalmbach, who is one of two actresses playing Laurey. "My mom absolutely loves this musical."
"I had no idea what it was," said Ian Wiseman, who plays Will Parker. "I think my parents knew about it, and they said it was a good one."
"Oklahoma!" tells the story of the relationship between Laurey Williams (Kalmbach and Summer Bowen in the MLHS production) and cowboy Curly McLain (Hone). Laurey likes Curly - but she doesn't want him to know that - at least not yet. So she accepts an invitation to the box social from another suitor, the quiet - and scary - Jud Fry (Andrew Jackson).
But Laurey may have taken on more than she bargained for when she agreed to go to the box social with Jud. He might not go away.
Laurey and Curly aren't the only couple trying to figure out how to get where they want to go. Will Parker (Ian Wiseman) really wants to marry Ado Annie (Zoe Sterner), but her dad may have something to say about that notion.
Kalmbach said she wasn't sure about auditioning when tryouts were announced.
"I was a little hesitant when they first announced that we were doing it," she said. "We had just done 'Footloose' as our last musical, and I (thought), 'that was a really fun one. I'm not sure about this one.' But I got the script, and reading through it, I kind of fell in love."
Like all other school activities, the drama club was rudely interrupted by the COVID-19 pandemic. They were off the stage for more than a year. When they returned there were a number of restrictions, including a requirement for masks during rehearsals.
The drama club put on a radio show in the interim and returned to the theater with the drama "Dining Room" in May 2021. "It's a Wonderful Life" was the fall 2021 production. "Oklahoma!" is the first musical in two years.
The underclassmen looked to the more experienced actors for leadership, which Kalmbach said was a little disconcerting. She's a senior but the pandemic cut the number of drama productions she'd been able to experience during her high school career.
"It kind of feels like I went from being a sophomore in theater right to being a senior in theater," she said. "I still feel like a baby myself."
Jackson is an MLHS Drama veteran, but he's also a senior and was planning to get a job during the spring. A friend of his talked him into trying out, and he got a part in the ensemble. A cast change meant he was promoted to a lead role - with a solo, which was something he hadn't done before.
"I'm building my own confidence for that," he said.
The actors said it was good to be back performing.
Hone, a senior, has been involved in MLHS and community theater throughout high school. He said being back on stage brought back memories.
"I remembered how fun it was to have a live audience out in the seats and have the lights on you and really switch into character," he said.
Bowen is a senior and is in the Running Start program, which allows qualifying high school juniors and seniors to enroll in college classes and receive college and high school credits. The play had to be worked around her class schedule.
"At one point we're having practices from three to 11 p.m. So you're giving a lot of your time. It's a lot to handle but it's totally worth it," she said.
Kalmbach said she's been in seven plays, three of them musicals.
"I just love the environment," she said. "I love the people. I get such a sense of satisfaction after finishing a show. It's just a wonderful feeling and a great time."
"I really enjoy the theater atmosphere," Wiseman said. "I have a lot of great friends here, and a lot of them I've had since my freshman year when I did 'Footloose.' I love music as well. So being able to do theater and music in the same (play) is just so much fun."
"Just being back here again - it's something you're doing outside of yourself," Bowen said. "And being on stage, serving people in that sort of way, bringing laughs and smiles, and a good time, something people want to pay for to come and see, is a really big deal to me. I just love to do it."
Cheryl Schweizer may be reached at cschweizer@columbiabasinherald.com.
Recent Headlines
---