Samaritan Hospital postpones elective procedures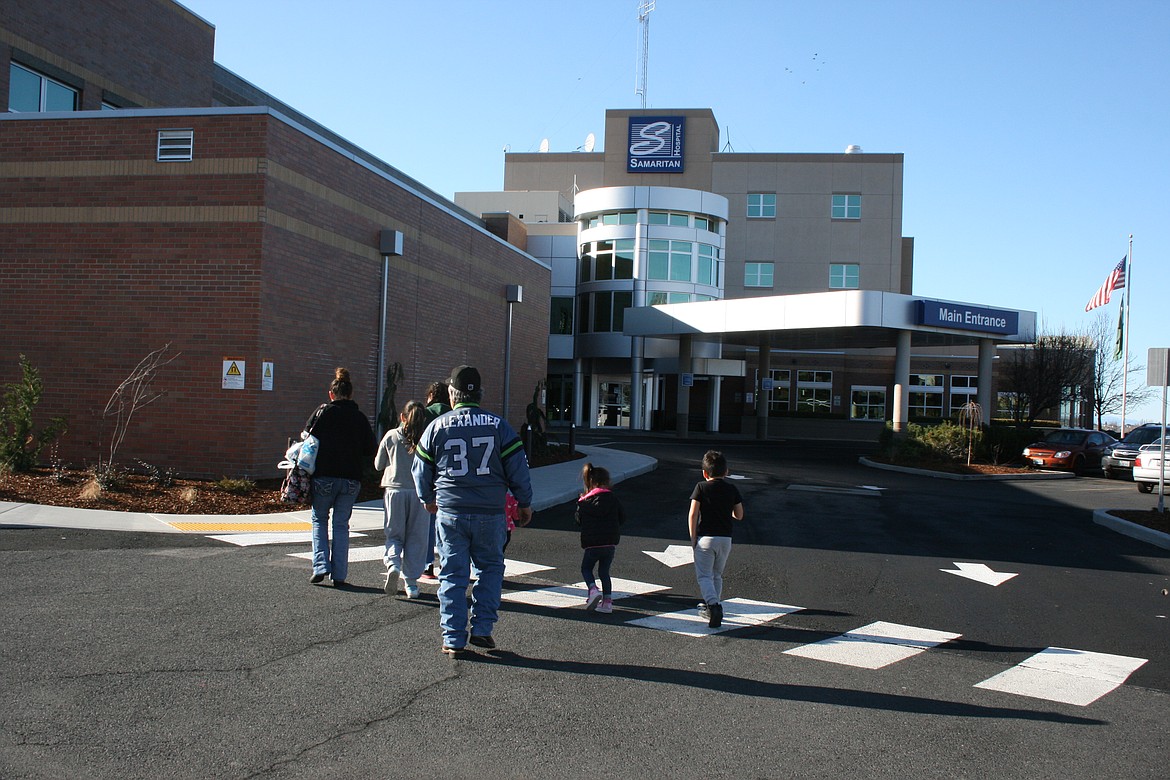 Visitors enter Samaritan Hospital.
by
EMILY THORNTON
Assistant Managing Editor
|
September 23, 2021 1:07 AM
MOSES LAKE — All elective surgical procedures at Samaritan Hospital will be postponed until at least Oct. 1, hospital officials announced Wednesday, due to "sustained staffing strains caused by the ongoing surge of COVID-19 in the greater Moses Lake community."
However, emergent surgeries, such as cancer care, fractures, incarcerated hernias and infections still will be treated, Andrea Carter, Samaritan's chief medical officer, and Matt Belan, its interim perioperative medical director, said in a joint statement release. Other cases, in which delaying treatment would be harmful, also will be treated, they said.
A surgical work group will review "the situation" on a weekly basis, and assess surgical capacity using patient census, illness severity, staffing availability and operational resources, which impact surgical care, the release stated.
The hospital had a daily average of 20 COVID-19 patients since Aug. 31, the release stated, and has 49 beds. Although the hospital is licensed for 50 beds, it's staffed for 49, according to Gretchen Youngren, executive director of development and communications. Twelve of the 49 beds are in the mother-baby unit, and the hospital's intensive care unit, which has 12 beds, has been at capacity or overflowing for several weeks, the release stated.
Youngren said Wednesday the number of COVID-19 patients at Samaritan went from 17 to 20 between 7 a.m. to midday, and the numbers often fluctuate rapidly. She also said she didn't know how many procedures would be impacted by the delay.
Two of the four patients on ventilators at the hospital Wednesday didn't have COVID-19, and the hospital was seeing patients who could have prevented their hospital stay with routine doctor visits last year, Youngren said. She encouraged people to seek routine care, she said, as "it's incredibly important." Patients likely delayed care because they were fearful of going to the doctor's office with COVID-19 prevalent in the community, she said, but hospital and clinic staff "continue to take a lot of precautions."
Hospital officials have asked for extra staff from the Washington State Hospital Association, Youngren added, and were waiting to see whether the hospital qualified for help. All hospitals in the state belong to the association, she said, and it was unclear on Wednesday if Samaritan would receive any aid. The hospital has more than 700 staff, including non-medical, she said. She didn't have numbers readily available of medical staff or how many had been let go due to not getting the COVID-19 vaccine, she said Wednesday.
Hospital officials hadn't heard of receiving any help from Department of Defense medical personnel, as Gov. Jay Inslee announced Tuesday, Youngren said.
Carter and Belan praised their team for ongoing care.
"The staff of Samaritan Healthcare has responded to this crisis with unrelenting dedication, care and professionalism," Carter and Belan said in the release. "The teamwork, collaboration and willingness to go the extra mile has truly been inspirational, humbling and exemplary of a community of health care providers coming together to meet the challenge. We are truly grateful for the work that has been done and will need to continue to be done in the coming days and weeks."
Theresa Sullivan, Samaritan's chief executive officer, said she wanted to reassure the community.
"Although staffing has become a significant challenge, we are still committed to providing care for those that need us most throughout the pandemic and everyday life," Sullivan said in the release. "Please don't delay care. We have already seen that delaying care can worsen the patient's condition. Our teams are doing everything they can to provide care to our patients and community."
For more information on Samaritan's COVID-19 response and other resources, visit www.samaritanhealthcare.com/covid-19-updates. Those who think they've been exposed to COVID-19 can call the 24-hour nurse hotline at 509-764-3331.
Emily Thornton can be reached via email at ethornton@columbiabasinherald.com.
---