Rev. Klockers: Will you smile if asked to serve?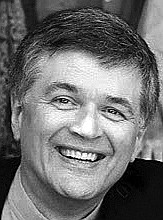 by
Rev. WALTER KLOCKERS
|
September 23, 2021 1:00 AM
If you watch a good deal of television, love going to the movies or enjoying taking in plays, you may be a person who appreciates a well-written story line. I'm one of those people.
I've noticed that many writers for television, the big screen or Broadway, will often drop a subtle clue (or clues) in the very beginning of the plot. This is contained in a brief moment and may seem quite insignificant at the time. As the story moves forward, what was so casually witnessed can be easily forgotten.
Then, at a key moment, when the plot has thickened, that tiny once-forgotten item will be revisited. It gains significance, leading to greater understanding, and moves the story toward resolution.
I find one such instance in the Gospel of Mark.
There is an encounter, mentioned only briefly, in Chapter 1, verses 29-31. Jesus heals Peter's mother-in-law, who has a fever. It is quickly read and can be easily forgotten:
"As soon as they left the synagogue, they entered the house of Simon and Andrew, with James and John. Now Simon's mother-in-law was in bed with a fever, and they told him about her at once. He came and took her by the hand and lifted her up. Then the fever left her, and she began to serve them."
To the careful reader, this small clue should be remembered. It serves as a genesis for a developing theme.
Fast forward in Mark's Gospel to two separate feedings (chapters 6 and 8): The first is the feeding of the 5,000 (likely a Jewish audience) and later the feeding of the 4,000 (likely a Gentile audience). It is important to note that it is not Jesus who distributes bread and fish to the crowds. He gave these to the disciples and they served the people.
This was a hands-on object lesson for them. They quite literally were serving others. However, the disciples were also slow learners. It didn't seem to take hold.
There are indications that they still thought being a disciple meant that they would simply reap the rewards of following the Messiah. The focus was still upon themselves – their dreams and aspirations of where they might be seated in the future kingdom that Jesus represented.
However, finally, in Chapter 10, verse 45, Jesus clearly spells things out. Surprise: This story wasn't about elevating the disciples above others. In fact, it was quite the opposite.
Jesus corrects their mistaken notion:
"For the Son of Man came not to be served but to serve, and to give his life a ransom for many."
This was a different kind of Messiah from what the disciples expected. His example, from the top, turned everything upside down. So, to be a follower, one needs to look outside of themselves to serve.
A significant part of Jesus' message began with Peter's mother-in-law. It was an unlikely source, but that is how God often works.
How does God wish for you to serve?
Walter is pastor of Immanuel Lutheran Church in Moses Lake and has served as parish pastor for more than 30 years.
---