The Six Training Facility crew hopes to increase local opportunities, build success for youth baseball, softball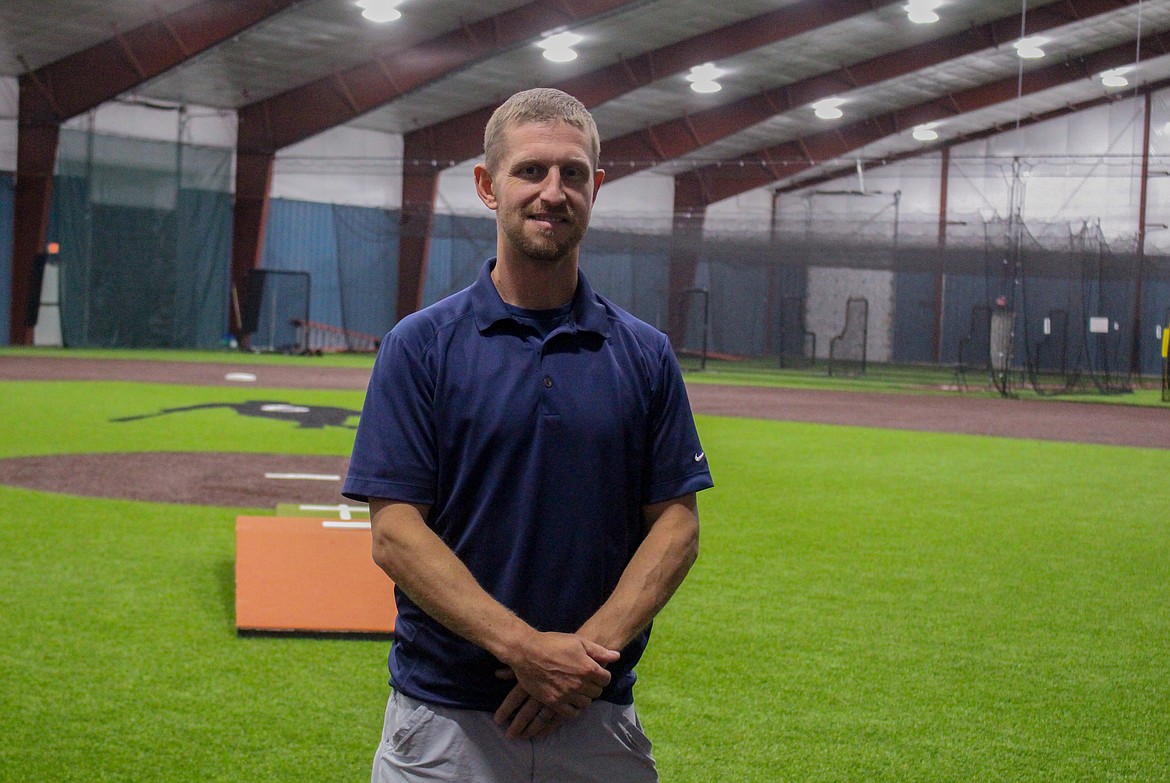 Jameson Lange, general manager for The Six Training Facility and head baseball coach at Big Bend Community College, stands inside the facility June 25.
Casey McCarthy/Columbia Basin Herald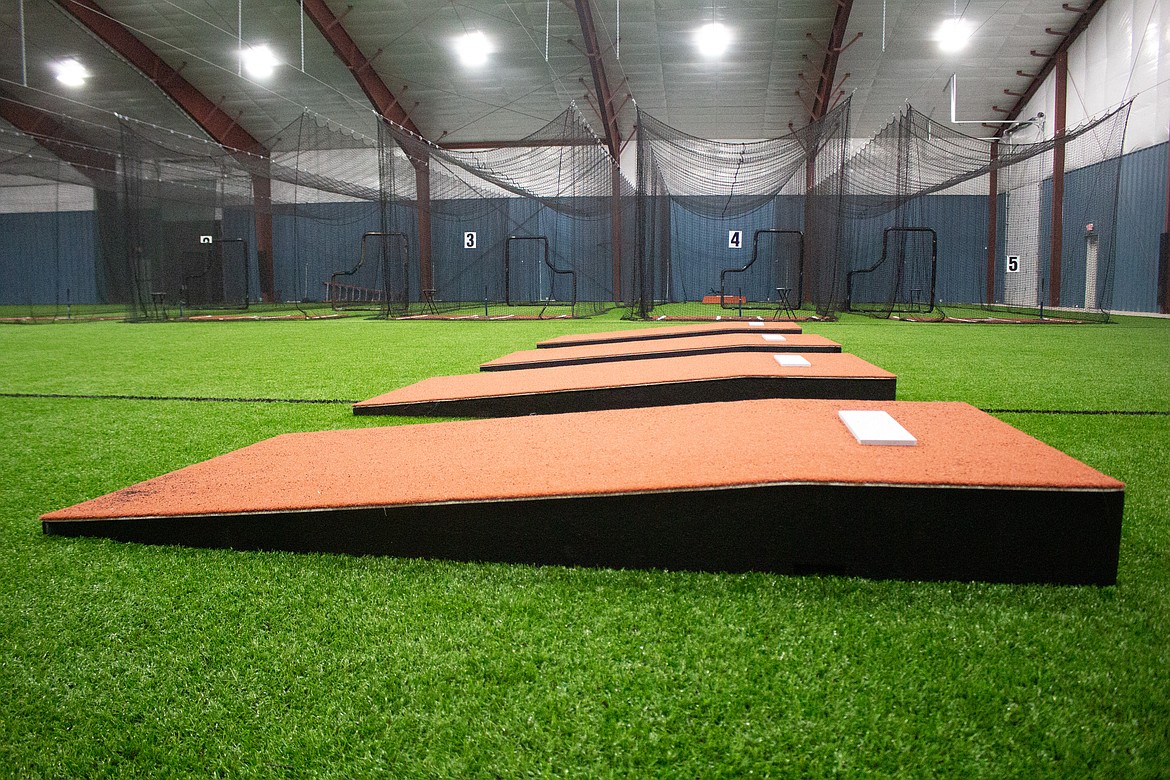 The light shines on the pitching mounds lining the turf in front of the batting cages at The Six Training Facility in Moses Lake.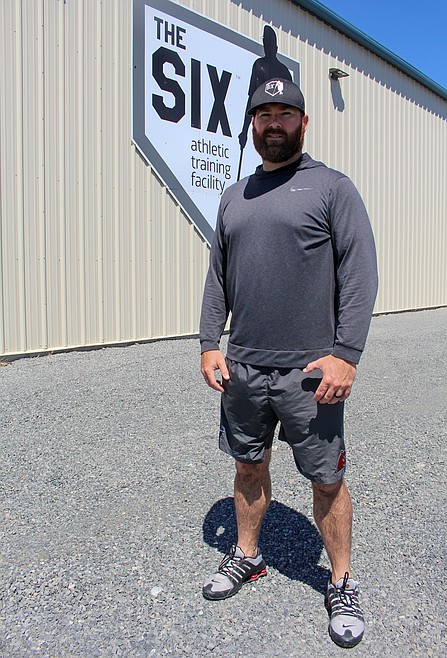 Ryan Doumit, owner of The Six Training Facility, stands outside the facility in Moses Lake on Friday, June 25.
Previous
Next
by
CASEY MCCARTHY
Staff Writer
|
September 21, 2021 1:07 AM
The Six Training Facility in Moses Lake started simply as an idea, but since tentatively opening its doors this spring, that dream has become a reality.
The Six owner, Ryan Doumit, and general manager Jameson Lange sat down in June to discuss what went into making the new baseball training and development facility come to fruition this year just across the street from where the duo coach at Big Bend Community College.
Doumit said the idea of bringing the type of indoor baseball training facility that's seen more often on the West coast back to his hometown in central Washington first started around 2015 or 2016. By chance, the parcel of land the facility now sits on across from the Big Bend Community College baseball and softball fields came up for sale in 2017.
Doumit said he purchased the land, talking to the land owners about his ideas for the facility, with planning beginning in 2018 and finally breaking ground in 2020.
"Me and Jameson watched this entire thing go together last year and now it's here and we're pretty proud of it," Doumit said. "It's something that we knew was going to be a great thing, if for nothing else, for the Big Bend guys being right here on campus. This is something that could be great for the community if the community embraces it."
The new facility features a full-size college baseball infield with batting cages, pitching mounds and even room for indoor soccer matches. The Six general manager and Big Bend head baseball coach Jameson Lange said the facility offers both individual and team training sessions, strength and conditioning, instructor-run practices and training, as well as the potential for even some leagues and academies down the road.
For the Big Bend baseball team, Lange said there really shouldn't be any excuses why they aren't prepared when the season rolls around with year-round training potential.
"To be able to train and do those types of things especially in a winter setting here where it's dang cold and you can't get outside, there isn't a day now that we can take off," Lange said. "We not only have the space where we can get out of the weather, but a space that is honestly one of the nicest complexes on the West coast."
While it's mostly polishing up some things with his college players, Lange said The Six staff have already seen huge strides in development of young athletes and teams coming into the facility. He said athletes coming in range in age from 6 years old all the way up to high school and college age.
Lange said the development process starts with creating a good environment and building a level of trust with the kids coming in, which in turn builds confidence.
"I think that's the biggest thing we're seeing with kids coming here is the confidence level because they're able to repeat actions and apply it in a game situation."
He said not everyone is able to make it to the professional level like owner Ryan Doumit, but having a facility like The Six in Moses Lake will provide that opportunity and structure to chase those dreams.
Doumit, along with his Moses Lake High School teammates BJ Garbe and Jason Cooper, were all drafted within the first 63 picks of the Major League Baseball draft in 1999. He went on to play professional baseball from 2005-2014 and is now an assistant coach at Big Bend Community College alongside Lange.
Pete Doumit, Ryan's father, coached at just about every level of the game outside of professional including two stints as head coach at Big Bend Community College, where his son now coaches.
Ryan Doumit said coaching was his father's life and had a deep passion for this community, so coaching here meant a lot to him. Doumit said looking back on his own playing career, he's probably learned more from being outside of the game than he did while playing.
"I really had a chance to step away from the game and look back and have gotten to know it from both sides of the spectrum," Doumit said. "As a player, you're so result oriented. Did I get any hits? Did I do this? From a coaching side, it's all about development."

Doumit said he would tell his younger self to focus more on the mental side of the game, having seen plenty of athletes in his playing career with more skill than himself who "couldn't get out of their own heads." If there's one common denominator with the players Doumit played with who were successful, it was: Baseball was their life.
"It was a lifestyle for them, it wasn't something they did because it was something they were good at, it wasn't a hobby, it was their life," Doumit said.
It's the players who want that success, who want to work to get better and be great who will find success in the game, he said. Building that drive starts with building relationships with players, which in turns helps young athletes build the confidence in themselves to be successful.
Looking at their dream come to life, Doumit said he sees where the facility is now as just the beginning, the "embryo stages" of where it could go. He said he wants to turn the Columbia Basin, central Washington, into a "hotbed" for baseball and softball players, which starts with having players training at a young age.
Whether it's players from Quincy, Othello, Ephrata, Royal City or Moses Lake, he said having this facility here can help build success with the high school teams and hopefully see more and more players heading off to play at the next level.
Doumit, Garbe and Cooper jerseys hang on the wall in the lobby of The Six facility now as players walk in the door, but owner Ryan Doumit said there's plenty of room left on those walls for more jerseys to go up.
"I think that's the long-term goal," Doumit said. "Initially people might just get excited about what it looks like in here, but if you provide an environment that's fun and enjoyable for kids, they start reaping the rewards seeing their hard work pay off on the field."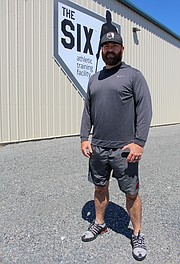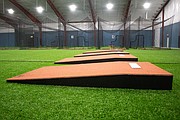 ---