New mental health counselor at Samaritan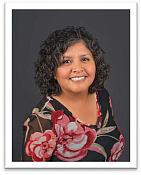 Angelica Eldred
Samaritan Healthcare/courtesy photo
by
CHERYL SCHWEIZER
Staff Writer
|
September 21, 2021 1:00 AM
MOSES LAKE — Angelica Eldred, a licensed mental health counselor, has joined the Behavioral Health department at Samaritan Healthcare.
"Eldred has cared for patients locally for many years," according to a Samaritan press release.
"I enjoy providing one-on-one behavioral healthcare," Eldred wrote in the press release. "When a patient reaches some kind of improvement in their lives -- whether it's something good that happened or a changed behavior -- and they realize they did it on their own, I can see in their faces. I think of it as a silent victory. It's rewarding to witness that lightbulb moment and then to see the change in their progress."
Eldred earned an associate of arts degree from Big Bend Community College, and her bachelor of social work and masters of social work from Eastern Washington University.
"As a first generation immigrant to the United States, I learned English as my second language, and worked to overcome other barriers," she said in the release. "I focused on (obtaining) my degree, then I was encouraged to get my master's degree. The work was well worth it -- the more training and knowledge I have, the more I can help meet the needs of others in their mental healthcare journey."
Medical professionals in Samaritan's Behavioral Health at 1550 S. Pioneer Way work with fellow health care providers throughout the hospital and Samaritan clinics, particularly with family medicine, the press release stated, which "allows patients to receive comprehensive, holistic treatment that cares for the 'whole person.'"

The Behavioral Health department is an outpatient facility, and patients visit its medical professionals during regular appointment hours. Patients can make an appointment with a Samaritan family medicine physician, physician assistant or nurse practitioner. Appointments can be made by calling 509-793-9770.
---