Ready to serve: Officials dedicate new Grant County Fire District 8 fire station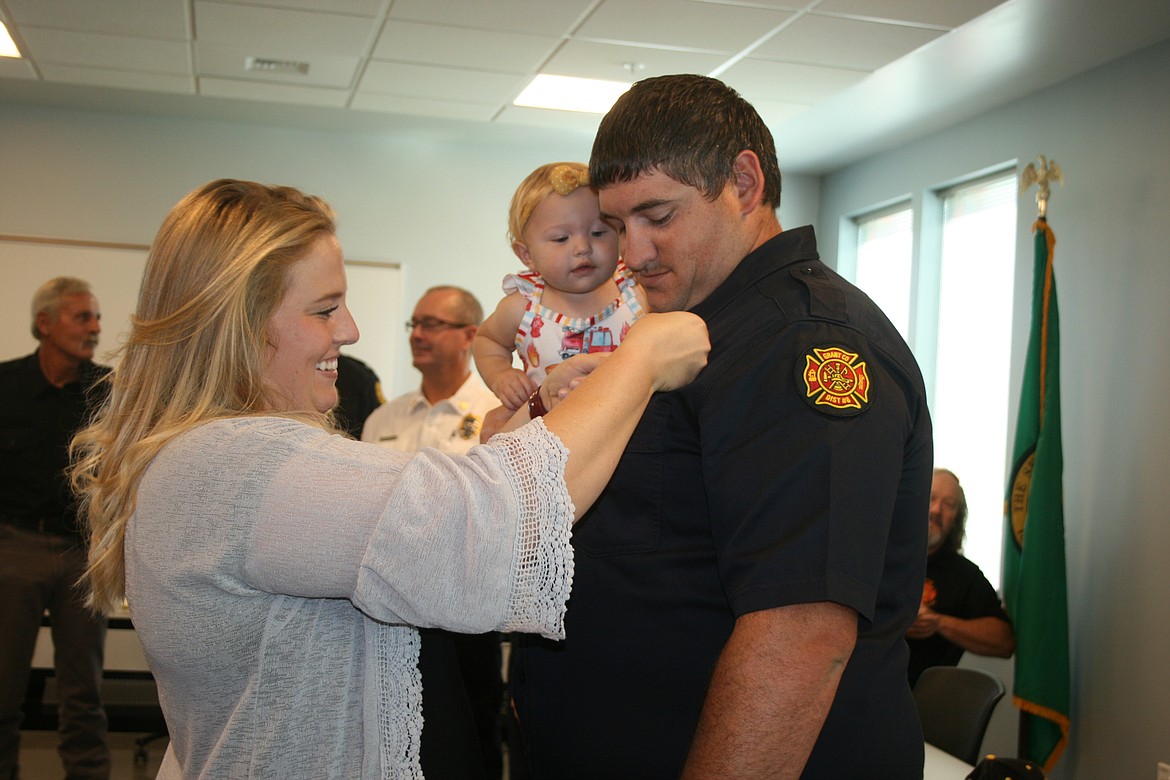 Heather Massey (left) pins the firefighters badge on her husband, a firefighter with Grant County Fire District 8, Ross Massey (right), while daughter Rylinn looks on during the dedication of the district's new station Saturday.
Cheryl Schweizer/Columbia Basin Herald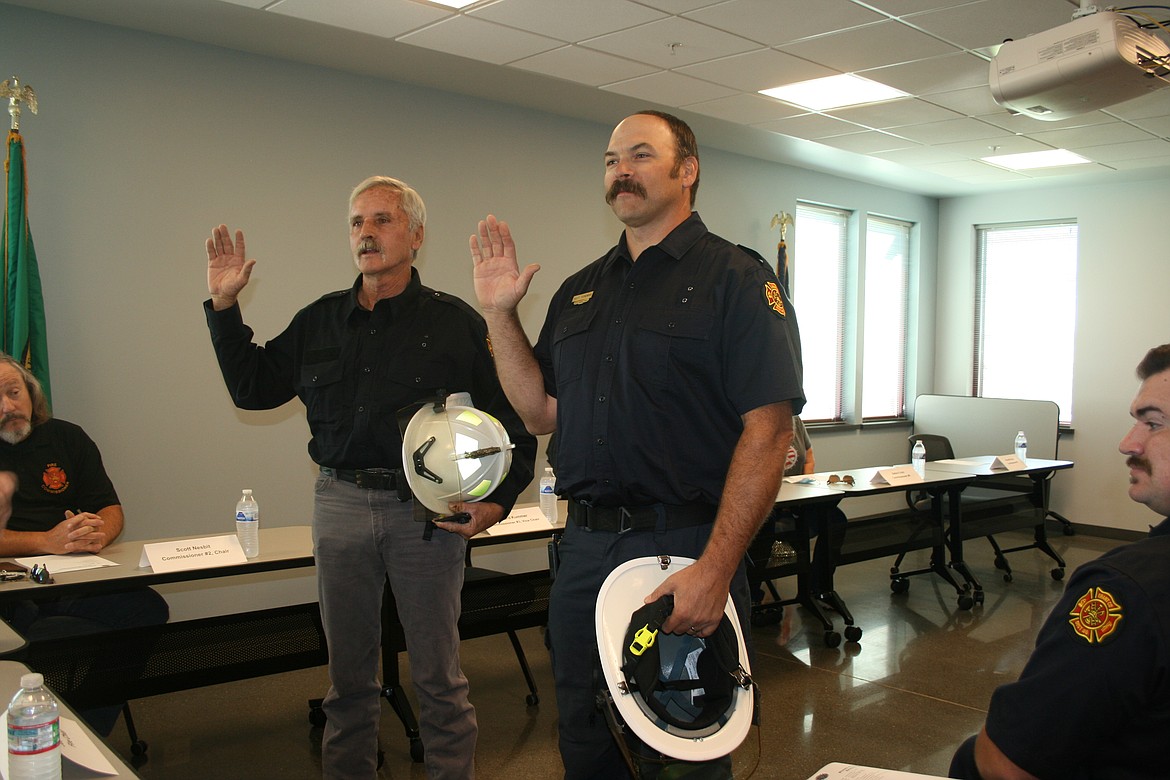 Doug Anderson (left) and Matt Hyndman take the oath of office as battalion chief during the dedication ceremony for the new Grant County Fire District 8 station Saturday.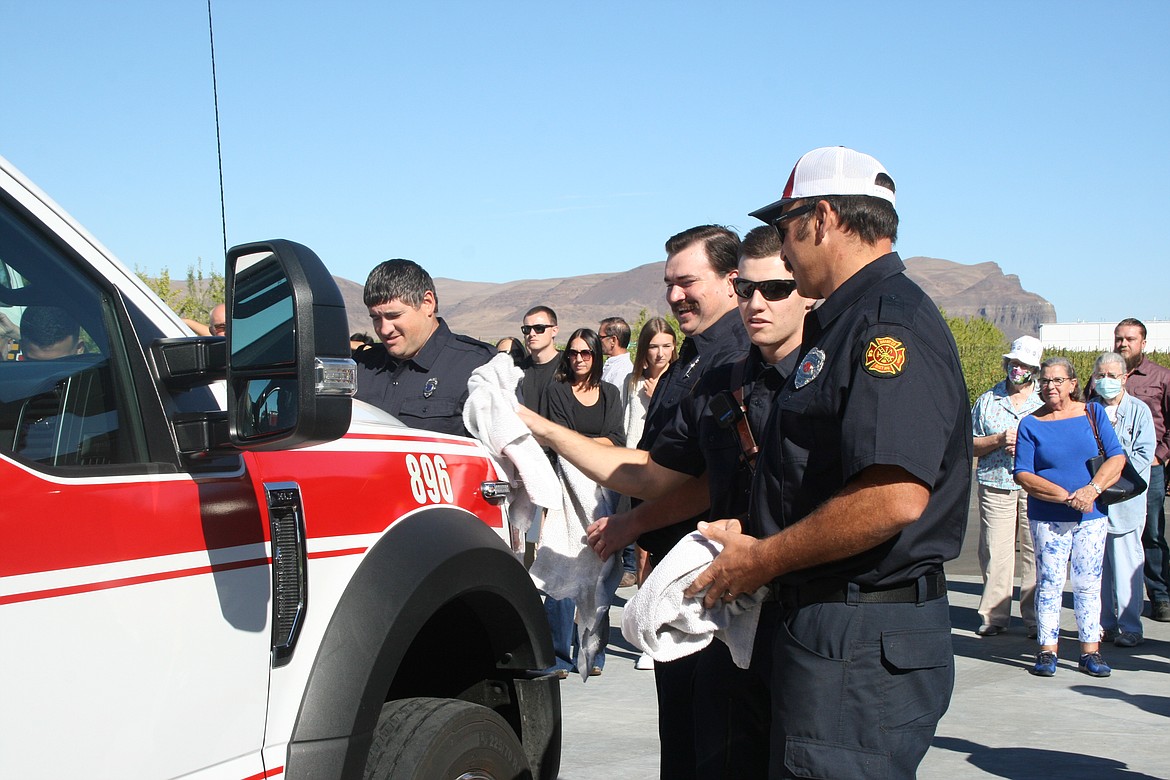 (From left) Ross Massey, Grant Parfitt, Zach Feist and Matt Hyndman dry off the new Grant Fire District 8 ambulance before pushing it into the district's new fire station.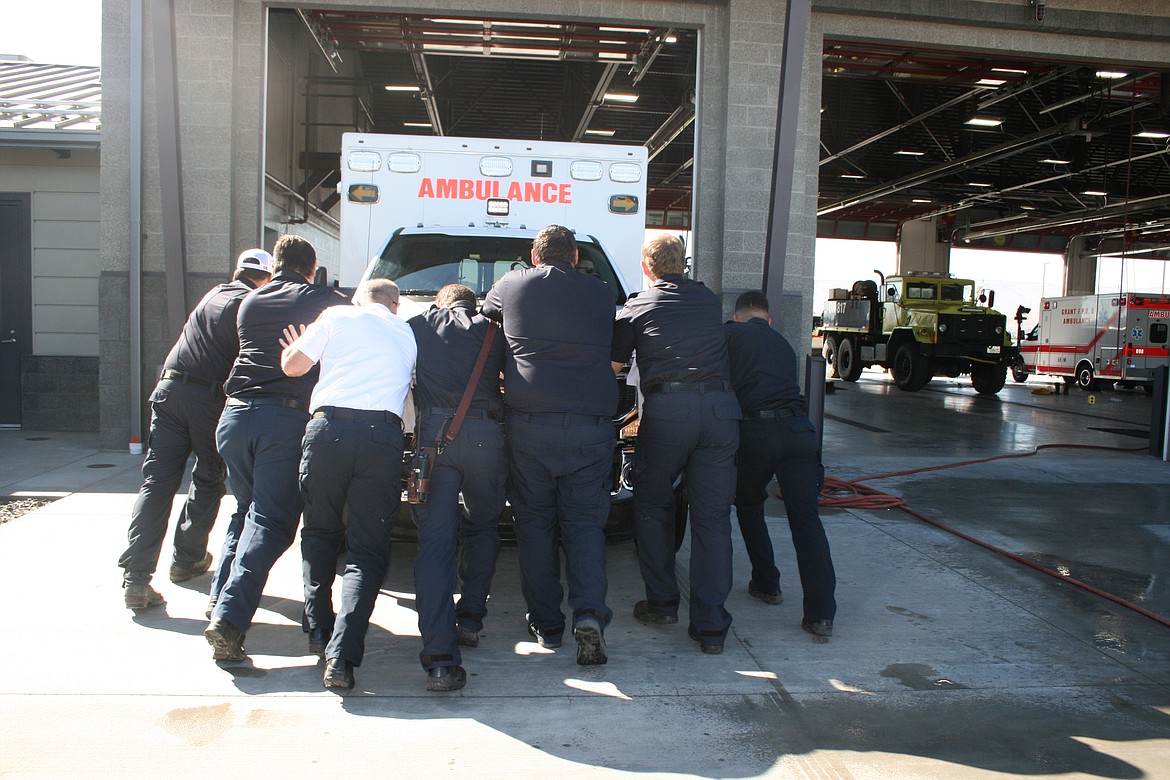 Full-time personnel of Grant County Fire District 8 push the district's new ambulance into the fire station during the dedication of the new station Saturday.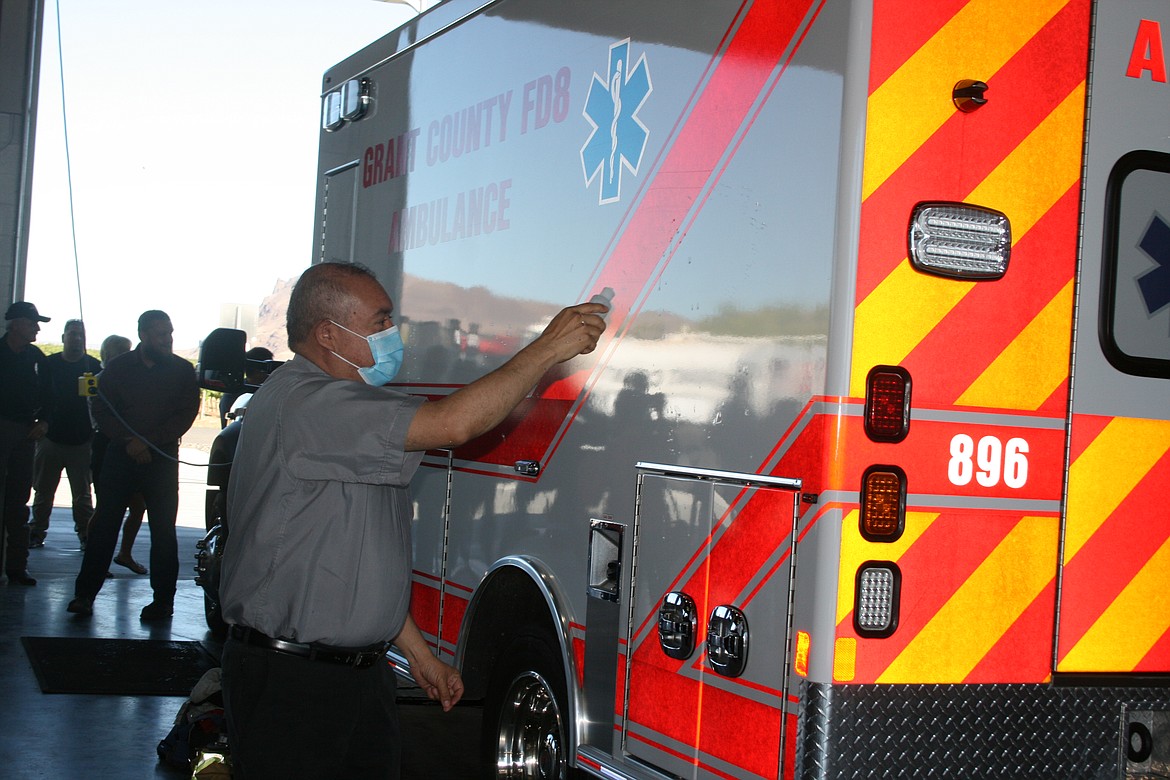 Father Alex Trejo of Our Lady of the Desert Parish sprinkles holy water on a Grant County Fire District 8 ambulance during dedication of the district's new station.
Previous
Next
by
CHERYL SCHWEIZER
Staff Writer
|
September 15, 2021 1:03 AM
MATTAWA — Scott Nesbit, chair of the Grant County Fire District 8 commission, had one word to describe the district's new fire station, dedicated Saturday.
"This is awesome," he said.
"It is," said fellow GCFD 8 Commissioner Debra Crain.
While department officials started moving to the new station at 20643 Road 22.5 SW about a month ago, the official dedication ceremony was Saturday. GCFD 8 Chief Joe Noonchester said the goal was to dedicate the new station on Sept. 11.
"It's nice to be able to honor that day," Noonchester said.
The terrorist attacks at the World Trade Center killed 343 firefighters from the Fire Department of the City of New York, and firefighters nationwide remember them on 9/11, as well as others killed in the line of duty.
And GCFD 8 has firefighters who are too young to remember the events of that day, Noonchester said.
"It's quite good to remember, and never forget," he said.
In addition, Saturday was a big day for the district.
"Also starting new for us," Noonchester said. "It's really special. Especially on 9/11."
The department has six full-time firefighter-EMTs, in addition to Noonchester and business manager Barbara Davis. The full-time employees were sworn in as part of dedication day, with the oath administered by two new battalion chiefs, Doug Anderson and Matt Hyndman.
Each firefighter received a badge, pinned on by someone important to them, which is also part of firefighting tradition.
There are traditions attached to equipment, too. The district recently purchased a new ambulance, and it's tradition for the crew to wash a new vehicle and push it into the station. The full-time crew and Noonchester did that after the swearing-in ceremony.
Father Alex Trejo of Our Lady of the Desert Parish blessed each of the trucks and ambulances at the new station by sprinkling them with holy water.
Hyndman said the new station is a sign of how far the district has come. He joined GCFD 8 in 1993, at age 16.
The first truck out of the station then was a 1972 pumper with a manual transmission, Hyndman said. The main station, on Government Road at the time, got the best equipment. The district has two additional stations, one in Desert Aire and one about nine miles east of Mattawa. Back when Hyndman joined the department, the lead truck in Desert Aire dated from 1956.
"A lot of memories in those old trucks," he said.
District officials have worked to upgrade the equipment, as well as the station.
"It's changed a lot. It's been good to see," Hyndman said.
GCFD 8 Commissioner Paul Parker has been there for it all, from the district's founding in 1967. He was one of the commissioners who found and purchased the district's first truck, a half track that is now on display outside the new station.
Parker was part of the fire department before that, recruited – in a way – by a neighbor soon after he moved to town in 1957. The neighbor told him to keep a No. 2 shovel and a garden hose in the trunk of his car, he said, adding that made him a member of the Mattawa Fire Department.
Parker was a volunteer with the district for 51 years.
The district also relies on its 20-30 active volunteers. Nesbit said district officials hope to start a program to encourage young people to try out the fire service, to see if it's a career they want to pursue.
Volunteering is how Ciro Arroyo learned he wanted a firefighting career.
Arroyo started volunteering when he was a senior at Wahluke High School, he said.
"I kind of fell in love with it," Arroyo said.
Rolando Rivera also has learned something from his time as a volunteer, and like Arroyo, he's looking toward a firefighting career.
A Quincy native, Rivera was thinking of a career in law enforcement until a severe car accident required a two-year recovery. He intended to go back into law enforcement, but about four months ago he volunteered with GCFD 8.
"The more I'm getting into this, I'd rather do this," he said.
---