Moses Lake slowpitch sweeps Sunnyside in opener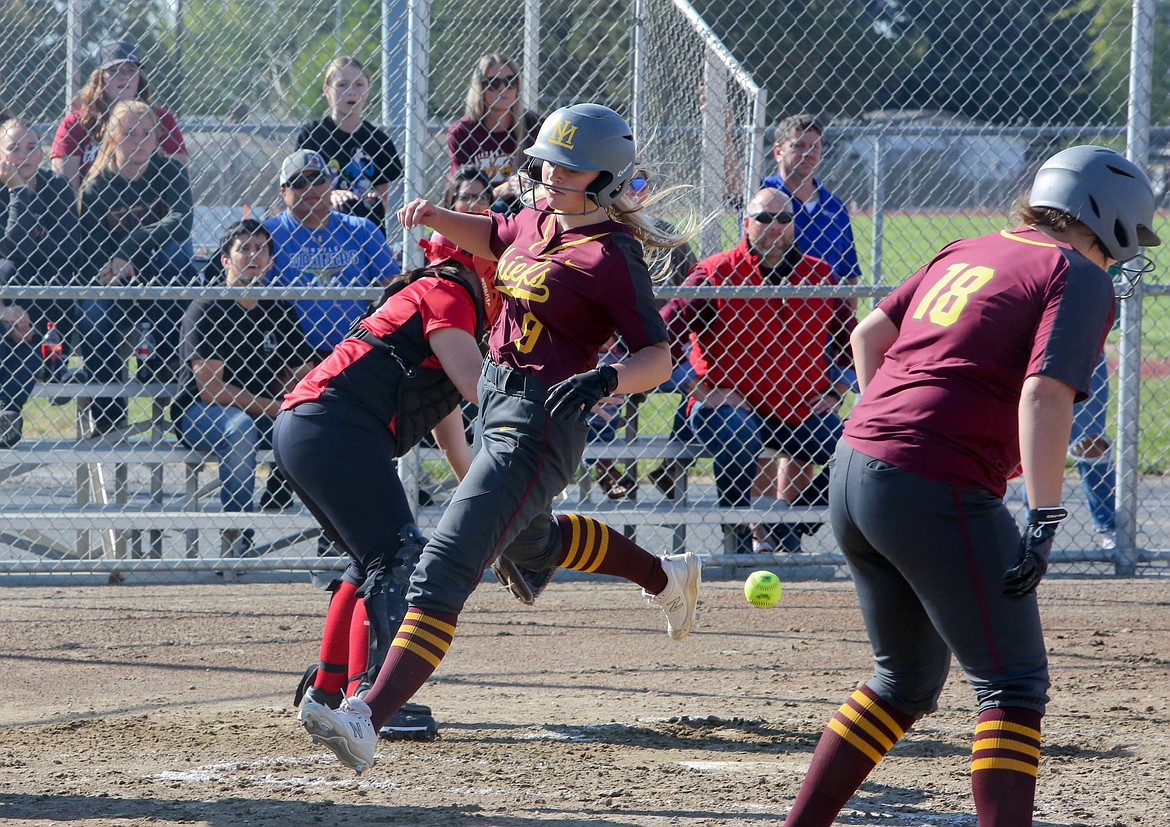 Moses Lake's Mikayla Schwartz comes across home plate for the in-the-park home run in the first game of the doubleheader against Sunnyside High School Tuesday afternoon in Moses Lake.
Casey McCarthy/Columbia Basin Herald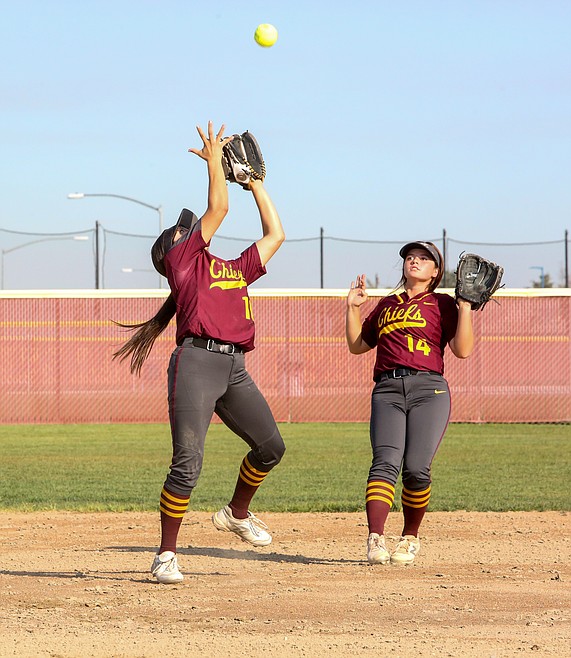 Moses Lake High School pitcher Rylie Sanchez makes a catch for an out in the second game of the doubleheader against Sunnyside High School on Tuesday afternoon.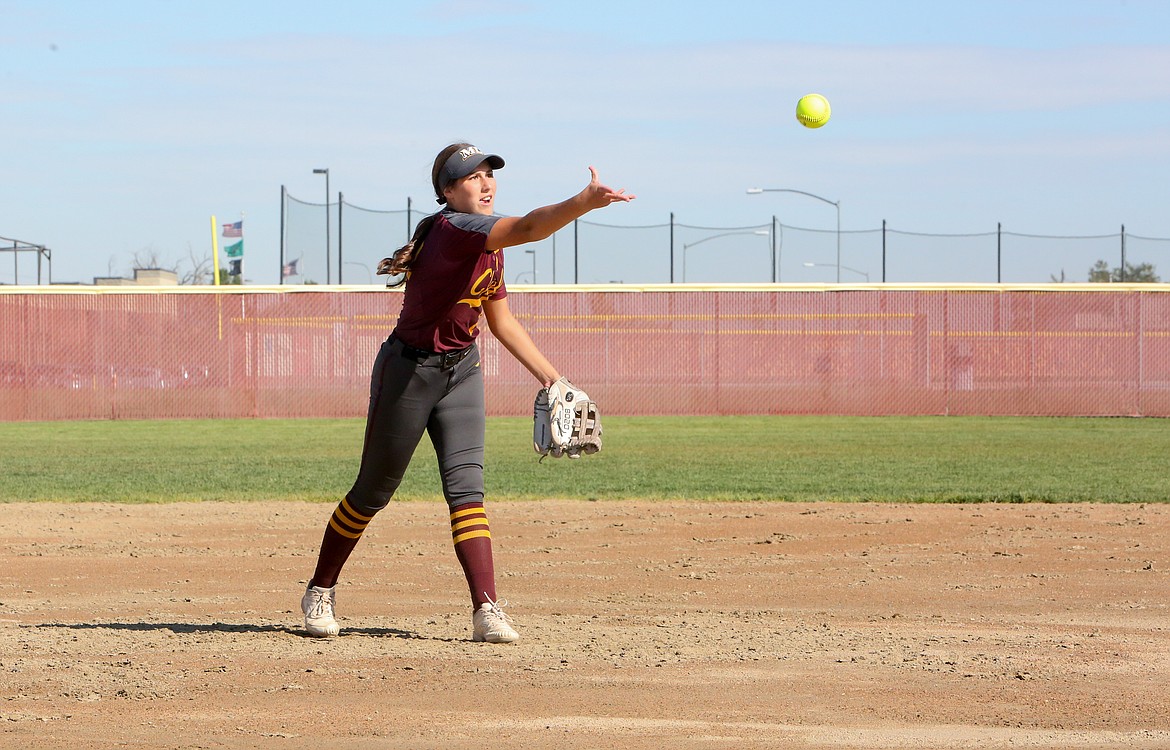 Moses Lake freshman Paige Richardson tosses a pitch in her first-ever varsity game on Tuesday afternoon against Sunnyside High School.
Previous
Next
by
CASEY MCCARTHY
Staff Writer
|
September 15, 2021 1:05 AM
Moses Lake High School slowpitch softball swept the Sunnyside High School Grizzlies in a doubleheader Tuesday.
The Moses Lake Chiefs fell behind early in the first inning of the first game, trailing 2-0 in the bottom of the first before responding with four runs of their own. Sunnyside briefly caught up at 4-4 before a barrage of Chiefs runs pushed the margin to 11-4 after three innings.
Moses Lake held onto their lead, taking Game 1 with a score of 16-5. Mikayla Schwartz notched three hits, including a home run and a double to go with one RBI. Rylie Sanchez and Brenna Rangel tied for a team-high three RBIs.
Freshman Paige Richardson commanded the mound with three strikeouts while allowing five runs off seven hits.
In the second game, Moses Lake led 2-1 after the first inning before pouring in 11 runs in the bottom of the second put them ahead 13-1. The Chiefs added eight more runs in the third inning on their way to a commanding 24-2 win.
Ali Stanley and Rangel both hit home runs in the second game, with Rangel knocking one out of the park. Stanley, Rangel and Rylee McGreevy tied for a team-high three RBIs. Stanley finished with a home run, a triple and a single, while Rangel finished with a single, a double and a home run. Leadoff hitter Kendall Reffett finished with seven hits, including two doubles and a triple in both games combined.
Sanchez pitched the second game, making two strikeouts while surrendering just two runs on eight hits to Sunnyside.
Stanley said it felt amazing starting at 2-0 after an unorthodox season last spring.
"Going from that weird season to getting all of our games and having a state tournament, it feels amazing," Stanley said.
Sanchez said she thought the team looked a lot better in the second game, cleaning up some mistakes and building some rhythm after shaking off some nerves in the first game.
Having some varsity experience under her belt has helped a lot, she said.
"Coming out here just knowing what to do and also having great leaders last year helped me a lot," Sanchez said. "Learning from my seniors last year has helped me a lot."
Chiefs head coach Mike Hofheins said the team is certainly young this fall after graduating a large group of seniors last spring. But, he said, the team has a lot of talented players and added the challenge now is finding where everyone fits best.
"We know who our core seven or eight are and we know where they need to play to help us best and then there's three, four or five where we're trying to figure out where those pieces are gonna fit best so that moving forward we have our best lineup out there," Hofheins said.
He said the Chiefs have challenging games against Chiawana and West Valley high schools next week. Hofheins said he told his players that as long as they're improving from at-bat to at-bat and from game to game, they're in a good spot to succeed.
After graduating a large group last spring, Hofheins said he's got some good young leaders on this group to go with two returning seniors.
"They'll get better, they're doing a good job and they're embracing their role," Hofheins said. "It's been fun."
Stanley, a junior, has embraced the challenge of moving from the outfield to shortstop, he said. Reffett has been solid in the outfield while Hofheins said he had to "tip his cap" to freshman Paige Richardson stepping up in game one for her first varsity start.
"Putting a varsity uniform on as a freshman and hearing you're gonna pitch, even in slowpitch, you're gonna be nervous," Hofheins said. "The thing I like about Paige is she never blinks. She just says, 'OK, I'm in.'"
Having a consistent pitcher who can place the ball where they want is a pretty nice weapon to have, Hofheins said.
Casey McCarthy can be reached via email at cmccarthy@columbiabasinherald.com.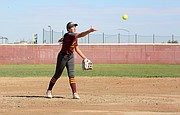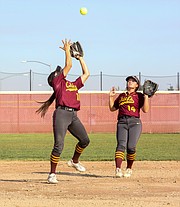 ---