Lourence Dormaier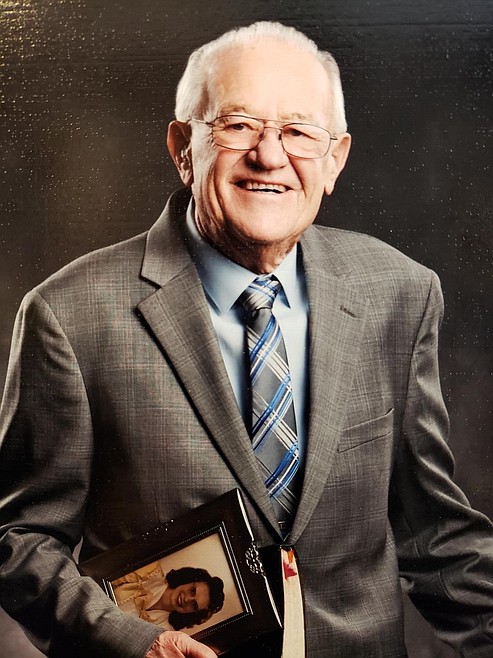 |
September 15, 2021 1:00 AM
March 9, 1924 – August 20, 2021
Lourence was born to Christian and Clara Dormaier on March 9, 1924, at the family homestead in Wilson Creek, Washington. He graduated to heaven on Aug. 20, 2021, at the age of 97, in Spokane, Washington.
At a young age his family moved to an old house north of Hartline, Washington. His parents were dryland farmers; this is where Dad began his love of the land. Dad was proud to be a lifelong resident of Grant County.
Lourence was drafted into World War II in 1944, where for two years he cooked for the Army Headquarters at Fort Lewis, Washington. Lourence was honorably discharged after World War II ended in 1946. It was on one of his leaves that he hitched a ride to Portland, Oregon, and met the love of his life, Ruth DeVries. They were married on Jan. 26, 1946, in Portland, Oregon. Lourence and Ruth returned to Hartline after the war where he became a sharecropper and six children were added to their family: Sherril, Larry, Andy, Gwynell, Lynnell and D'Arcy. Lourence was always inventing things from parts that he needed to his own well drilling rig that worked the first time he used it. He quickly turned much of his own property into irrigated land back in the '70s.
Lourence was a man of great vision. As a young farmer he brought the first dry and liquid fertilizers to the Columbia Basin, applying them to his own crops before taking them to the public through County Boys Fertilizer in Ephrata, Washington. Many said "Ahh, Lourence, you're just gonna burn up the crops," but he knew it would increase the yields. He brought in Noble V blades to deep plow the packed soil and introduced trash farming, now known as no-till. He drove 35 mph in the winter, without a cab, up the Columbia Gorge from Portland, Oregon, to Hartline on the first versatile articulated tractor Grant County had ever seen, only to be told on his first demo out, "Ahh, Lourence, you will just rip up the ground," but criticism never dampened his spirits.
Lourence went on to open the successful Versatile Tractor/Allis Chalmers combine dealerships in Odessa, Washington. He also held notary public, Washington state real estate broker and securities licenses. At one point he was the largest unincorporated wheat farmer in Washington state, a true leader in dryland and irrigated agriculture.
Lourence was a founding member of the Hartline Assembly of God Church and Washington State National Association of Wheat Growers, and recognized as Washington State Farmer of the Year for two consecutive years. Not bad for good old ingenuity, work ethic and two winter "short courses" of agriculture at WSU!
Lourence invited Jesus into his heart at the young age of 6. He loved Jesus with all his heart and lived by God's moral code, setting a high example for all those around him. He was honest to the core. He never lied or conspired evil against others, but always saw the good in people. He loved to support missionaries and was a faithful supporter of Faith Missionary Services, supplying native pastors and missionaries in Africa, Cuba and the Philippines with Bibles, bicycles, boats, a Jeep and portable PA systems. Over the years he was able to send himself, Ruth, and all his six children to Israel to experience the Holy Lands.
Lourence would want it to be known that he loved Jesus with all his heart and his sweetheart, Ruth, who went before him in 2007, often saying, "She was such a jewel."
Lourence was a man of few words, a little like EF Hutton: when he spoke, people listened.
To honor Lourence, he would want you to financially support your local church or favorite missionary.
---