Soap Lake Eagles fall, 42-32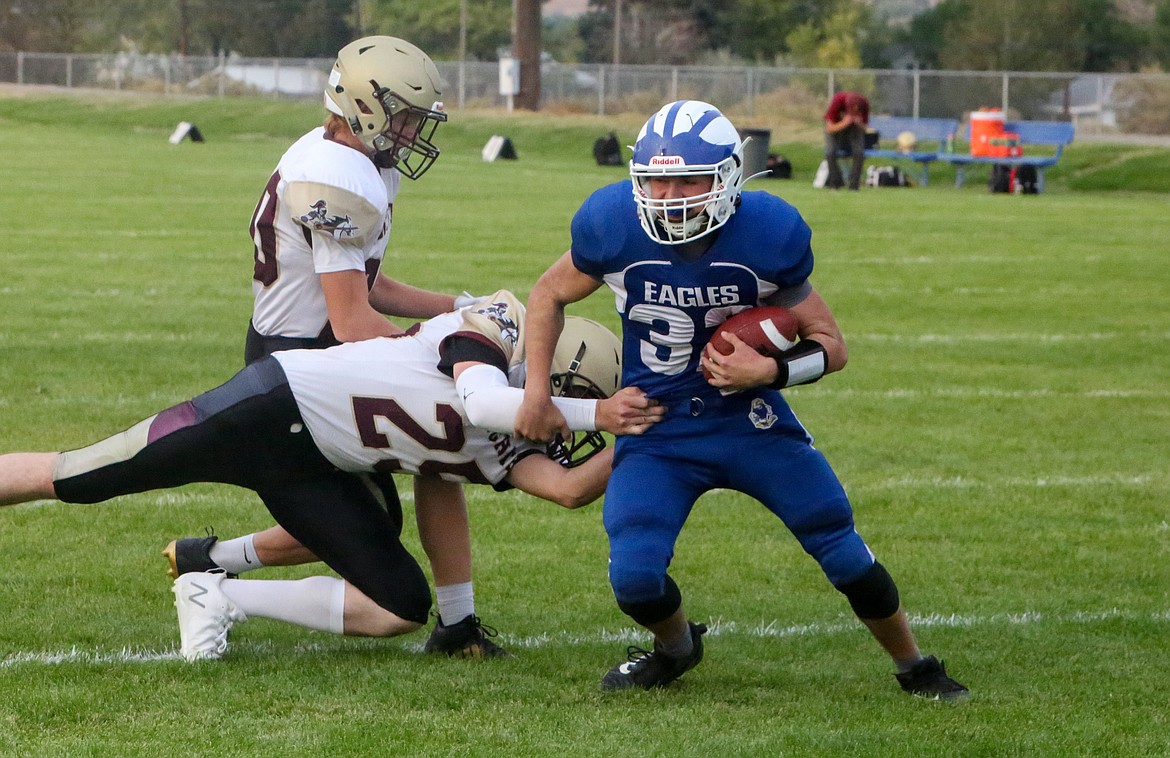 Soap Lake High School's Pavlo Stoyan secures a touchdown catch in the first half Thursday.
Casey McCarthy/Columbia Basin Herald
by
CASEY MCCARTHY
Staff Writer
|
September 13, 2021 1:00 AM
The Soap Lake High School Eagles lost their home opener Thursday against Sunnyside Christian High School, 42-32.
The Eagles scored in the first quarter with a highlight reel touchdown connection from quarterback Diego Garza to receiver Pablo Stoyan. The Sunnyside Christian Knights responded on their second offensive play with a 60-yard touchdown run, followed by a two-point conversion, bringing the score to 8-6.
Kaleb Weaver connected with Garza for a 40-yard touchdown grab, putting the Eagles back in front 12-8 with just under three minutes left in the first. The Knights started the second quarter with a 15-yard touchdown pass, retaking the lead at 14-12. A 50-yard interception return for a touchdown on the next possession pushed the lead out to 22-12.
Sunnyside Christian scored on an 85-yard touchdown pass with under a minute to play to push the lead out to 30-12, a lead they held until halftime.
Stoyan and Garza connected for the second touchdown of the evening in the second half to pull the Eagles within 10 at 30-20. A 50-yard quarterback run from Sunnyside Christian pushed the lead back out to 36-20 a little more than a minute later. Diego Garza's 13-yard run with under a minute left in the quarter pulled the Eagles back within striking distance at 36-26.
A 55-yard touchdown pass from Sunnyside Christian midway through the fourth pushed the lead back up to 42-26. Gio Campos caught a touchdown pass with less than a minute to play, but Soap Lake couldn't make the two-point conversion or recover the onside kick in the final moments.
Garza finished with 233 yards passing, three passing touchdowns, three interceptions, 64 yards rushing and one rushing score. Bustos finished with 77 yards on seven carries. Stoyan finished with 64 yards on four catches with two scores, while Bustos finished with 128 yards on five catches.
Eagles head coach Tony Blankenship said he told his team before Thursday's game they would do the same thing Monday in practice, win or lose.
"Cleaning up stuff, you might be making mistakes in practice but you can't really see them until that game happens," Blankenship said. "After that first game, now I feel like, OK, now I know what we need to work on."
Next up for the Eagles will be a road trip this week to face off against Pateros High School.
---