Hospitals, health district deal with COVID-19 surge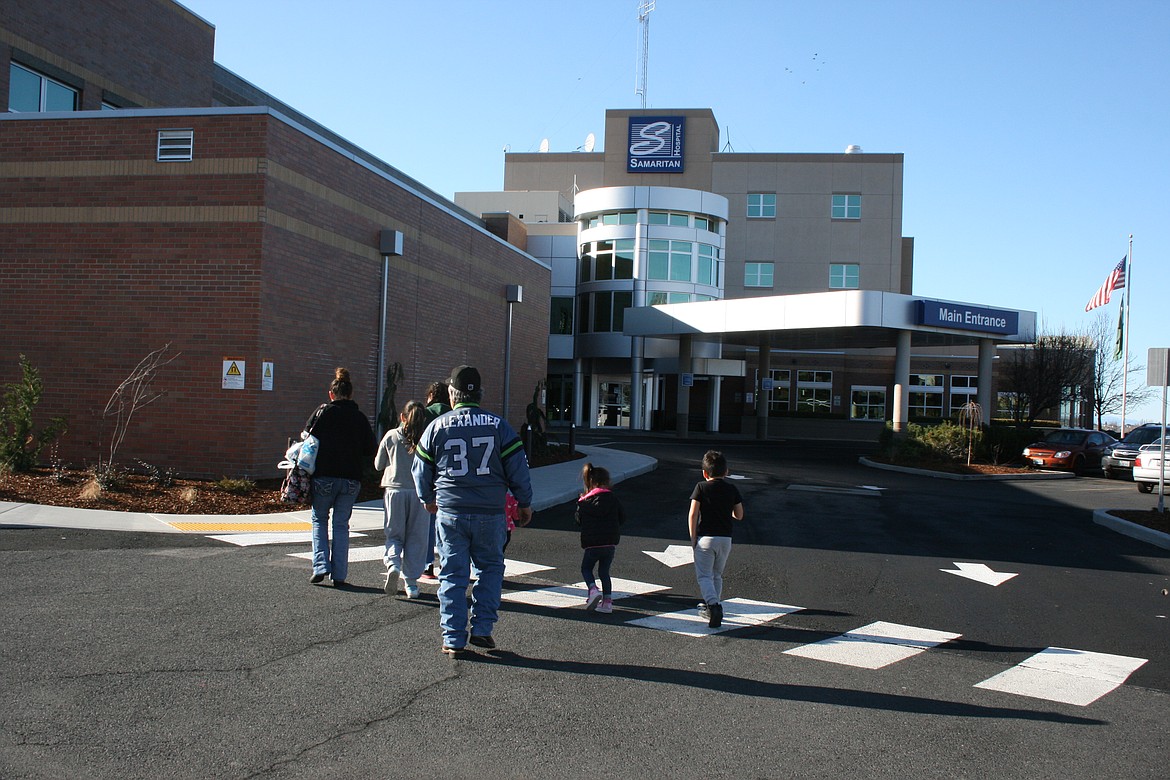 Visitors enter Samaritan Hospital.
by
EMILY THORNTON
Assistant Managing Editor
|
September 10, 2021 1:05 AM
MOSES LAKE — Regional hospitals are dealing with an influx of patients with COVID-19, according to information from Samaritan Healthcare of Moses Lake and Confluence Health.
If the surge continues at Samaritan Hospital, people needing treatment for any reason could face not getting it right away, according to Gretchen Youngren, executive director of development and communications at Samaritan — a situation also happening in other parts of the country.
As of around 1:45 p.m. Thursday, she said there were 14 COVID-19 patients in the intensive care unit at Samaritan's Moses Lake hospital, with two rooms doubled up, as there are only 12 ICU rooms.
There were 17 COVID-19 patients in the medical/surgical unit and three more admissions on the way from the emergency department, bringing the total COVID-19 patients to 34.
There was one patient in the mother/baby unit, and 10 deliveries in the previous few days, Youngren said.
The combination of COVID-19 patients and others who need help, such as car collision victims, has caused a vastly increased need for care, she said, but so far the hospital has kept the level of care consistent with the non-pandemic level. She wasn't sure what the patient-to-provider ratio was, she added. She also knew Samaritan was not alone, as other hospitals are dealing with an influx of patients.
"It's the worst we've ever seen it (since the start of the pandemic)," she said.
She said she knows it's going to get worse, as she and others at Samaritan look at the positive case count rise in the community, because those people may end up at the hospital.
"We're in for a bumpy September," she said.
Additionally, there were more than 15 COVID-19 patients in the emergency room Thursday afternoon alone, but not all were to be admitted, she said.
The hospital has 50 beds, with 12 ICU, 13 mother/baby, and 25 medical/surgical.
Youngren said the hospital has been operating in its first phase of its surge plan since March 2020, with medical professionals working double shifts. Now, it's bringing back teaching nurses to bedside assistance and other community partners stepping in. It also has a phase to house up to 200 patients, which, as of Thursday, it was readying to enact, she said.
"At this point, we're actually putting the wheels in motion," she said.
Youngren could not confirm whether the hospital is full.
The hospital's plan has changed in the past year, she added, as it learns about how to better care for patients during the COVID-19 pandemic all around. But those in the health care field are getting worn out, working so many shifts.
"It is hard. The staff are tired," she said. "It's tiring. It's very, very tiring."
Samaritan Hospital Chief Executive Officer Theresa Sullivan could not be reached for comment by press time.
To inform residents about what's happening in the hospital, Samaritan's chief medical officer, Dr. Andrea Carter, will have a free Zoom discussion at 10 a.m. Friday for anyone. Those with questions can send them via Facebook messenger prior to the meeting. The link is https://us06web.zoom.us/j/88168775711.
Confluence Health doesn't have a hospital in Grant or Adams counties, but its Wenatchee hospital, Central Washington Hospital, had seven COVID-19 patients from Grant County on Thursday, according to its website. Health care providers there have dealt with the influx of COVID-19 patients.
"We have beds available, but are constantly struggling to adequately staff," wrote Andrew Canning, Confluence's marketing & communication director. "Every shift we rely on staff working extra hours and/or covering shifts when they were not scheduled to work."
Meanwhile, Grant County Health District Public Information Officer/IT Coordinator Misty Aguilar said Thursday COVID-19 case investigators, contact tracers, are backlogged by at least 200, meaning those cases haven't been assigned to anyone to determine who the person came into contact with and might also have COVID-19.
"We're just drowning," she said. "We've never had this backlog before," she added, referring to sometime in August, when GCHD began getting swamped with cases.
Besides that, GCHD is having a hard time finding and keeping people willing to take on investigating. For instance, it's had zero applications for its public health nurse position, and its communicable diseases investigator role has been a revolving door, she said. The 40 or so staffers there have had to all step into various roles, though, she said. But, she said GCHD is not alone, as other health districts and departments deal with similar issues.
As far as keeping up the COVID-19 count, she said she gets information countywide and compiles it daily in the late afternoon or evening, and it's usually more up-to-date than the state Department of Health's or U.S. Centers for Disease Control and Prevention's data, as those websites are only updated about weekly, with the previous week's information.
For GCHD's latest information, visit http://granthealth.org/latest-updates-for-covid-19-in-grant-county-wa.
Recent Headlines
---