Bringing back the music: Central Basin Community Concert series returns to stage tonight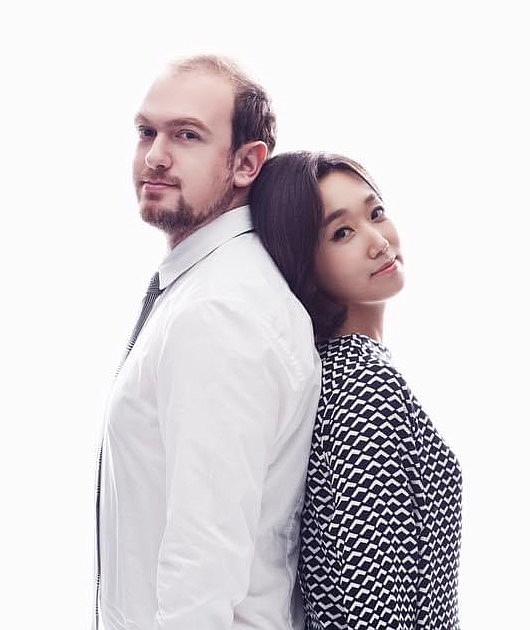 Performing duet and husband and wife, Brendan Shea and Yerin Kim, the Shea-Kim Duo, will kick off the Central Basin Community Concert Association's show series tonight in Moses Lake.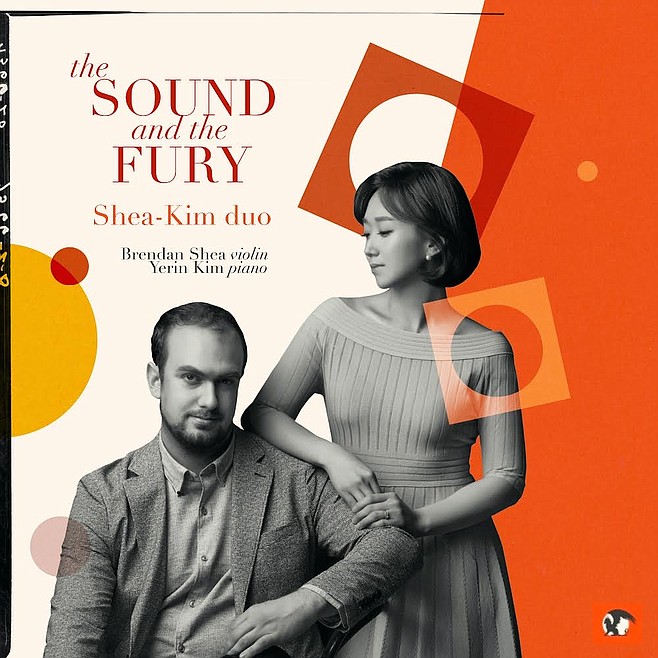 A look at the album cover for the Shea-Kim Duo's debut album released today, "The Sound and the Fury," from Blue Griffin Recording.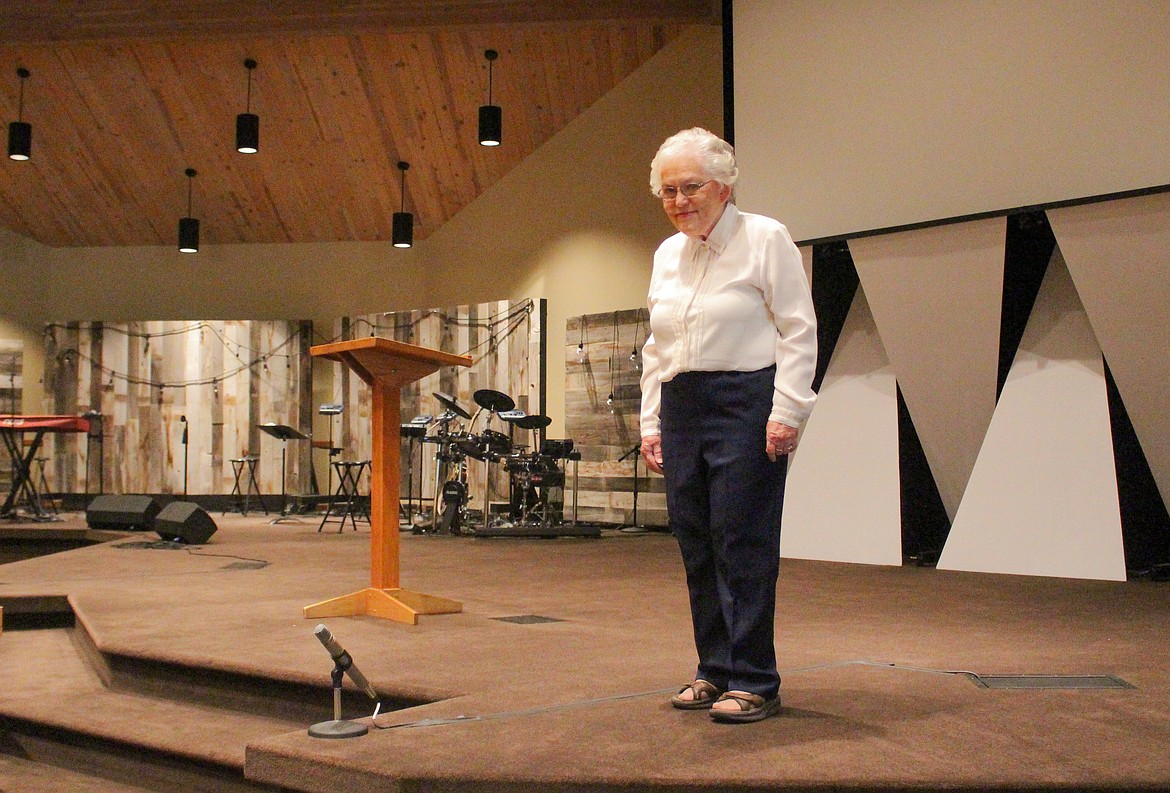 Frances Irwin, president of the Central Basin Community Concert Association, stands on the stage for tonight's performance at the Moses Lake Alliance Church.
Previous
Next
by
CASEY MCCARTHY
Staff Writer
|
September 10, 2021 1:00 AM
While the venue may be different to start the season, the quality of the performances and the excitement from the community will be the same as the Central Basin Community Concert Association hosts its first performance since the pandemic Friday night.
The award-winning Shea-Kim Duo, composed of classical musicians Brendan Shea and Yerin Kim, will start the concert series tonight at 7 p.m. in the Moses Lake Alliance Church auditorium, as the Wallenstien Theater is currently undergoing some rehabilitation.
Kim and Shea met as college students and have been playing together in various chamber music settings since around 2014.
Shea is a world-renowned violin soloist, chamber musician and teacher and performed on stage at Carnegie Hall by age 11. He has performed at numerous venues with various groups and concert organizations around the world, winning awards along the way.
Kim is an acclaimed piano player, recitalist, chamber musician and educator, having performed in major venues internationally, as well. Kim released her solo debut album, "First and Last Words," in 2019. Prior to joining the staff at Central Washington University, both Kim and Shea were professors at the University of Notre Dame.
The married duo said non-musicians often ask them how they juggle pairing their professional careers and their personal lives.
"Work is everything, personal life and work, it's all sort of meshed together," Kim said. "It's quite different, but we feel very grateful to do it, especially during COVID, to be able to work and rehearse from home."
Kim said the pair have bounced around various jobs and institutions working on their degrees through the years, recently relocating to Washington state. They go where they're needed as musicians and educators, she said.
Kim said it was around March 2019, when the pandemic hit, their phones were blowing up with venues and groups canceling or rescheduling performances. After the first few weeks of shock, adjusting to moving their classes 100% online and pulling their own kids out of daycare, she said they knew they needed to find ways to be creative.
Kim said the pair did a variety of shows from their living room, with Shea, as concertmaster for South Bend Symphony Orchestra, was working with musicians to put together socially distanced performances.
While performing seemed limited at first, Kim said through various platforms she connected with a lot of her colleagues across the country to perform for and chat with her students virtually.
"We never really felt isolated; I could have been, but we tried really hard to keep the spirit of work going," Kim said.
Chamber Music in the Bend, a music festival the pair was organizing before COVID hit, was held virtually the past two years, with students and adults from across the country.
While the pair had the opportunity for some solo performances and shows with various other chamber music groups, last weekend's performance in Yakima marked the first show for the pair since the pandemic and was the first show of their upcoming tour.
Friday also marks the launch of the pair's first album, "The Sound and the Fury," released by Blue Griffin Recording.
After performing in some of the most renowned concert venues in the world, Kim said she doesn't really consider the size of the venue when she's on stage. Every venue is different, she said, with smaller ones nice, as they allow her to connect with the audience more intimately after the performance. Shea said, in a lot of ways, the smaller venues are more meaningful.
"It's more fun performing in the venues that you started in and are going back to," Shea said. "Obviously, it's exciting to go to places like Carnegie Hall or The Kennedy Center and those are singular moments in life when you're finally invited to these great places to play. But every time you go to those places, you're looking for that friendly face in the crowd."
Whether it's a big, celebrated hall or a smaller, more intimate, venue, Shea said the focus for them is to always put on the best show possible.
Frances Irwin, president of the CBCCA, was on the board for more than 10 years before taking some time away to address her husband's health concerns. After rejoining the board last winter, she was elected as president in June.
While the concert series was forced to cancel its final show when the pandemic first came into play, Irwin said the series board discussed how to best pick up things when performances were allowed to continue.
There were no performances last year. Irwin said performers for each season are typically scheduled in fall the year beforehand. In the past, she said the concert association has relied on a Nashville-based company, Live On Stage, for selecting performers for the concert series each year.
Both this season's lineup and the 2022-23 roster of performers feature a wide variety of artists, Irwin said.
"There's classic performers, there's jazz performers, there's groups of multiple artists that are offered and they vary in price as far as what community concerts pay," Irwin said. "So we have to look at what we've got resource-wise and what we expect to have resource-wise and try to match what we think our community would like to have come."
Irwin said the Shea-Kim Duo is relatively new to Central Washington, with Kim finishing up her first year as professor at CWU. Not only does Kim teach music at CWU, but she also has a degree in psychology and kind of merges those ideas into her music, Irwin said.
She said local piano teachers have all talked to her about getting all of their students in to see Kim perform tonight, with a special price rate offered for tickets for piano students.
Irwin said this will be the first year the series hasn't been hosted at the Wallenstien Theater, and it will have a different atmosphere at the Moses Lake Alliance Church.
"It has an excellent auditorium facility," Irwin said.
The concert series' 67th season features the Shea-Kim Duo, with Taylor Red, a trio of triplet sisters, set to perform the next show on Jan. 13, 2022. Branden & James, a classical music duo, will hit the stage on March 22, 2022, and America's Sweethearts vocal trio set to perform on April 22, 2022.
Tickets can be purchased at the venue before the show tonight, with masks required for those in attendance per state mandates for indoor events.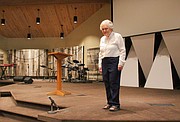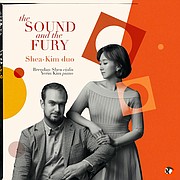 Recent Headlines
---