Paul Hirai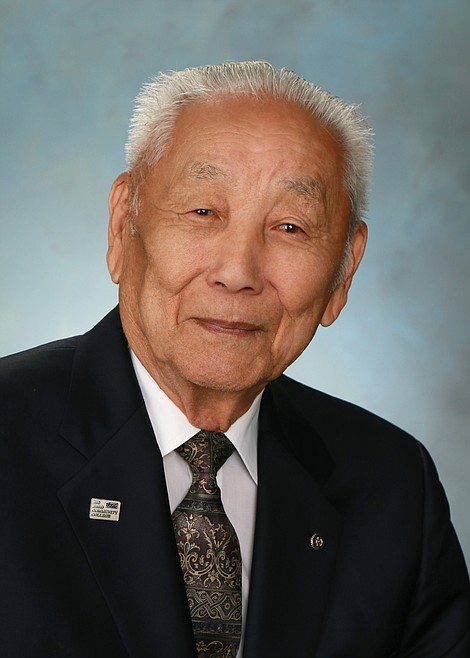 |
September 8, 2021 1:00 AM
July 21, 1929 – August 31, 2021
Paul Hirai, of Moses Lake, Washington, passed away on Tuesday, Aug. 31, 2021, at the age of 92. Paul died peacefully with his beloved wife Ginny and his family by his side.
Paul was born in Wapato, Washington, on July 21, 1929, to Daizo and Kiyoe Hirai. He was the youngest of four siblings. Paul married Ginny Matsusaka on Nov. 26, 1955, in Seattle, Washington. They are the proud parents of three daughters Patty Laughery (John), Nancy Hirai (Ed Parsons) and Susan Hirai (Mike Rosa); five grandchildren Jason, Melissa, Zachary, Lindsay and Ashley and great grandchildren Aila, Keira, Ella, Nyomi and Julian.
Paul was a member of the National Guard and graduated from Officer Candidate School in Fort Benning, Georgia. He was honorably discharged in 1964 as a reserve commissioned officer with the rank of captain.
Paul lived and farmed with his brothers in Nyssa, Oregon, and moved to Moses Lake in 1960. He and his partner Harry Masto farmed about 2,000 acres, and owned and operated a packing and shipping warehouse until Paul retired in 1993.
Paul became a Rotarian in 1972. In 1985, Paul traveled with Pete DeVries to Yonezawa, Japan, to discuss the formation of a sister city relationship between the two Rotary clubs.
Paul was involved in the Grant County Economic Development Council.
In 2010 Paul was selected as one of the first inductees into the Moses Lake Chamber's Ag Hall of Fame.
He was a board member of the Washington Potato Growers Association from 1975 to 1981. In 2015, he was honored with the Industry Leadership Award.
Washington state Governor John Spellman appointed Paul as a trustee of Big Bend Community College in 1982. He served in that capacity for 17 years, also serving on the BBCC Foundation board until 2020.
In 2013 Big Bend Community College dedicated the new Fine Arts Building in his name. In 1999, Paul was honored to receive the medal "Zuihosho" from the Emperor of Japan.
In 2020, the Big Bend Community College Board of Trustees granted Paul emeritus status.
He has been active with the Yonezawa-Moses Lake Sister City committee almost from its inception.
Paul began funding the Paul Hirai Family Scholarship in 2015. The scholarship is awarded to agriculture majors, students of farm families or students with family members whose employment is related to agriculture.
In lieu of flowers the family ask that donations be made to the Paul Hirai Family Scholarship Fund at Big Bend Community College Foundation, 7662 Chanute St. NE, Moses Lake.
A Celebration of Life ceremony will be held at 2 p.m. on Saturday, Sept. 18, 2021, at the Paul Hirai Fine Arts Building at Big Bend Community College.
Please express your thoughts and memories at www.kayserschapel.com. Arrangements are under the care of Kayser's Chapel of Memories of Moses Lake, Washington.
---