Othello outlasts Connell, 28-21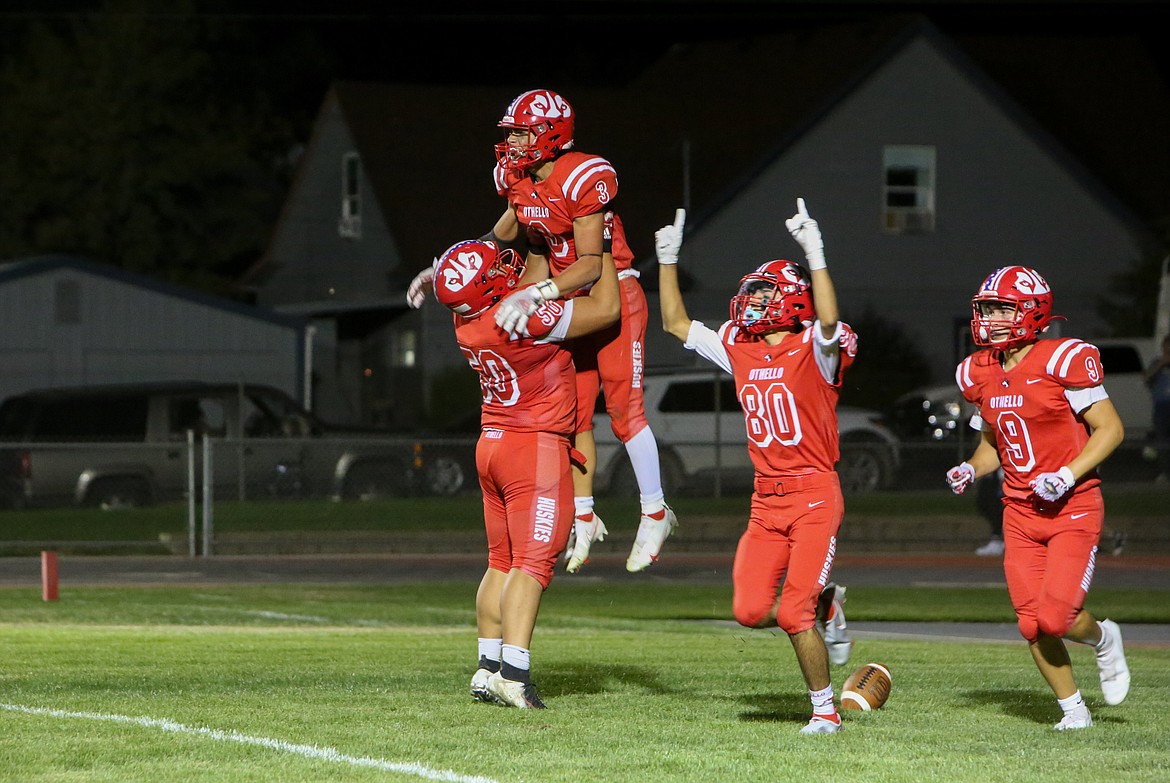 Othello's Mason Perez, No. 50, lifts teammate Ezra Gonzalez, No. 3, into the air after Gonzalez scored the winning touchdown in the fourth quarter against Connell Friday.
Casey McCarthy/Columbia Basin Herald
by
CASEY MCCARTHY
Staff Writer
|
September 8, 2021 1:00 AM
OTHELLO — Ezra Gonzalez ran for the game-winning touchdown with the score tied and less than four minutes to play Friday night, as Othello High School football took down Connell High School, 28-21.
The Othello Huskies and Connell Eagles got off to slow starts in the first quarter, with the Eagles losing an early fumble to Zack Rocha deep in their own territory.
The Huskies suffered a mishap of their own, losing the ball near the goal line. Neither team was able to string together an offensive drive in the first quarter, leaving the score at 0-0.
Othello started the second quarter with two more turnovers, one coming on special teams. Connell finally scored on a short rushing touchdown to take a 6-0 lead with less than four minutes to go in the half.
With time winding down, Othello forced a fumble near the goal line. Terrill Freeman grabbed the loose ball in the Huskies' end zone and took it more than 100 yards downfield. Making the extra point gave Othello a 7-6 lead with 32 seconds in the half.
Connell responded by taking the return all the way to the end zone, reclaiming the lead, 13-7, at halftime.
After a turnover on downs at the start of the second half, Othello recovered a Connell turnover. After a touchdown was called back for holding, Julian Alegria rushed the ball in from 20-plus yards.
The Huskies led, 14-13, midway through the third. Alexander Mendez rounded out the third quarter with an interception.
Othello quarterback JD Deleon opened the fourth quarter with a rushing touchdown from the backfield to push the Huskies ahead.
Connell responded with a rushing touchdown of its own less than two minutes later, and got a two-point conversion to even the game at 21-21.
With just over four minutes to play, Gonzalez burst out of the Othello backfield from 31 yards out to push the Huskies back on top, 28-21. A Connell turnover on downs with under a minute to go sealed the win.
Tempers flared, and one Connell player was ejected after an altercation with an official.
Gonzalez led the Huskies on the ground with 113 yards, while Alegria finished with 72 yards rushing. Deleon finished with 66 yards rushing and 27 yards passing.
After the game, Freeman said it felt "really great" picking up what he felt was a pretty lucky fumble coming at a crucial point late in the first half.
"I thought that was kind of like an answer to prayers; we were doing good, but we needed something," Freeman said.
---