How they got their jobs back: Moses Lake firefighters 'set a precedent'; union sign-off on deal is next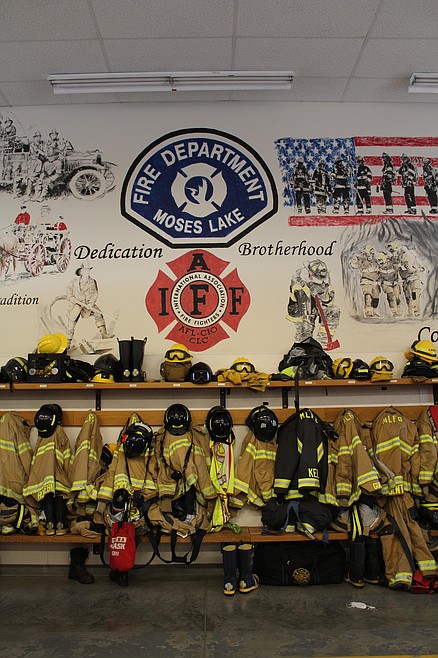 Gear lines a wall with paintings by a former firefighter in the Moses Lake Fire Department's truck bay.
Emily Thornton/Columbia Basin Herald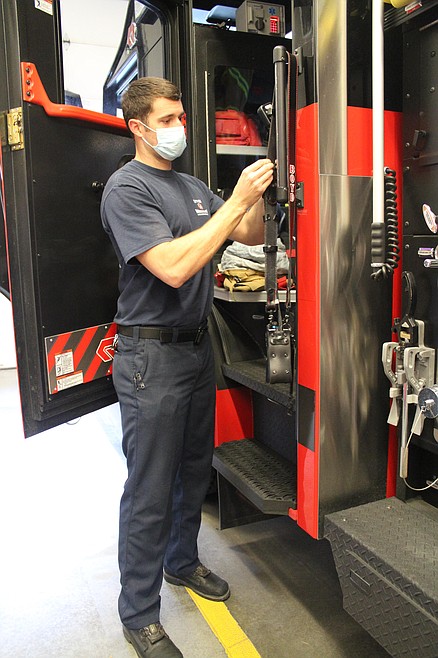 Moses Lake Fire Department firefighter/EMT Dustin Boyd checks equipment on a fire truck. He was hired Wednesday, with an official start date of Nov. 7, by the department after eight months as a provisional firefighter and several years as a volunteer for Grant County Fire District 5. Boyd replaces firefighter MIchael Evens, who decided to resign.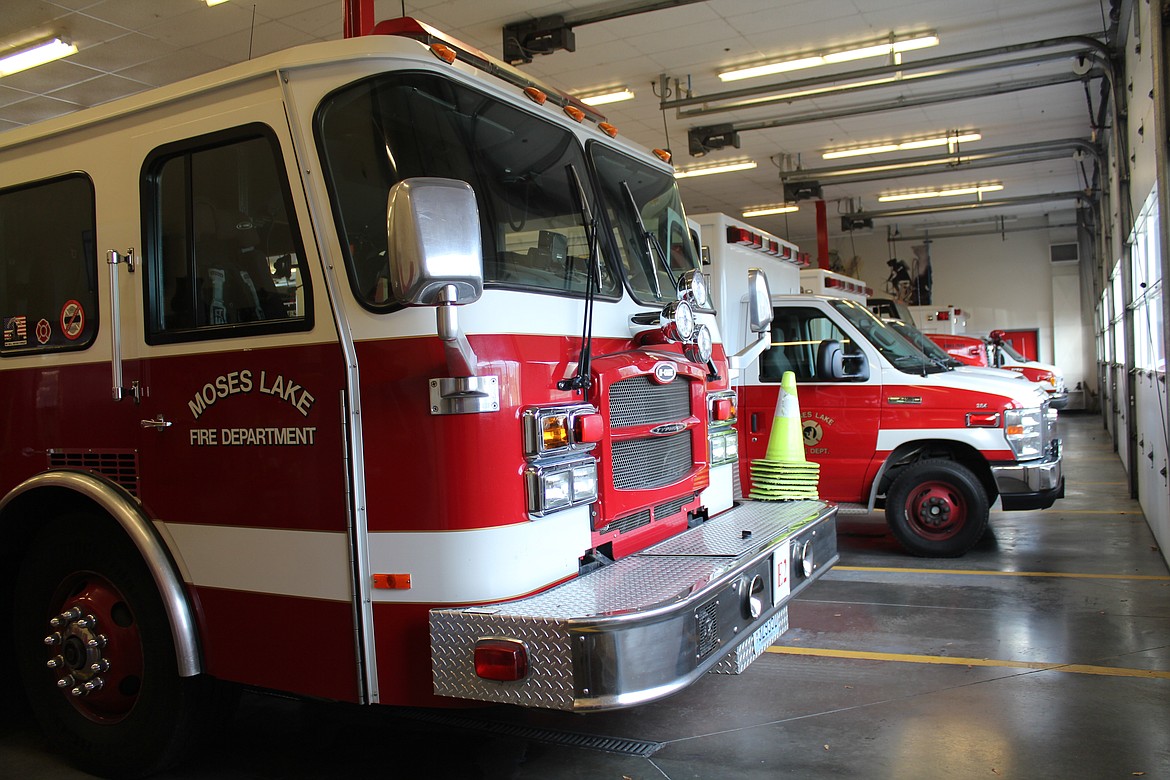 Trucks sit in the bay at the Moses Lake Fire Department.
Previous
Next
by
EMILY THORNTON
Assistant Managing Editor
|
October 29, 2021 1:07 AM
Two out of three Moses Lake Fire Department firefighters will get their jobs back, as city officials said they could be accommodated for not getting a COVID-19 vaccination.
The city council voted 4-3 Tuesday to reinstate and accommodate firefighters Capt. Phil Walker and Lt. Jay Morice, who didn't get the COVID-19 vaccine.
Firefighter Michael Evens also didn't get the COVID-19 vaccine, didn't file for any exemptions, and resigned, President of the IAFF Local 1258 and MLFD Capt. Brandon Burns told the Herald on Thursday.
The firefighters' union, IAFF Local 1258, will confirm the accommodations, if agreed upon, after which accommodation letters will be sent, according to a release from the city Wednesday.
The three were among many who were subject to a mandate imposed by Gov. Jay Inslee Aug. 9, which required most state executive branch employees, on-site contractors and volunteers, and public and private health care and long-term care workers to be vaccinated by Oct. 18, with the final dose needed by Oct. 4 to meet the deadline, or risk losing their jobs.
The city decided MLFD firefighters had to be vaccinated because they were in a "health care setting," or ambulance, according to city spokesperson Lynne Lynch.
City Manager Allison Williams told the Herald Wednesday the firefighters "were able to demonstrate to the city their ability to accommodate the employees in positions where their provision of patient care could be minimized or eliminated."
She also said the use of personal protective equipment and testing would be required "to ensure the safety of our staff and the public."
"We also had examples from our comparable cities who had allowed the accommodations (Walla Walla)," she wrote in an email. "Staff provided the options to the city council so they understood the risk. In the end, it was their policy decision to accommodate."
The city's release Wednesday outlined the accommodations.
Firefighters would be allowed to perform duties except for emergency medical aid, including first aid, according to the release. They also must wear masks, eat and sleep in a closed office or room apart from the others on duty. A COVID-19 test also will be required at the start of a shift, and they may have to submit to more testing, depending on circumstances. The test would be initiated by the city and at the city's expense, with the results obtained immediately. Additionally, shift trades or overtime would not be allowed and they will be assigned to a certain station.
Mayor David Curnel said his vote to reinstate was influenced by several factors.
"I voted in favor of granting the accommodations because I felt that is what the majority of citizens would want," he wrote in an email. "I researched a number of issues regarding the vaccine, the mandate, and the risks to the public. The Moses Lake Fire Department is essential to the safety of our citizens. They are already understaffed. Leaving them more understaffed would only make our citizens less safe. That is not acceptable even in this pandemic era."
City council member Dean Hankins was one of three who voted against the reinstatement.
"The original job description has them not only as firefighters but as EMTs, which means they would have direct patient contact," he wrote in an email. "Having worked in medicine for over 40 years, I think the safety and well being of the patient is paramount. One of the first things we were taught in school was above all else do no harm. Wearing a mask helps protect those you are around but in the case of patients I feel there are multiple layers of protection available that you should use, and one of these layers is the vaccine. If these individuals would not be involved in patient contact I would have no problem allowing an exemption for them."
Williams said last week the city's insurer advised putting "an unvaccinated employee in a situation where we received a claim, then there is no coverage."
She also said the city needed "every penny of our reserve funds to bolster up the infrastructure of our community, not in fighting lawsuits."
But when the MLFD firefighters lost their jobs, an online petition was created to help alert citizens the firefighters could be accommodated at work and not be vaccinated. It garnered more than 2,500 signatures as of Thursday.
MLFD firefighter Mike Miner spearheaded the petition and told the Herald he and others would present it to the city council when they felt ready.
On Tuesday, they did.
"Usually, the citizens call and we come when they're in need," Miner wrote in a statement. "The script was flipped, though. We needed help and the citizens had our back. Thank you. We are so grateful."
"I am so pleased with the courage and support shown by four of our council members," MLFD firefighter Schrade Rouse wrote in a statement. "They have chosen to accommodate sincerely held religious beliefs and to stand up for the medical freedoms of our valued employees. No individual should have to choose between their livelihoods and being forced to take an unproven medication. We all know now that this vaccine is not like say the measles vaccine, where you are inoculated from contracting the disease after you have been vaccinated. Those who have received COVID vaccines can still contract, carry and spread the virus. The Moses Lake Fire Department is proud to have blazed this path for our members. Our firefighters can now choose their own destiny and control their own medical choices. Furthermore, we are very pleased to have set a precedent for hundreds of other city employees who may or may not face similar difficult decisions in the future. I/we would like to commend the four council members who stood beside us while facing these extremely difficult decisions. We would also like to thank the thousands of our citizens and customers who voiced their support for our cause. We sincerely believe that this decision reflects justice for our members and can be an example for other municipalities and institutions moving forward. Thank you."
"We are proud of our council for getting our members back with accommodations," Burns wrote in a statement. "Our community spoke volumes of support towards this issue and agreed they could not lose anyone during this pandemic. We strive to provide the best service to our tax payers, and this is the most achievable way to do it with accommodations. Thank you to all for voicing your opinion on a much needed topic."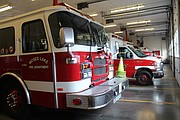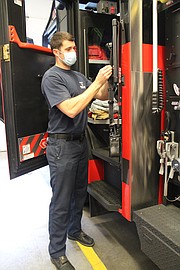 ---