Xi Beta Xi has fundraiser for food bank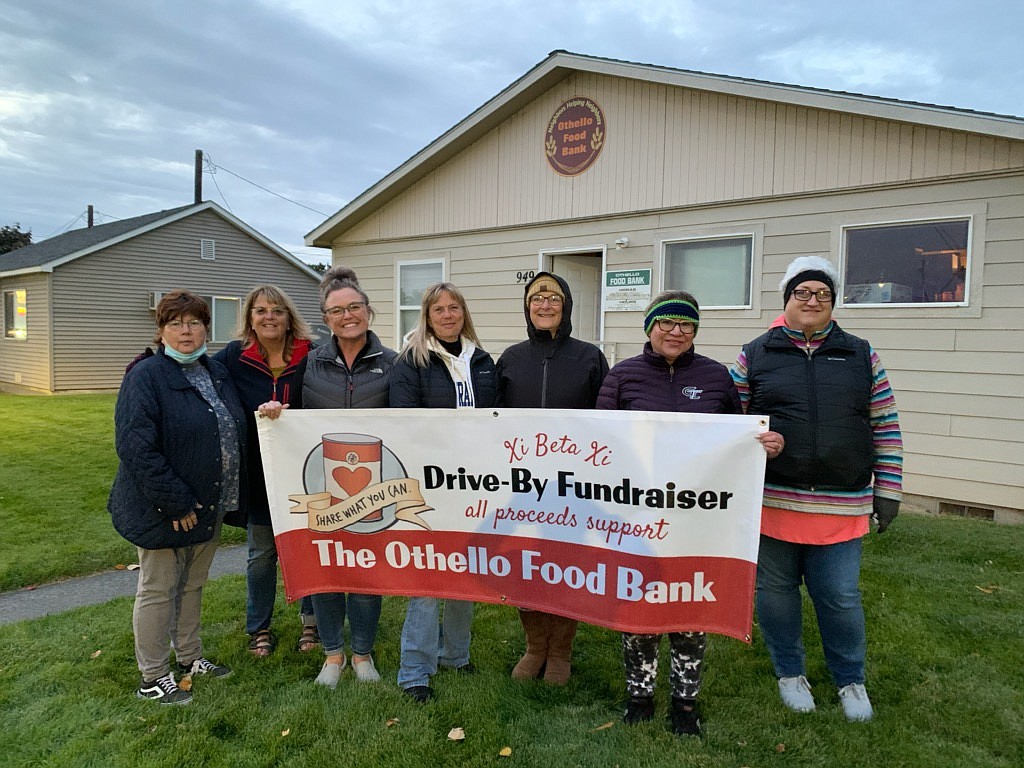 From left, Othello Food Bank director Shannon Mobley and Xi Beta Xi members Debbie Pegram, Kris Robertson, Linda Brady, Colette Simpson, Bianca Garcia and Liz Jensen stand outside the food bank during the Oct. 12 fundraiser.
Courtesy photo
by
CHERYL SCHWEIZER
Staff Writer
|
October 27, 2021 1:00 AM
OTHELLO — The Xi Beta Xi sorority donated more than $2,500 to the Othello Food Bank and a late donation raised that amount to more than $3,000.
Members had a drive-by fundraiser at the food bank Oct. 12, soliciting donations of money and food. Chapter member Linda Brady said the drive-by event raised about $2,600, as well as bringing in donations of cans, boxes and bags of food.
A late donation of $500 raised the total to $3,100, Brady said.
Xi Beta Xi has been sponsoring the food bank donation project for 12 years, Brady said. It's held the second Tuesday in October.
"We do different service projects during the year, but this one is our big one," she said.
Food bank director Shannon Mobley was appreciative of the turnout and the support, Brady said, and expressed gratitude for the group's help over the years.
Normally, the fundraiser is at the Othello Fraternal Order of Eagles lodge, but Xi Beta Xi members decided to hold it outdoors in 2020 due to the pandemic, and make it a drive-thru. The lingering effects of the pandemic meant a second drive-thru in 2021.
Xi Beta Xi is a women's service organization and there's been a chapter in Othello for about 60 years, Brady said. Its other community service projects include supporting the New Hope women's shelter with donations of money and hygiene products.
---