Firefighters reinstated: Council brings back three after they lost their jobs over vaccination mandate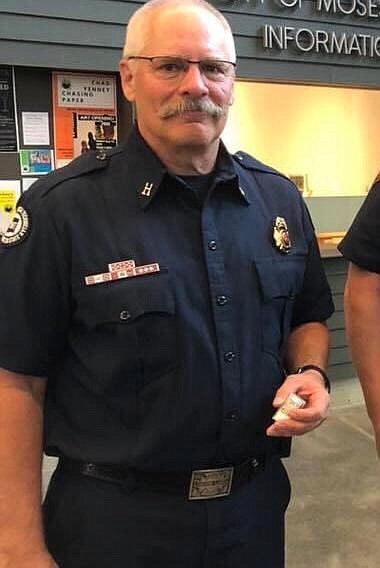 Capt. Phil Walker is one of three Moses Lake firefighters who lost their jobs, but were reinstated.
Mike Miner/courtesy photo
by
KAYE THORNBRUGH, Hagadone News Network
|
October 27, 2021 1:07 AM
MOSES LAKE — City council members voted Tuesday to reinstate three local firefighters who lost their jobs this month after refusing to be vaccinated against the virus that causes COVID-19.
Council members Don Myers, David Eck, Karen Liebrecht and Mayor David Curnel voted in favor of a motion to reinstate and accommodate firefighters Capt. Phil Walker, Lt. Jay Morice and Michael Evans.
Council members Dean Hankins, Daryl Jackson and Michael Riggs opposed the motion.
MLFD firefighter Schrade Rouse was one of several citizens who addressed the city council Tuesday.
"It is tragic for me to see the way Phil Walker and other members of our department have been treated," he said. "It has been my pleasure and my honor to serve this city. The city must offer us accommodations."
Before the council voted, Hankins emphasized the importance of vaccination in health care settings.
"If all they did was firefighting, I would say great," he said. "But they have patient contact. In my opinion, they should be vaccinated or they can't do that job."
---