'The door is open': Interim Mattawa police chief invites residents to talk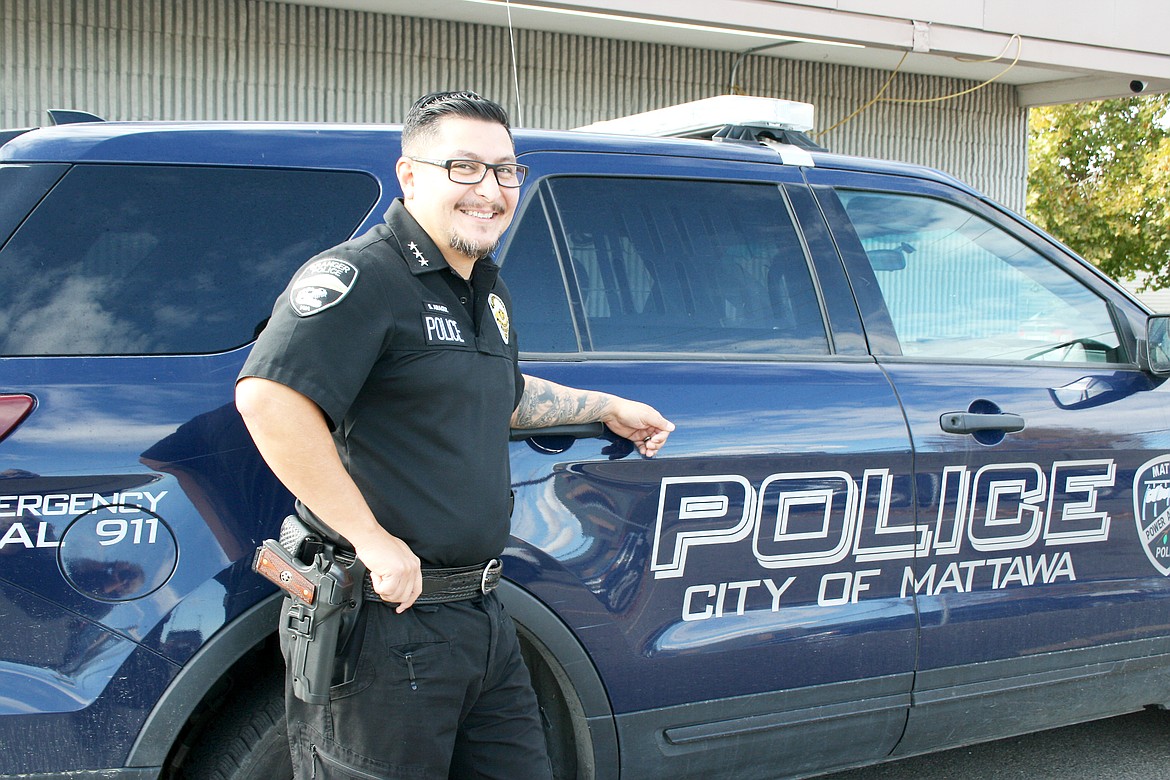 Interim Mattawa Police Chief Estevan Araguz, who is also the Granger Police Department chief, poses by his police vehicle.
Cheryl Schweizer/Columbia Basin Herald
by
CHERYL SCHWEIZER
Staff Writer
|
October 27, 2021 1:00 AM
MATTAWA — Estevan Araguz, interim police chief for Mattawa and chief of the Granger Police Department, knows what appeals to him in law enforcement.
"Relationships," he said. "I have built so many relationships with so many people, who to this day I'm still in contact with."
He's still friends with the former director of the public works department in Mabton, where he started his law enforcement career. When he returned as Mabton's interim chief, the former public works director was retired from that job, but was on the city council.
"That relationship started right there at the police department," Araguz said.
He met his wife in Toppenish, made friends with guys who went to the same boxing gym, and they're still friends.
"That's probably my main love for this job, is the relationships," he said.
Araguz, 44, was hired Thursday by Mattawa as the interim chief of the Mattawa Police Department for six months and is chief of the Granger Police Department. Granger approved the agreement Oct. 12. He will work in Mattawa up to 20 hours a week.
Araguz replaces Mike Williams, the previous Mattawa interim chief. Williams, a captain with the Moses Lake Police Department, resigned in September. Williams had been hired after former MPD chief Joe Harris was fired by Mattawa Mayor Maria Celaya in April.
Araguz has worked previously as an interim chief, spending 11 months in Mabton. His goal in Mattawa, he said, is to find his replacement. He said he wants to find someone who can work with residents and community leaders, with the city staff and department heads, and understand the direction and goals of the council and city officials. That's what he would want if he was mayor or a council member, he said.
"My goal is to find them a well-qualified, a very personable and very outgoing police chief. Whoever he or she may be has to have those qualities. When you're a police chief in a small community, being personable is a number one trait you must have, because you get to know everybody on a one-to-one basis," he said.
There's one more trait that's desirable in a new chief.
"Someone who's going to be fiscally conservative, because as a small-town chief with a small police budget, you have to have that trait," he said. "You have to know how to save pennies – not dollars, pennies. Because every penny counts."
He's optimistic that candidate is available.
"I know they're out there. I know a lot of police chiefs, a couple of sheriffs, guys and gals that I look up to, who have inspired me to be where I'm at. So I know they're out there."
He said he wants to hear from Mattawa residents while he's serving as the chief. He wants residents to come in and talk, tell him about their experiences, what they think, and what they want for the town. That communication is how residents determine the future direction of their community, he said.
"The door is open, the light's on," Araguz said. "Want to come talk? I'm in here."
Araguz said he's the second generation in his family in law enforcement, as he followed an uncle who was a deputy constable in his home state of Texas.
"I was little. I remember that. I was so little. I would just watch in awe," he said.
His parents migrated from their home in the Rio Grande Valley to central Washington, and he went to school part-time in Grandview. He was in first grade when a now-retired Grandview police officer visited the classroom.
"I remember seeing him in his uniform and shoes, and it just left such an impression," he said. "My uncle was also a policeman, and I'd been around it. I knew that was what I wanted to do since I was little. I remember when I was 13 and a half, and I could not join the Explorer program because I wasn't 14. That was the worst."
He did join the Explorers in Sunnyside when he was eligible, he said. He was a reserve officer in Sunnyside, and later worked at the Hanford Site as a reserve officer for the Franklin County Sheriff's Office.
One of his goals, he said, was to become a detective and eventually a police chief.
"My mentorships, the people I worked for, so many people around me were in leadership. I would always watch them. I would see them do things that would either make the workers happy about working there or it would just transform the atmosphere into something positive," he said.
He has tried to follow that example, he said.
---