Lady Jacks start well, ultimately fall to Omak
by
Rebecca Pettingill
Staff Writer
|
October 25, 2021 1:00 AM
QUINCY — The Quincy High School Lady Jacks took on the Omak High School Pioneers in a conference match Thursday.
In the first set, Omak served first. The serve was too hard and immediately went out of bounds, giving Quincy its first point of the night. The Lady Jacks scored the first four points, before a short serve by Shea Heikes gave Omak its first point.
Inching its way by two points at a time, Omak caught up to Quincy relatively quickly. It was 6-6 and then 8-8, with both teams firing back to each other. Quincy's Heikes and Cassidy Haille had a nice block, earning a point. Omak had two three-point runs, bringing the score to Omak 15, Quincy 10, when Quincy called a timeout.
When Omak got to 21 points, and Quincy was at 13, something kicked the Lady Jacks into gear resulting in a four-point run. Omak fired back with three points in a row. Omak was still in the lead with 24 points and Quincy at 17. Quincy was not done fighting though, firing back with three more points. Before Quincy could bring the score closer, Omak scored the final point needed to take the match. The final score was Omak 25, Quincy 20.
Quincy kept up with Omak for the first six points of the second set. Quincy even had a small lead when Omak called a timeout. Coming out of the timeout, Omak immediately earned two points, tying the score at nine points. Quincy started to fall, letting balls slip right through its fingers and giving Omak the opportunity to gain a lead. Not long after, the two teams were neck and neck again.
Omak called a timeout with only a one point lead, at 20-19. Quincy caught up and the score was tied at both 22 and 23. Omak barely took set two, at 25-23.
"I think in that second game, especially, we really started to build the momentum after that first game and you could see they were really trying to compete. We were starting to move the ball around really well; our passes really started to be on, we started connecting with our setter and our hitters knew what we needed to do. Unfortunately they just kind of got us there at the very end, but overall I can't say anything bad about those first and second games," Quincy assistant coach Chelsea Wallace said.
Wallace coached the game for the Lady Jacks on Thursday in place of head coach Dean Pratt, who will be out for an unnamed amount of time.
In set three, Omak came out firing. Omak was leading 5-1 when Quincy called a timeout. Quincy called another timeout when it was down by nine, at 10-19. While Omak seemed to have it in the bag, Quincy wasn't going to let Omak have that much of a victory. Quincy worked its way to 16 points before Omak reached 25. The final set ended with Omak's victory, at 25-16.
Quincy's record was 0-14 overall and 0-7 in the conference as of Sunday.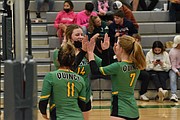 ---