Campaign season: Seats up for grabs on Moses Lake City Council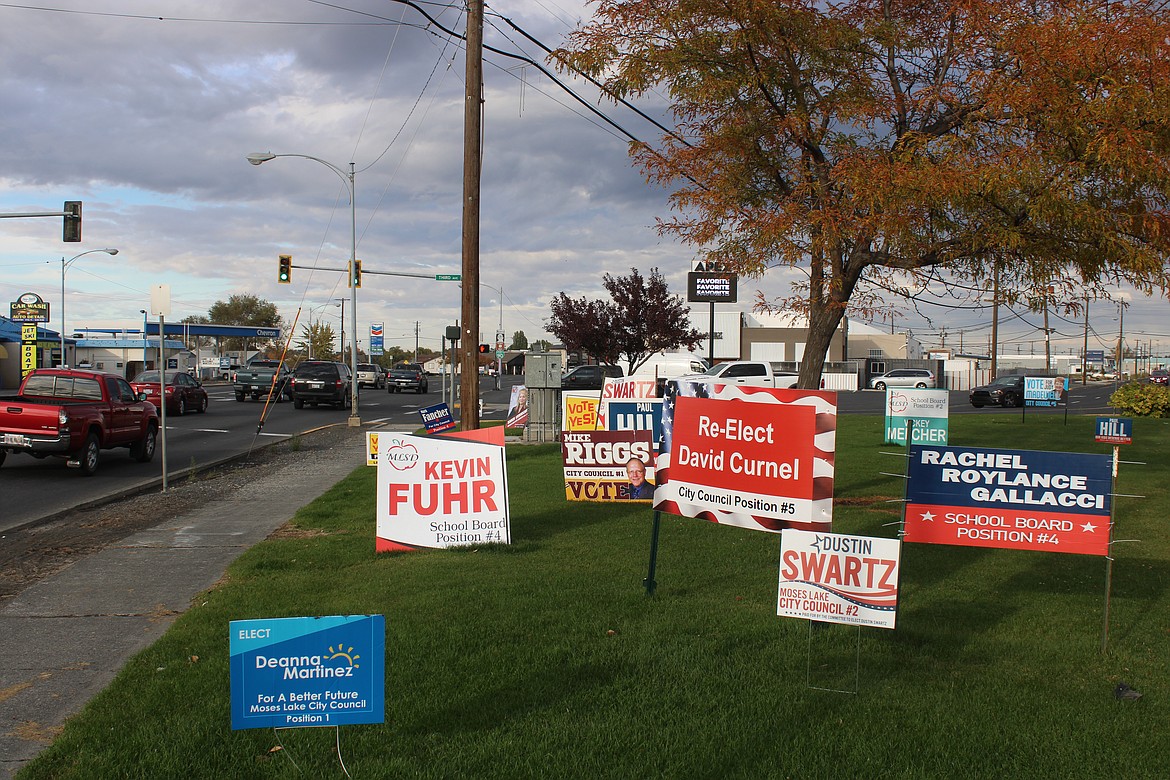 The grassy spot at West Broadway Avenue and West Third Avenue is Moses Lake is a popular spot for campaign signs.
Dave Burgess/Columbia Basin Herald
by
KAYE THORNBRUGH, Hagadone News Network
|
October 18, 2021 1:07 AM
Editor's note: Next will be Moses Lake City Council Position 4 candidates Mark Fancher and Plasido Lindsey Jr. and Moses Lake City Council Position 5 candidates David Curnel and Judy Madewell.
POSITION 1
Incumbent Mike Riggs faces challenger Deanna Martinez in the race for Moses Lake City Council Position 1.
The debate about the merits of urban sprawl or more densely populated cities is an old one, Riggs said — but there's a third option.
A recent housing inventory revealed about 300 available building lots within city limits, he said, and he'd like to see those spaces filled before looking outward.
"There's no need to expand urban growth areas (UGAs)," he said.
Riggs emphasized the importance of caring for Moses Lake.
"The lake is the gem in our community here," he said.
The city's Comprehensive Plan, which includes growth, is being updated and includes care for the lake.
"Testing of our lake shows it's cleaner this summer than it's been for about the last 20 years," Riggs said, adding he wants to continue that trend.
Elected to the city council in 2017, Riggs spent 13 years as an elementary school principal in Moses Lake. He also worked for several small school districts, which needed temporary administrators — an experience he said gave him familiarity with growth management.
About 10 years before he was elected to the city council, Riggs served on the Moses Lake Trails Planning Team, which aims to create a network of linked paths used throughout the area for exercise, recreation, transportation and tourism.
"I love being in the system where we can make a big difference," he said.
Growth is complicated, and so is growth management.
"It all becomes a big ball of yarn," Riggs said. "One piece is connected to the others."
New companies and industries coming to the area bring employees who need housing. New housing requires infrastructure — streets, sewers, water and more — while a growing population necessitates more first responders.
What ties all those elements together is what Riggs describes as a touchstone for decision making: respect and responsibility.
"Every person in Moses Lake has a right to be safe, supported and valued," he said.
Challenger Deanna Martinez has lived in Moses Lake for almost 30 years and worked in nursing for even longer.
"I think Moses Lake is a great community," she said. "That's why I chose to live here and raise my family here."
It's also why she decided to run for city council.
"I think Moses Lake has the opportunity to take advantage of this growth we're seeing," she said. "It's not something we're going to stop, but with the right team, we can manage that growth."
Martinez pointed to lack of housing and infrastructure to support a growing population as top priorities.
Moses Lake also needs more businesses and retail options, Martinez said, both to attract visitors from outside the city and to provide locals with what they need within their community.
"All of that is possible with the right plan and the right people," she said.
One area of interest for Martinez is promoting science, technology, engineering and mathematics (STEM) in Moses Lake — particularly introducing kids to STEM at an early age.
"Moses Lake attracts a lot of tech companies," she said. "We've got fiber, we've got cheap electricity, we've got land. I think we're missing a component."
That component is local youth, many of whom may grow up to leave Moses Lake in search of career opportunities.
"Jobs are growing in that sector," she said. "Why not promote it here and provide the workforce these businesses are looking for?"
POSITION 2
Incumbent Karen Liebrecht faces challenger Dustin Swartz in the race for Moses Lake City Council Position 2.
Liebrecht has served on the city council since 2010.
"I love Moses Lake," she said. "I've been here 60 years. I want to see the character of the city retained no matter what."
In recent years, Liebrecht said one of the decisions she's most proud of was to hire HopeSource, a private, non-profit organization providing a wide range of human services, to manage Moses Lake's Sleep Center. The Sleep Center reportedly sheltered 70 individuals in its first two months of operation.
"Many people tried in winters past, but it was a struggle to keep it maintained," she said. "I'm proud of what Moses Lake did with that."
Liebrecht said the Sleep Center is an important part of addressing shelterlessness in Moses Lake.
"I'm very proud of the way it's been run and that Moses Lake stepped up to try to minimize the impact upon business," she said.
Facilitating inevitable growth through infrastructure is a top priority, Liebrecht said.
That means, among other things, exploring ways to conserve water and find new sources, including shallow wells that are replenished by rainfall.
"Deep wells can't do that," she said. "When the water's gone, it's gone."
When it comes to housing, Liebrecht said she's focused on filling available lots within city limits.
"We can do that before we sprawl any further," she said.
Less government is better, Liebrecht said.
"There is a place for ordinances to make people safer, but I also think you can get tangled up in the bureaucracy," she said.
The city council is currently revising many codes, which Liebrecht sees as an opportunity to implement common-sense solutions.
"My wish is to make it more development-friendly," she said.
Born and raised in Moses Lake, challenger Dustin Swartz is now raising a family in his hometown.
"I like the pace of living here," he said.
Swartz said his background in construction and development give him a perspective the city council needs.
As president of the Grant County Home Builders Association, Swartz said he's focused primarily on legislative issues that affect attainable housing.
"Affordable housing needs to be available for all sectors of our population," he said.
One piece of the puzzle might be taking stock of the existing housing inventory and who is occupying those residences.
If affordable homes become available to families who currently rent apartments, for example, those apartments in turn become available to one- or two-person households who need less space.
Moses Lake has many qualities that make it attractive to industry, Swartz said, which contributes to the area's exponential growth.
Though it comes with many challenges, he said the health of the city depends on growth.
"Moses Lake is able to provide a lot of opportunities for future generations," he said. "I was able to stay here and thrive. I would love to see my friends and family and their children find a permanent home here."
Swartz said he has other areas of concern, from crime rates to support for those recovering from addiction.
He's also passionate about the local arts scene and wants to see it supported.
"A lot of people want to see a vibrant arts and culture community," he said.
Recent Headlines
---