Fees at Grant County Fairgrounds to increase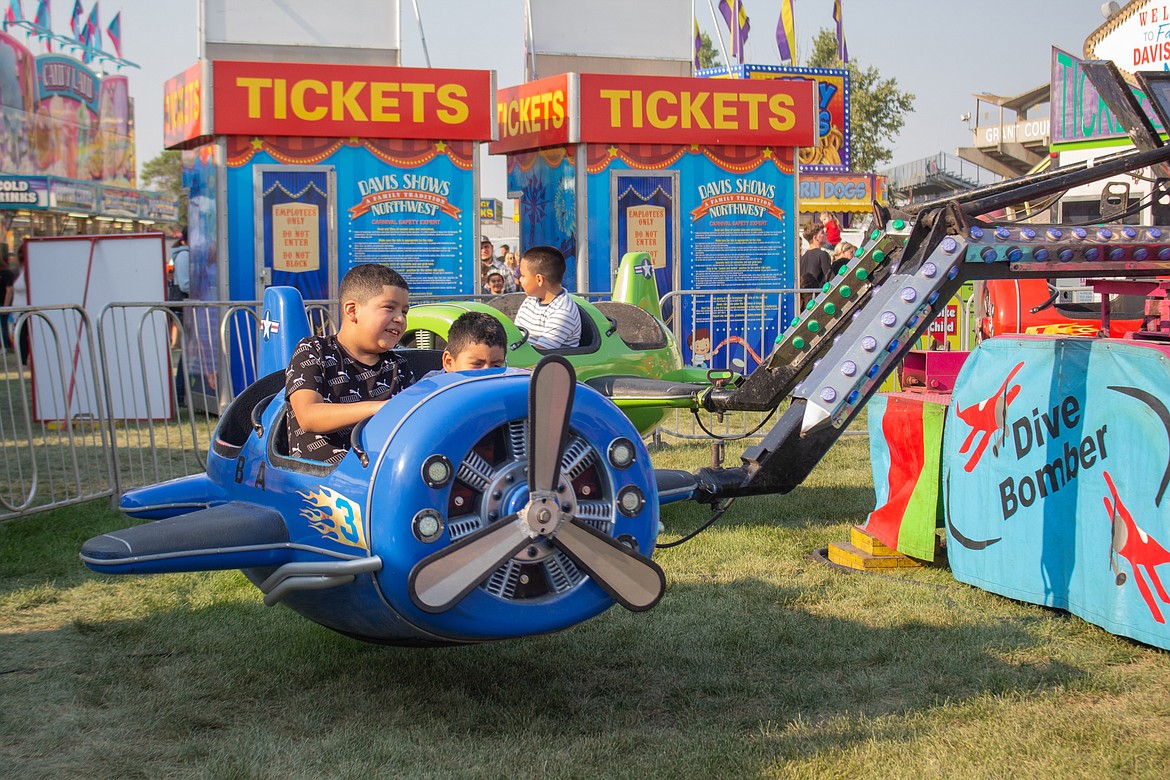 Children enjoy rides at the 2021 Grant County Fair.
Casey McCarthy/Columbia Basin Herald
by
CHERYL SCHWEIZER
Staff Writer
|
October 14, 2021 1:07 AM
MOSES LAKE — Grant County commissioners on Tuesday approved a request to increase some fairgrounds fees, including an increase in admission to the Grant County Fair in 2022.
Adult admission for 2022 will be $10 per day, up from $8; admissions for senior citizens, 62 and older, and children 8-17 will go to $6, up from $5. Admission will still be free for children 7 and younger.
Family package rates will increase, as well. The rate for two adults and three children will be $22, up from $19, and admission for two adults and two children will be $19, up from $16. A pass for the entire fair, Wednesday through Sunday of fair week, will be $20 for adults, up from $18, and $13 for youths, senior citizens and police, fire and military personnel. Passes for those groups were $11.
"Basically, it's a $2 increase," said fairgrounds manager Jim McKiernan.
Admission fees and rental rates haven't increased for almost five years, he said, and costs are increasing. The biggest expenses are staffing and maintenance, and costs for materials.
"We haven't raised the rates since 2017," McKiernan said.
Exhibitor entry fees will remain unchanged at $9 per entry.
Parking lots outside the fairgrounds are free, but there is some reserved parking inside the fairgrounds fence, which will be $75 for the week, up from $65.
The fairgrounds buildings and pavilions are for rent during the rest of the year, and rental fees for many of them will go up in 2022.
The agriculture building was substantially upgraded, at a cost of $170,000-$175,000 in 2020, and rental rates will be $575 per day, up from $525 per day.
Fees for the Ardell Pavilion, used for events from barrel racing to tractor pulling, will go to $775 per day from $750 per day. Rental fees for the smaller Harwood Pavilion will go to $675 per day, up from $650 a day. Those wanting to rent both pavilions will pay $1,200 per day, up from $1,150.
Rental fees for the rodeo arena will be $1,200 per day, up from $800 per day. McKiernan said that reflects investments in new lights and bleachers.
Renters charging admission for an event will have to rent a facility at a higher fee. For 2022, the fee will be $1,500 per day, up from $1,300 per day. The fee to clean the arena went to $500, up from $450.
---