Almira school burns
by
EMILY THORNTON
Assistant Managing Editor
|
October 13, 2021 1:07 AM
The Almira Pre-K and Elementary School was destroyed by fire Tuesday afternoon after flames erupted from the building.
Emergency personnel were called to the blaze at around 4 p.m., Lincoln County Sheriff Wade Magers told the Columbia Basin Herald. By 9:30 p.m., flames still were engulfing the building at 310 S. Third St. in Almira, and had just taken over the gymnasium, Magers said. There were no injuries reported and a few nearby residents were evacuated from their homes out of caution, mainly due to the amount of smoke, he said. No nearby structures were threatened by fire.
He said it was taking a long time to put out because it was difficult for firefighters to safely get to the root of the flames.
"It's going to be a while," Magers said.
School had been canceled Tuesday due a power outage, said Almira Mayor Jason Evers, who was on the scene of the fire.
There also was a weird smell permeating the air inside the building Tuesday, Evers said.
No one knew where it was coming from or what it was until flames erupted, he said, but he thought it could be an electrical problem.
Magers also suspected the fire was caused by some electrical problem, and likely started in the electrical room, because when firefighters arrived they noticed the fire originating from the northwest corner of the building, where the electrical room is.
Fire quickly engulfed the whole elementary school part of the building, he said, and it will be a total loss. Classes also would be canceled and/or switch to online, he said.

"One-half is not going to be inhabitable any time soon," he said, before the fire spread to the gym.
Firefighters from Wilbur, Hartline, Grand Coulee, Ephrata, Almira and the Grand Coulee Dam Bureau of Reclamation responded to the fire, Magers said, and included 10 trucks and 30-40 personnel. The Washington State Patrol and Lincoln County Sheriff's Office also were on scene.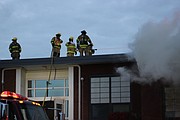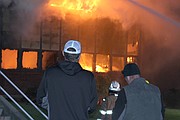 Recent Headlines
---