Fundraising for Fido: Activities, whipped cream, dog treats abound at Adams County Pet Rescue fundraiser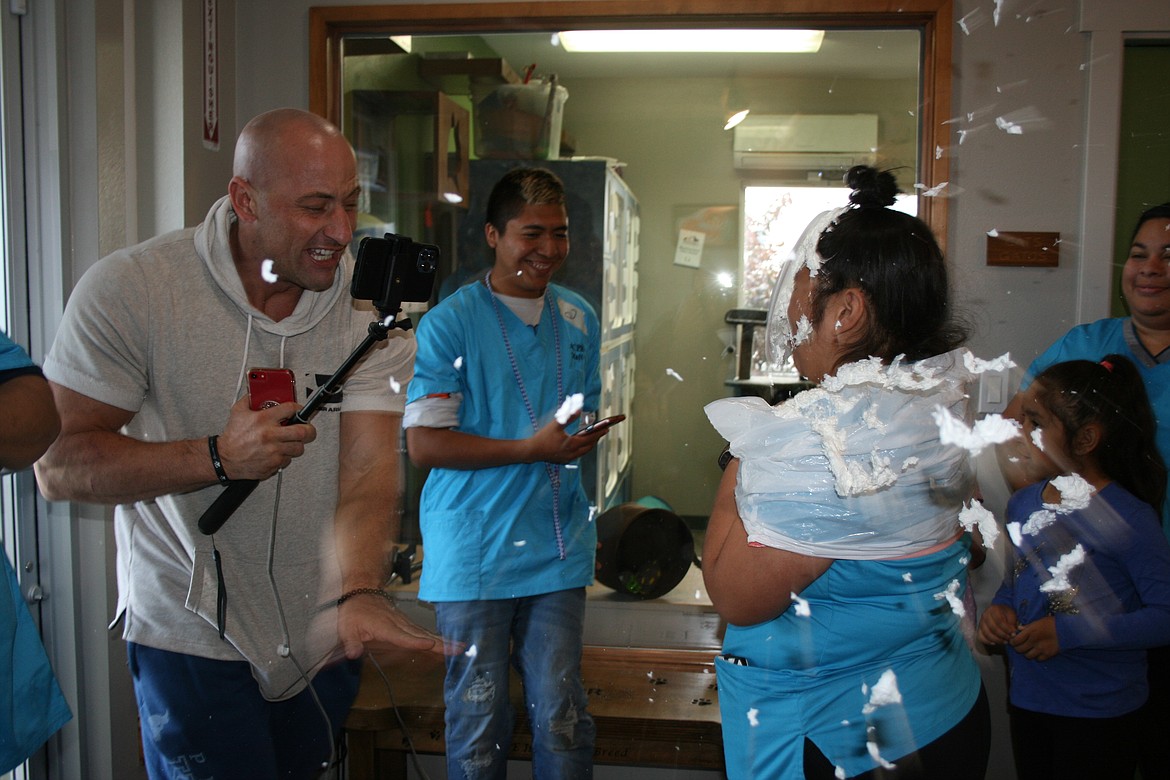 Kris Rotonda (left), of Jordan's Way, gives Giselle Hernandez a pie, actually a plate of whipped cream, to the face during a fundraiser Friday at Adams County Pet Rescue.
Cheryl Schweizer/Columbia Basin Herald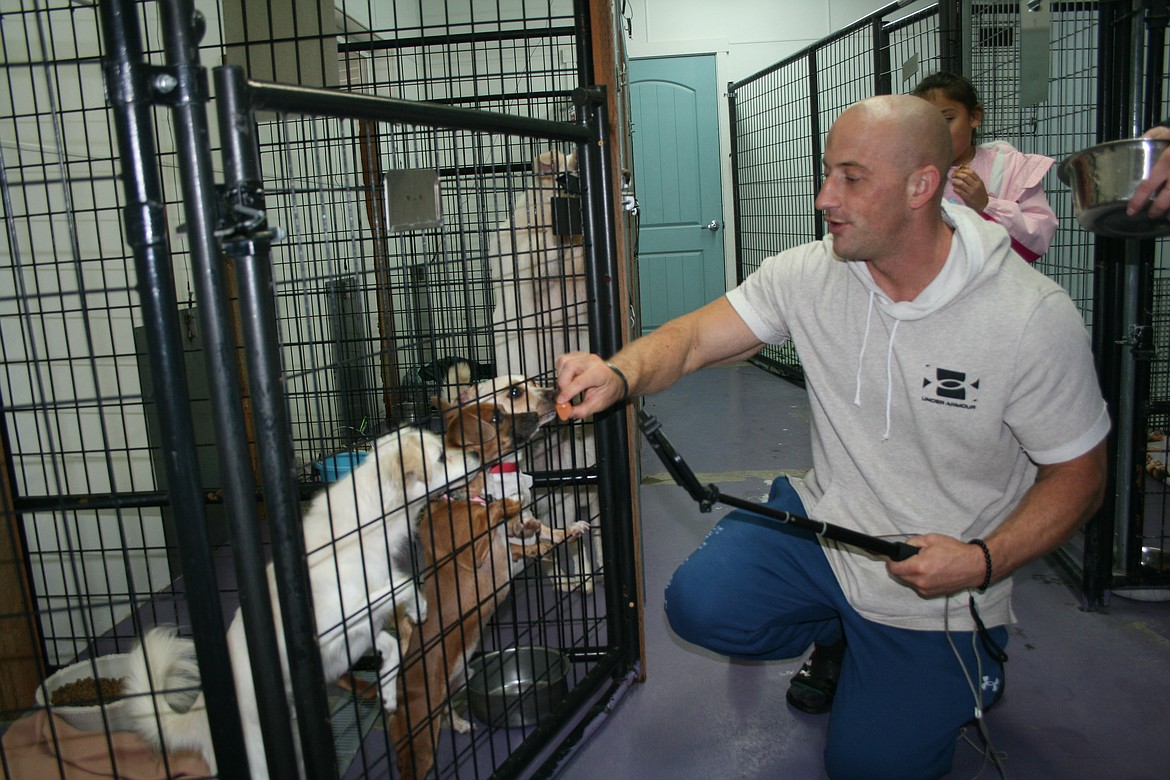 Kris Rotonda, of Jordan's Way, feeds one of the dogs Friday at the Adams County Pet Rescue fundraiser.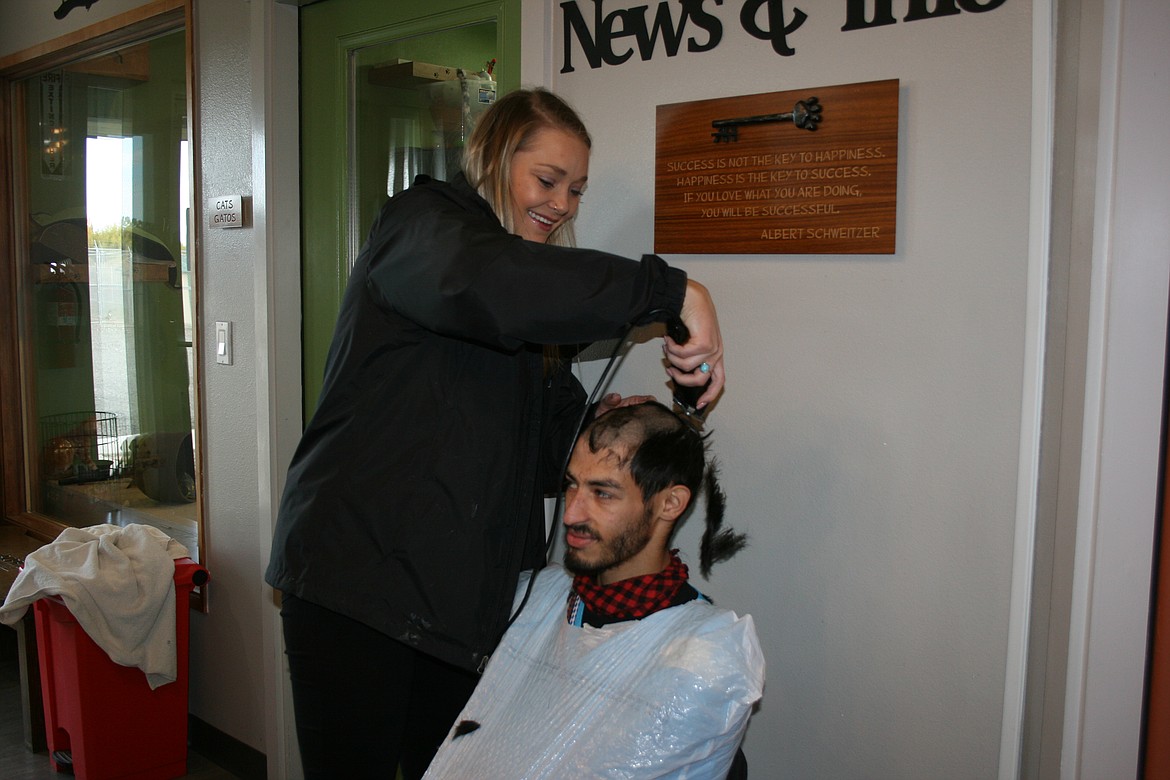 David Leal (right) sacrifices his hair Friday during a fundraiser sponsored by Jordan's Way for Adams County Pet Rescue. Hannah Hokanson, of Jordan's Way, did most of the shaving.
Previous
Next
by
CHERYL SCHWEIZER
Staff Writer
|
October 12, 2021 1:00 AM
OTHELLO — It was a hectic and profitable four hours Friday for Adams County Pet Rescue.
The shelter raised more than $8,000 with the help of Jordan's Way, an organization that travels nationwide helping animal shelters with fundraisers.
Donations will be accepted through Friday and can be made on the ACPR's social media site. As of Sunday, the campaign raised about $8,500, with a mix of donations on social media and privately.
Jordan's Way owner Kris Rotonda and his staff came with a list of activities designed to keep things moving, from pies – actually plates of whipped cream – in the face to treats for the dogs and catnip for the cats. Ericka Saleron, who helped organize the visit for ACPR, said six of the shelter's staff and three volunteers agreed to participate.
Sometimes that meant one of those plates of whipped cream.
"I got a pie in the face," Saleron said. "I was the first one to get a pie in the face."
All that whipped cream flying around was okay with Boone, the shelter's cat, who took the opportunity to eat some of it off the sidewalk.
"People are actually watching this," said ACPR director Kyya Grant, checking out the social media livestream audience numbers.
David Leal volunteered to get his head shaved when the fundraiser hit the $5,000 mark. He sat stoically as Rotonda's assistant, Hannah Hokanson, wielded the clippers.
Giselle Hernandez not only took a pie to the face, she volunteered to munch on a dog biscuit, a little tiny bit of a dog biscuit, anyway.
Some participants waited in a kennel until enough money was raised to get out. And at one point, all the shelter participants ended up in a kennel, but alas, didn't raise quite enough money to avoid getting sprayed with water.
"Did you guys bring extra clothes?" Grant asked.
"No," Hernandez said.
The event also offered ACPR the opportunity to showcase the animals in residence to a wider audience.
"We get to show our dogs," Saleron said.
And the staff had opportunities to show the work done at the shelter. Sometimes people don't understand the hard work involved in caring for the animals, she said.
The dogs and cats also played their part. The dogs got dog biscuits, and kept getting treats as long as people donated. The goal was a treat for every dog in the shelter. Every kitten in the kitten room got catnip once people donated enough to hit an interim goal.
Grant said ACPR was contacted by Rotonda and his team, and asked if they'd like to host a fundraiser. They did some research, looked at videos of the organization's work, and decided to sign on, she said.
Jordan's Way is named after Rotonda's dog Jordan, whom he found at an animal shelter, and who lived with him and his family until the dog's death in 2018, according to the organization's website. He founded Jordan's Way to help animal shelters nationwide raise money and showcase the animals they have for adoption.
Rotonda and his organization are traveling the 48 contiguous states, raising money for shelters in every state.
Cheryl Schweizer can be reached via email at cschweizer@columbiabasinherald.com.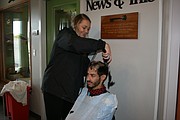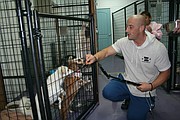 Recent Headlines
---