Facing the voters: Moses Lake candidates speak in online forum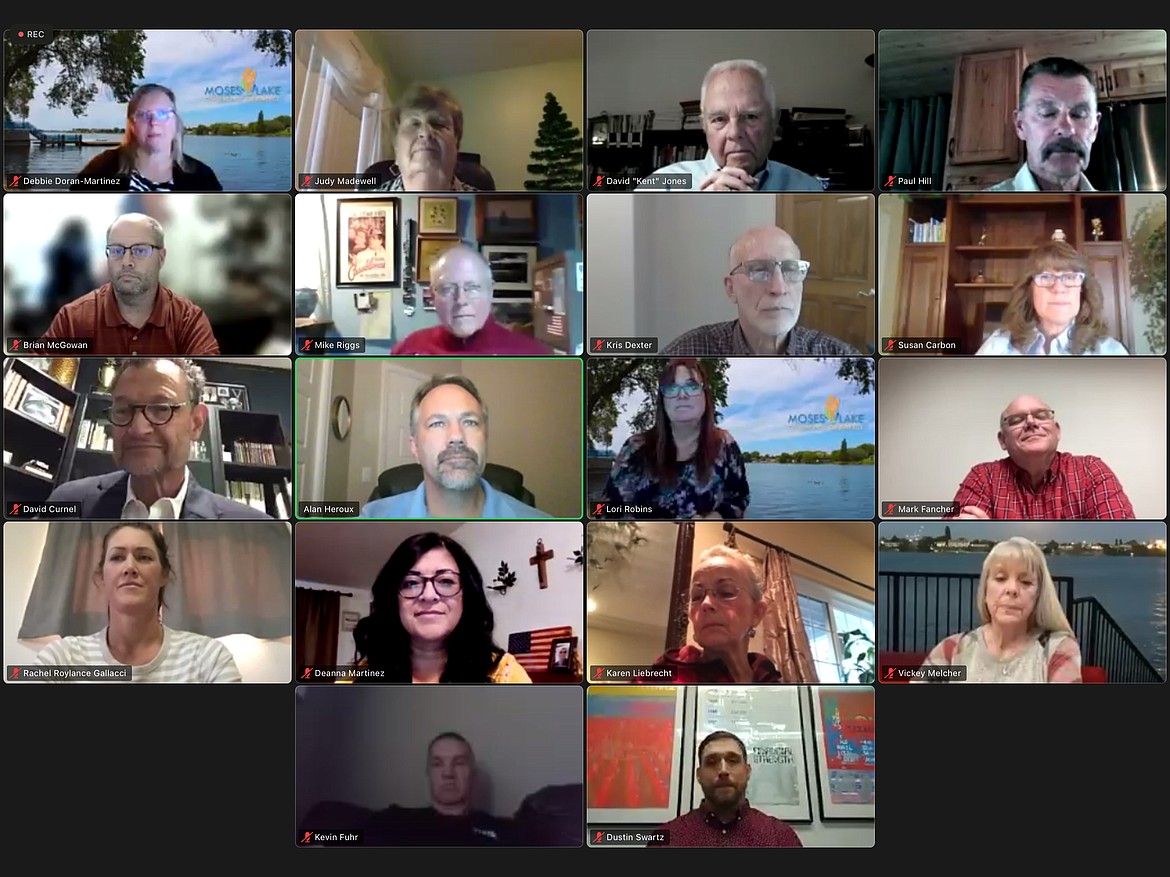 Candidates appear in Monday night's online candidate forum. Top row, from left, are: Debbie Doran-Martinez (Moses Lake Chamber of Commerce), Judy Madewell (running for Moses Lake City Council), David "Kent" Jones (running for Port of Moses Lake Commission), and Paul Hill (running for Moses Lake School Board). Second row from the top, from the left, are: Brian McGowan (running for Grant County Public Hospital District 1), Mike Riggs (running for Moses Lake City Council), Kris Dexter (running for Port of Moses Lake Commission), and Susan Carbon (running for Grant County Public Hospital Distr...
Columbia Basin Herald
by
CHARLES H. FEATHERSTONE
Staff Writer
|
October 12, 2021 1:07 AM
MOSES LAKE — Candidates for the Moses Lake City Council, Moses Lake School Board, Hospital District 1 and the commission overseeing the Port of Moses Lake on Monday discussed in an online forum properly managing local growth and taking back some measure of local control from Olympia.
"We need, as a city, to stand behind our local employees," said incumbent Moses Lake City Council Member Karen Liebrecht, in response to a question about police officers and firefighters losing their jobs because they refuse to receive the COVID-19 vaccination.
Gov. Jay Inslee ordered all state employees, teachers and health care workers to be vaccinated by Oct. 18 or risk losing their jobs.
"Defying the vaccine mandate is important," Liebrecht added, echoing sentiments expressed by most other council candidates.
"A gunshot wound is far more grave for most of our population than COVID is," said Dustin Swartz, who is challenging Liebrecht.
The nearly two-hour-long forum, organized by the Moses Lake Chamber of Commerce, included Liebrecht and Swartz, both vying for Moses Lake Council Position 2; incumbent city council member Mike Riggs and challenger Deanna Martinez for Council Position 1; incumbent city council member David Curnel and challenger Judy Madewell for Council Position 5; and Mark Fancher, who is vying for the post held by Darryl Jackson, Council Position 4. Jackson decided not to run again.
Fancher is being challenged by Plasido Lindsey, Jr., who did not attend the forum.
Candidates each got two minutes to introduce themselves, and two minutes to answer questions, and were not allowed to debate each other.
All candidates agreed Moses Lake growing is both a good thing and a challenge that needs to be managed well to preserve the city's "small town" flavor and yet ensure a future for those who want to stay here.
"I want my grandkids and your grandkids to have a great future in Moses Lake," Curnel said.
In response to a question about priorities for future development, Fancher said it's important the city encourage both small, local business and big, national chain stores, a sentiment echoed by other candidates.
"We need both," said Martinez. "Things only work together when you have both. That only helps us address the needs of our community."
When asked about how to handle the shelterless and panhandlers downtown, Curnel said court rulings have tied the hands of the police, but if the city can find a solution that gets the shelterless off the streets, the problem of panhandling will "go away on its own."
"Legally, there's nothing we can do," he said.
Madewell, who spoke from a sometimes difficult internet connection, said she always tries to talk to the shelterless, part of an approach of "being involved and caring about people" she believes is important.
"We need to be involved and see everybody as valued," she said.
Also part of the candidate forum were Moses Lake School Board candidates incumbent Vickey Melcher, along with challenger Paul Hill, and Moses Lake Police Chief Kevin Fuhr and Rachel Roylance Gallacci, both running for the seat currently occupied by outgoing board member Elliott Goodrich.
Fuhr said while voters may hear a lot about "critical race theory" and sex ed, the two biggest issues facing the Moses Lake School District are the three-year, $7 million levy, which failed in August and is on the ballot again in November, and hiring a new superintendent following the leaving at the end of August of Josh Meek, after the board investigated him for misusing the district's credit card and assigning himself stipends without board approval.
"Passing the levy is crucial, and we will lose $14 million in funding," Fuhr said. "That will have a major impact."
Should the levy fail again, the district would not only lose $7 million in local tax revenue to fund school operations, but an additional $7 million in state matching funds.
However, Fuhr — as well as the other school board candidates — said the MLSD needed to communicate better and be more transparent with parents and voters to regain their trust.
Hill suggested creating a citizens advisory group that would include parents and teachers to help foster communication and transparency, while Fuhr said board members need to get out and about to not only talk to the public, but listen.
Gallacci said if elected, she would rely heavily on a network of moms she's developed in the last few years to get more people involved to oversee the MLSD's operations.
"When there are more eyes, it's harder to hide," she said.
In response to a question about performance-based bonuses for senior administrators, Melcher said she understands Meek met most of the goals in his contract and she is open to reconsidering performances-based pay.
"We thought it was a good idea at the time, but I'm not sure now," she said.
Also included in the candidate forum were the two candidates for the Port of Moses Lake commission — officially Grant County Port District 10 — incumbent David "Kent" Jones and challenger Kris Dexter, who currently sits on the board overseeing the Moses Lake Irrigation and Rehabilitation District. The two candidates discussed the rail construction project and expanding the availability of the port's free-trade zone.
Finally, the forum also included the candidates vying for a seat on Grant County Public Hospital District 1, which oversees Samaritan Hospital, incumbent Susan Carbon and challenger Brian McGowan.
The two candidates discussed funding the construction of the proposed new hospital and how to hire and retain qualified medical specialists in Moses Lake.
Charles H. Featherstone can be reached at cfeatherstone@columbiabasinherald.com.
---