Rev. Klockers: A picture may represent a thousand words – and more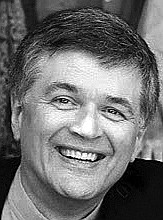 by
Rev. WALTER KLOCKERS
|
October 7, 2021 1:00 AM
"Photographs and memories, Christmas cards you sent to me/All that I have are these to remember you/Memories that come at night, take me to another time …"
These are lyrics from the 1972 song "Photographs and Memories," by Jim Croce.
We have a couple of boxes in the basement that contain photographs. They represent quite a collection of history for both Jeanne and myself.
Jeanne's father was a professional photographer. For many years, he owned a studio business in downtown Port Angeles, Washington. So, in part, this helps explain as to why we have so many.
We've gone through them many times. It's difficult to throw any of them away. A choice selection of them have been copied to an electronic format, but we still can't manage to discard the originals.
Why is this such a challenge for us? Well, it seems that every phase of our lives has been recorded on these photographs. We not only have baby pictures taken of our children but we ourselves are featured on our own sets.
Then there are images of early childhood with mom and dad, siblings, close friends, and relatives that had passed long ago. There are photos of family trips, of birthdays blowing out very few candles on a cake, gatherings at Christmas and Thanksgiving, of family pets, and beautiful shared sunsets.
Such images are treasured and hold much power. They have the ability to quickly take us back in time. When this happens, it can flood the heart and mind with memories – precious, good, challenging, and perhaps even bad.
I have had some challenging times in my life. Have you?
When I look at certain pictures, I am drawn back to those difficult times. When they were taken, I remember asking myself if I could possibly get through them. The answer, obviously, is that I did.
What I can now say is that God was with me in those times. However, it was most difficult to sense that at the time.
God gave me strength when I could not muster it within myself.
This gives me hope. In future days, may I remember this lesson: God is with me, even when I may not feel that is the case.
In Joshua 1:9 it says: "Have I not commanded you? Be strong and courageous. Do not be frightened, and do not be dismayed, for the Lord your God is with you wherever you go."
I have pictures that prove that this is true.
Walter is pastor of Immanuel Lutheran Church in Moses Lake and has served as parish pastor for more than 30 years.
---