ML girl hospitalized with rare condition linked to COVID-19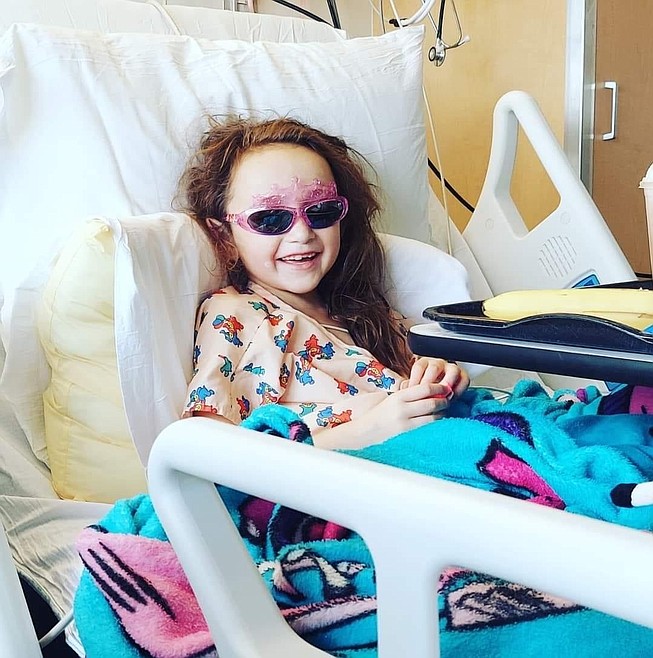 Harmony Rowe smiles from her hospital bed, rocking a pair of pink sunglasses with a tiara along the top of the frame.
Robbie Rowe/courtesy photo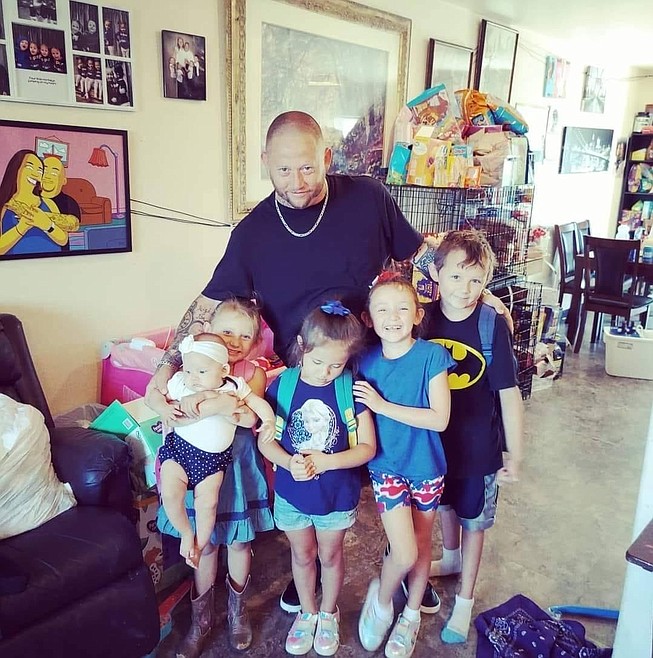 Robbie Rowe, center, poses with his five children. The children from left: Octavia, 7 months, twins Adison and Aleena, 5, Harmony, 7, and Robbie, 8.
Previous
Next
by
Rebecca Pettingill
Staff Writer
|
October 5, 2021 1:05 AM
The Rowe family, of Moses Lake, has been through a lot in the last couple of months, especially when their daughter developed a rare complication from COVID-19, which can be fatal without medical intervention.
But Harmony Rowe is scheduled to be released Thursday from a Spokane hospital.
At the beginning of August, the entire Rowe family was sick. So the parents, Robbie and Nina, got tested for COVID-19. They were both positive and assumed their five children who were sick also had COVID-19. They said they quarantined until they were 10 days past symptoms.
They thought they were past it, until six to eight weeks later, their second oldest child, Harmony, started getting sick again.
Robbie said his daughter was sent home from school because of what they thought to be allergies. Then she started getting fevers up to 102 degrees, which were lowered somewhat with Tylenol.
As Harmony's fevers continued and rose within a week, Robbie and Nina started to get more worried.
On Sept. 23, they called a nurse hotline and asked what they should do. Robbie said they were advised it was okay to wait until Harmony's doctor appointment, scheduled the next day. The pediatrician prescribed ibuprofen for Harmony, along with the Tylenol, and sent her home. The rest of that day, she was feeling normal, looking good and her temperature stayed down, Robbie said.
But that night and next morning, she got worse.
Throughout the night and into the morning of Sept. 25, Harmony's seventh birthday, she was throwing up and had a fever of 105 degrees, so Robbie said he and his wife took Harmony to the emergency room.
Based on Harmony's symptoms, there were multiple illnesses she could have had and the doctors had to narrow it down. At the top of their list were scarlet fever, hand, foot and mouth disease (HFMD), Kawasaki disease and MIS-C.
After ruling out HFMD and Kawasaki disease, doctors decided it was most likely scarlet fever or MIS-C.
Harmony was transferred by ambulance to Providence Sacred Heart Medical Center & Children's Hospital in Spokane because it was better equipped to deal with those two ailments.
After getting evaluated at the emergency room at Sacred Heart, Harmony was taken to the Pediatric Intensive Care Unit (ICU) due to her low blood pressure. After testing, the doctors confirmed Harmony did not have scarlet fever and treated her for MIS-C.
MIS-C stands for multisystem inflammatory syndrome in children. According to the U.S. Centers for Disease Control and Prevention (CDC) website, it's unknown what causes MIS-C, but many children with MIS-C first had the virus that causes COVID-19, or were around someone with COVID-19. Most children who get MIS-C develop it about six to eight weeks after contracting COVID-19.
The CDC website states common symptoms include an ongoing fever, plus more than one of the following:
• Stomach pain
• Bloodshot eyes
• Diarrhea
• Dizziness or lightheadedness (signs of low blood pressure)
• Skin rash
• Vomiting
Robbie said Harmony was getting worse the first few days in Spokane because the first two medications doctors used to decrease the inflammation weren't working. The third medicine worked; however, she left the ICU Sept. 30, and was transferred to the regular pediatric floor.
Robbie said it has been hard with his daughter in Spokane. Due to COVID-19, the hospital's policy allows only one parent with the patient. So Nina has been with Harmony and Robbie has been sleeping in his car in the hospital's parking garage or in a motel, waiting for her to get better. He goes to the store for his wife and daughter for anything they need, from coffee and food, to toys and activities to keep them entertained.
But the Rowes said they're happy Harmony is out of the woods and scheduled to be discharged Thursday, after she is weaned off her medicine.
"My daughter may never trust another doctor or nurse again," Robbie joked.
Despite all five children presumably having COVID-19, Harmony was the only one to develop MIS-C. Robbie said he and his wife had never heard of MIS-C until their daughter was diagnosed with it. They are now talking to anyone who will listen about the symptoms of MIS-C and the devastating effects it can have.
"Parents need to know if you have COVID, that's not the end of it," Robbie said.
Robbie and Nina said they have learned MIS-C is fatal without medical intervention and the long term effects are not yet known.
Nina said this experience has given her a new pair of glasses.
"This whole experience has humbled me," Nina said.
She said her family was not vaccinated and downplayed the severity of COVID-19, even after they contracted it. They are planning to be vaccinated as soon as they are back home and settled, she added.
Harmony said she is looking forward to going to the skatepark in Moses Lake and going down the hill with her old scooter before trying out a new scooter her dad bought her for her birthday. Nina says Harmony is also looking forward to reuniting with her 7-month-old baby sister.

Due to the financial strain this has caused, a friend of the family started a GoFundMe for medical expenses, missed work and expenses incurred from Robbie traveling back and forth to Spokane. The webpage can be found at www.gofundme.com under the title "Harmony Rowe - Diagnosed with MIS-C."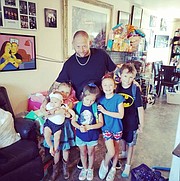 ---