Almira/Coulee-Hartline cruises past Naselle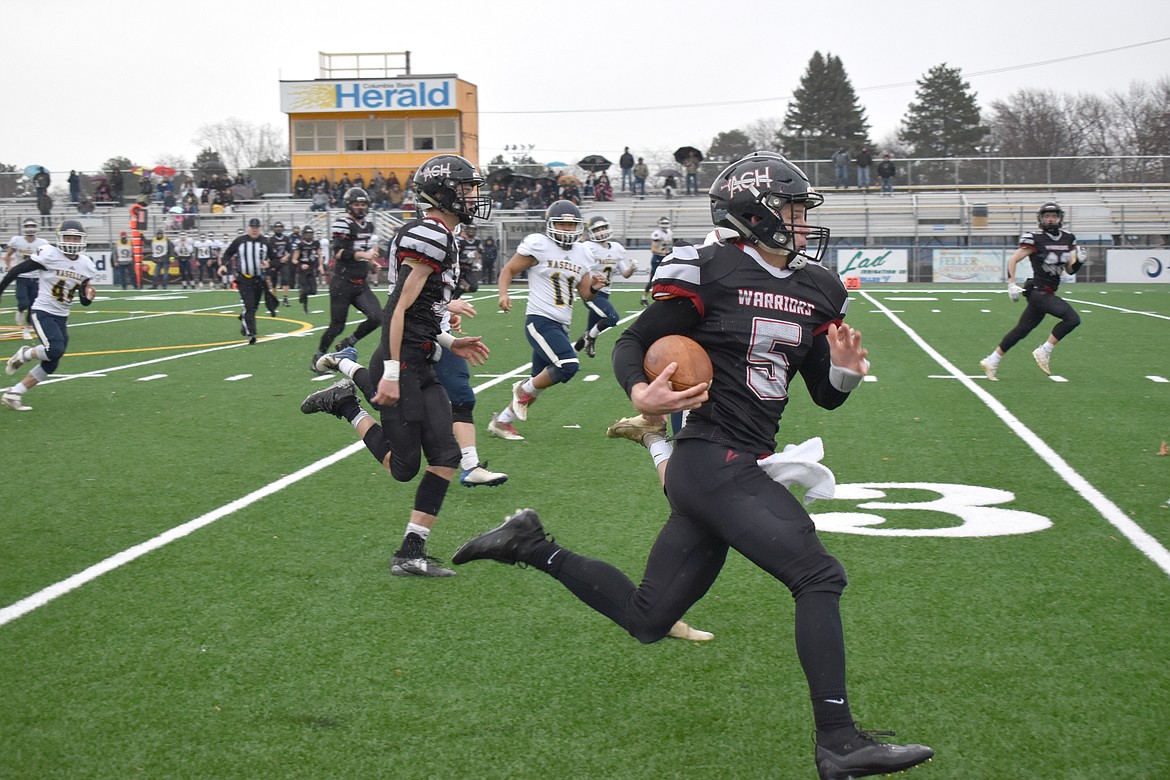 Almira/Coulee-Hartline High School senior Dane Isaak (5) rushes down the field to score the first touchdown against Naselle High School, with a 53-yard run in the first 15 seconds of the game.
Rebecca Pettingill/Columbia Basin Herald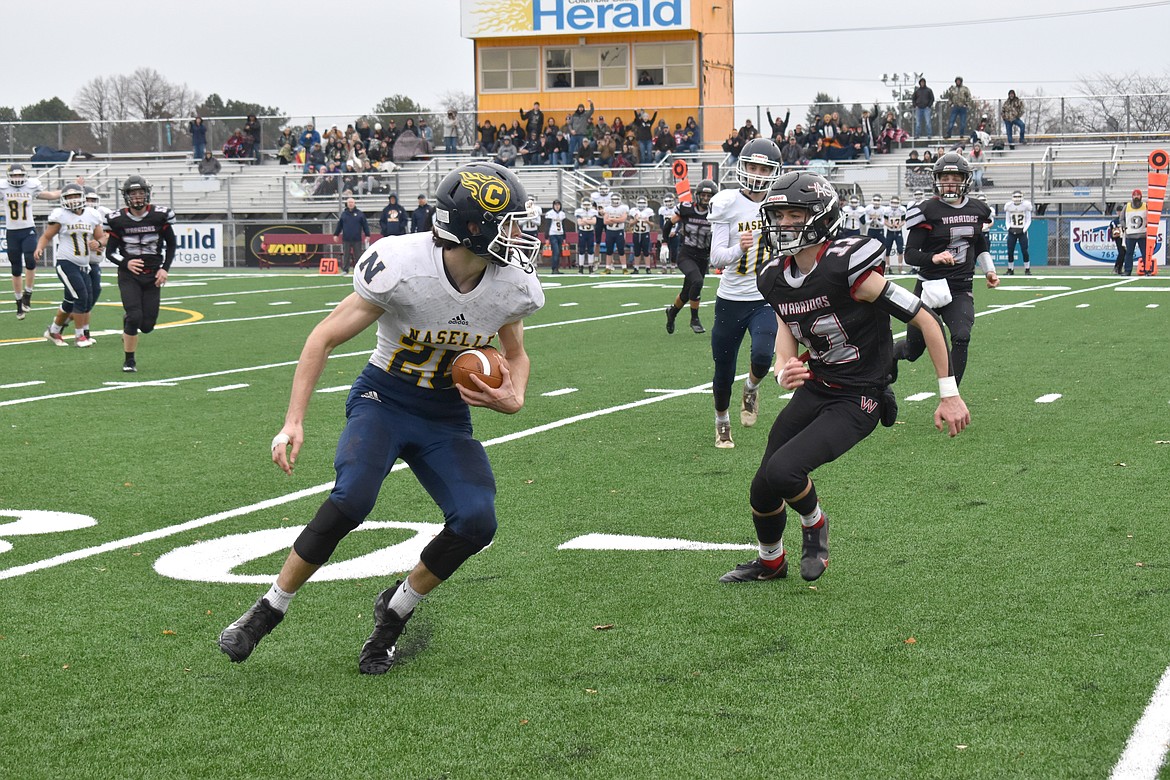 Almira/Coulee-Hartline High School junior Cody Allsbrook (11) goes after a rushing Naselle High School player during the state semifinal game Saturday.
Previous
Next
by
Rebecca Pettingill
Staff Writer
|
November 29, 2021 1:05 AM
MOSES LAKE — The Almira/Coulee-Hartline High School Warriors beat the Naselle High School Comets on Saturday 68-32 in the 1B state football semifinals at Lions Field in Moses Lake. ACH next will face Quilcene High School in the 1B Washington Interscholastic Activities Association (WIAA) Gridiron Classic: State Football Finals at noon Saturday at Mount Tahoma Athletic Stadium in Tacoma.
"They're a special group of kids, and so we hoped it would go that way, but it's the state semifinals, so you don't really expect it to be as big of a win as it was. They did it," ACH head coach Brandon Walsh said after the game.

The game was also interesting because it featured a WIAA Athlete of the Week winner who was chosen the previous week: senior Cooper Correia of Almira/Coulee-Hartline football.
From the first minute into the first quarter, ACH and Naselle showed they earned their spot in the semifinals. Both teams made touchdowns and successful two-point conversions before the first minute of the game was over.
For the Warriors, the first touchdown and score of the game came from a 53-yard run by senior quarterback Dane Isaak. The follow-up touchdown by Naselle was a 54-yard run. Naselle tried but could not see the end zone again during the first quarter, meanwhile ACH saw it two more times. Once by a 47-yard run from senior Grady Murray, and another by senior Cody Kagele.
Starting the second quarter ahead 24-8, the Warriors still had the end zone in their sights. With 10 minutes, 37 seconds left on the clock, Murray made a 60-yard run for a touchdown. Murray made another touchdown halfway through the quarter with a 32-yard run.
About two minutes later, Naselle showed it wasn't giving up, scoring a touchdown and bringing the score to ACH 38, Naselle 14. Murray was on a roll, scoring two more touchdowns in the second quarter and bringing ACH's lead up to 52-14.
It took Naselle half of the third quarter to find the end zone again, bringing the Comets up to 20 points. Murray responded with a touchdown, bringing ACH up to 60 and triggering a running clock. That was the last time ACH saw the end zone that quarter, but Naselle pushed on scoring one more time.
Fourth quarter was somewhat quiet for both teams, each only scoring one touchdown and only ACH having a successful two-point conversion.
ACH seemed to run circles around Naselle, forcing fumbles and intercepting or breaking up passes. For example, Murray had 163 rushing yards and Isaak had 161 rushing yards for five touchdowns according to the Maxpreps.com website.
"It's faster; it's wide open space with six less guys out there," Walsh said, explaining the difference between the eight-man football ACH plays versus the more common 11-man team.
ACH's next opponent, Quilcene, has been ranked No. 3, with an overall record of 10-1 this season. ACH has an 11-0 record going into the final game and was ranked No. 1 going into the postseason. Quilcene beat Odessa High School on Saturday 36-12 to earn the spot at the championships against ACH.
According to the WIAA website, ACH has only won two state championships in the school's history, in the 1990-91 season and the 2007-08 season.
Box Score
ACH - 24 28 8 8 - 68
Naselle - 8 6 12 6 - 32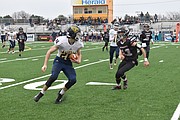 Recent Headlines
---