Home-grown flavors: Royal City winemakers expand into restaurateurs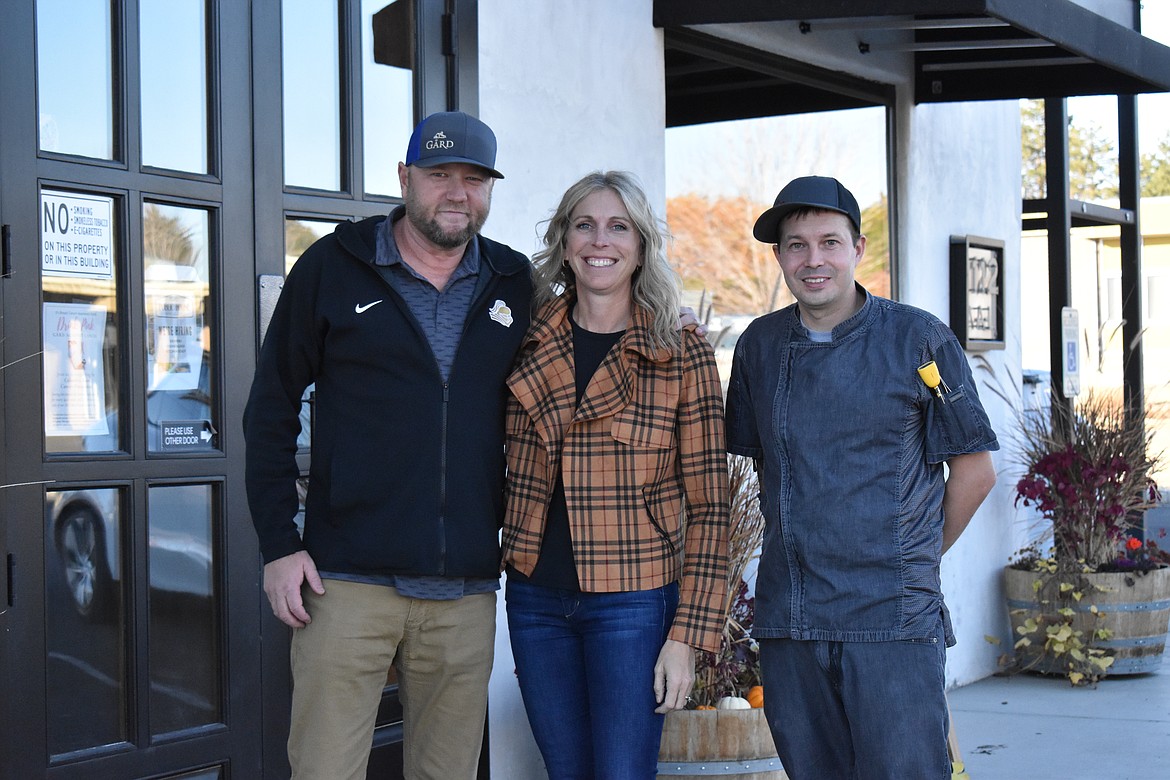 From left to right, Josh Lawrence, Lisa Lawrence and Chris Selfridge. Josh and Lisa own Gård Public House and Chris is the head chef.
Rebecca Pettingill/Columbia Basin Herald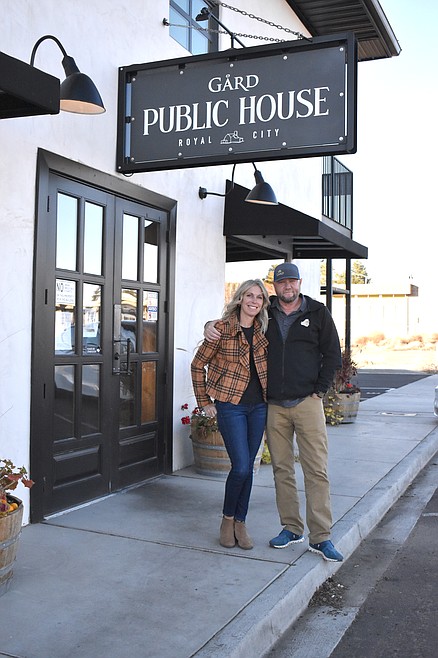 Lisa and Josh Lawrence stand outside their Gård Public House in Royal City.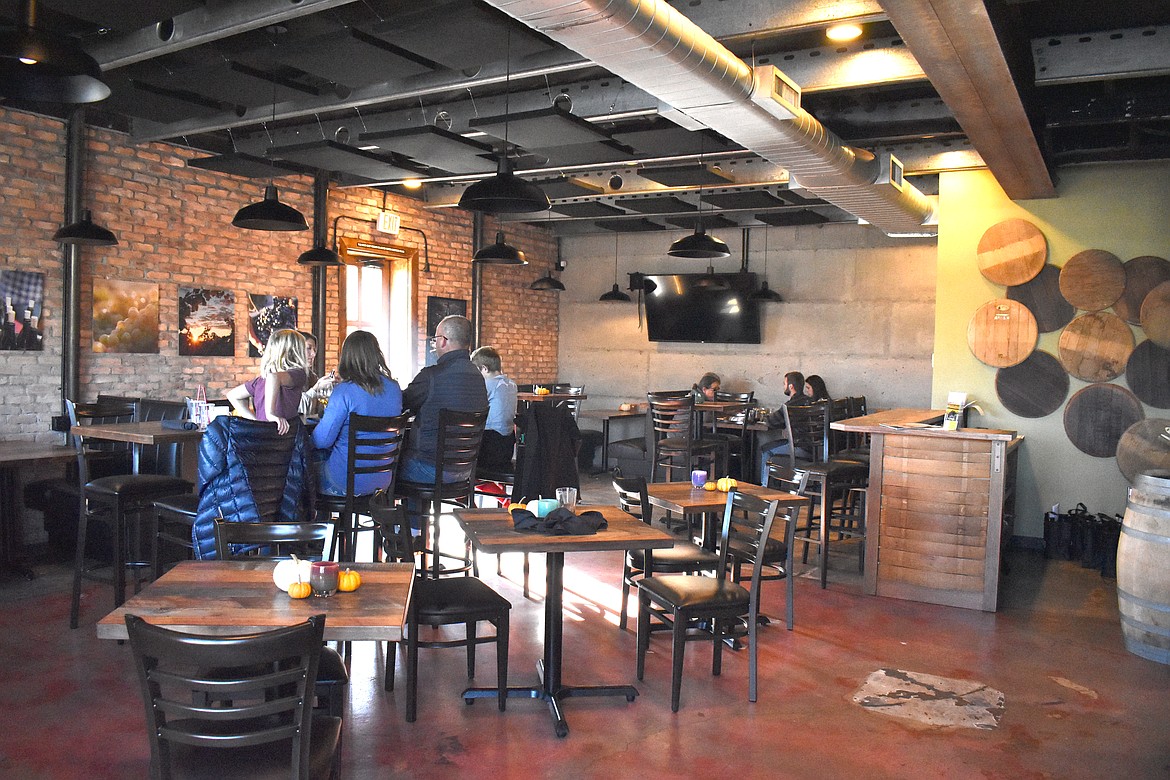 From left to right, Josh Lawrence, Lisa Lawrence and Chris Selfridge. Josh and Lisa own Gård Public House and Chris is the head chef.
Previous
Next
by
REBECCA PETTINGILL
|
November 24, 2021 1:00 AM
ROYAL CITY — A two-in-one restaurant and wine tasting room, owned by a local couple, opened earlier this year in Royal City and is having success despite challenges from COVID-19 and its small-town location.
Gård Public House, located at 112 Evergreen Ave. NW in Royal City, is owned by Josh and Lisa Lawrence. Josh grew up in Royal City on a farm that has been in his family for more than 55 years. The Lawrences grew numerous types of crops, including fruit and alfalfa, before forming a vineyard.
Josh studied business administration at Pacific Lutheran University in Tacoma in the '90s, where he met Lisa. The two returned to his roots in Royal City in 2001. In 2003, Lawrence Vineyards was established to produce wine grapes on the family property. In 2006, the Lawrences created Gård Vintners to produce their own wine and started selling grapes to other wine makers across the Pacific Northwest. (The name "Gård" means "farm" in several Scandinavian languages and is a nod to the family's heritage.) Josh said only about 15% of the grapes grown on the estate go to Gård Vintners, which produces 8,500 cases of wine annually.
In May, the Lawrences decided not only to add a tasting room to their home city, but to make it a restaurant. They already have three other tasting room locations, in Woodinville (which opened in 2008), Ellensburg (2010) and Walla Walla (2017). Lisa said the other tasting rooms have some appetizers, but Royal City is the only location with a full menu.
"I think if you would've asked us even two years ago if we would ever start a restaurant in Royal City we would probably say that you were crazy," Josh said.
While they had considered the idea, when the building became available, they decided to jump on the opportunity.
Chris Selfridge, who was formerly the executive chef at Simmer in Moses Lake, is now the head chef at Gård House.
"We had no idea that it would be as successful as it's been," Josh said. "And really, that's because of Chris."
Lisa said Gård Public House draws in food or wine lovers or both from all over, but mostly within an hour's drive of the restaurant. Customers are attracted by Gård Vintners wines and Selfridge's chef experiences, Josh and Lisa said.
The restaurant serves a variety of menu options, focusing on local ingredients and seasonal options, including pizza, sandwiches and some specialized entrees like duck.
Selfridge said he doesn't focus on pairing food with all of the wines.
"There's enough wines that they make, I probably can't make enough food to pair with all the wines."
While the couple are facing challenges related to the small size of the space, Lisa said they thought they would have more time to grow and adjust before it became an issue.
"We didn't expect that the demand would be so high from the get-go," Lisa said.
They are considering expanding their other tasting rooms into restaurants, as well, after the success they've seen in the few months Gård Public House has been open. The main problem is there's only one Selfridge, and he can't be in four different locations at once, Josh said.
Rebecca Pettingill can be reached via email at rpettingill@columbiabasinherald.com.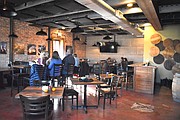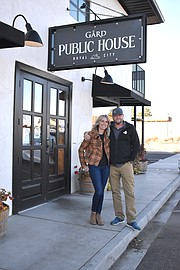 Recent Headlines
---