1,000 to 1,200 dinners: Volunteers help Moses Lake Food Bank's annual distribution of Thanksgiving meals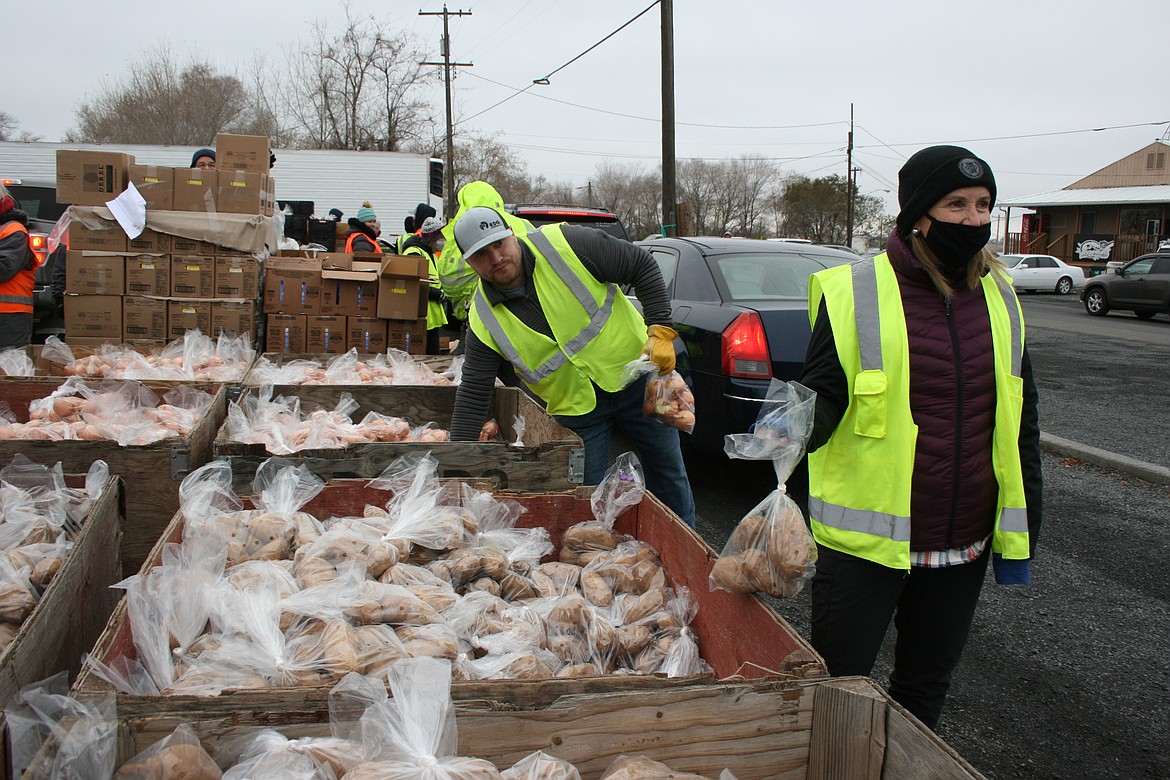 David Anderson picks up a bag of onions to put in the car of a Moses Lake Food Bank customer during the food bank's Thanksgiving distribution drive-thru Monday.
Cheryl Schweizer/Columbia Basin Herald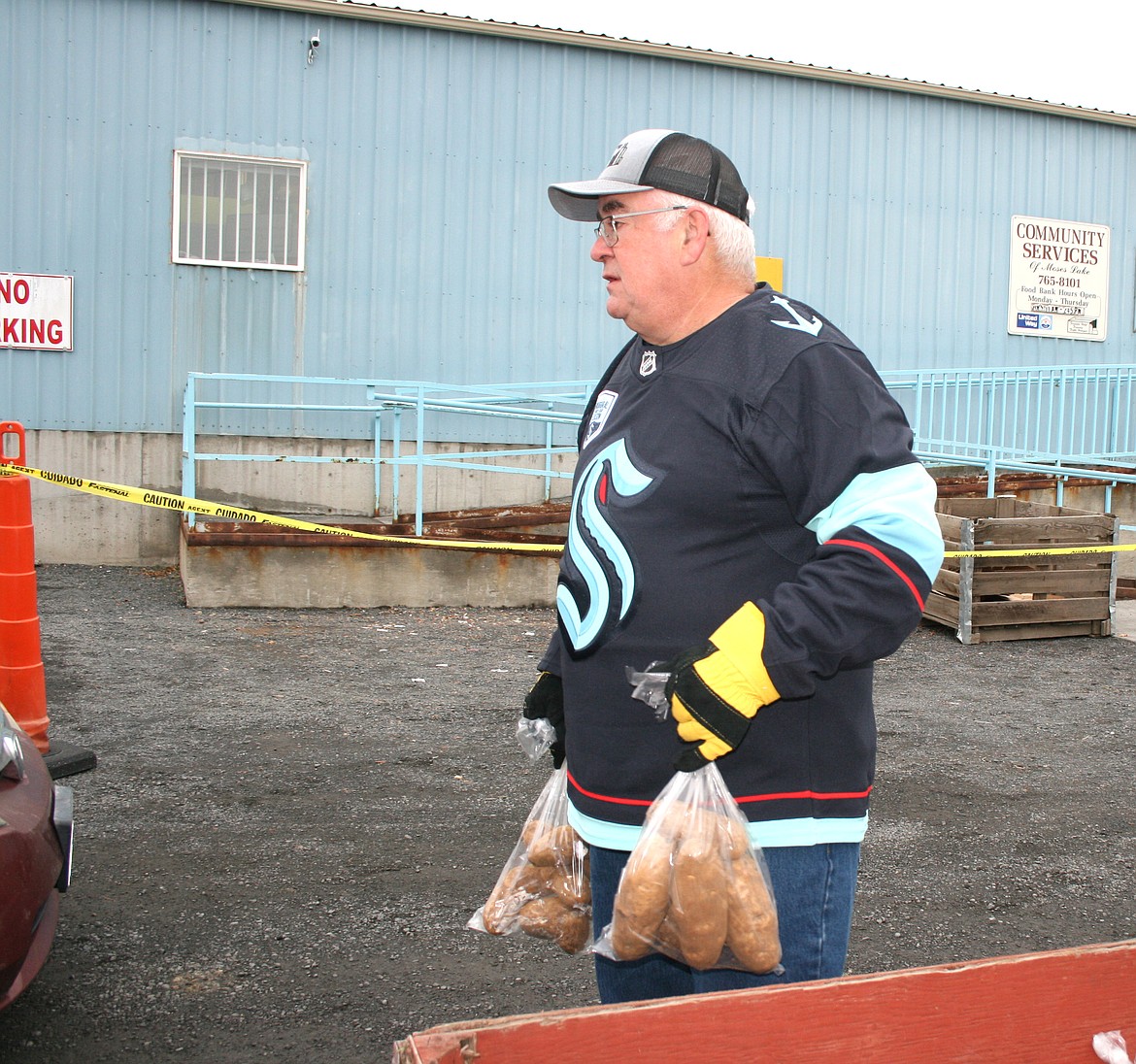 Rich Howard waits to give potatoes during the Thanksgiving distribution drive-thru at the Moses Lake Food Bank Monday.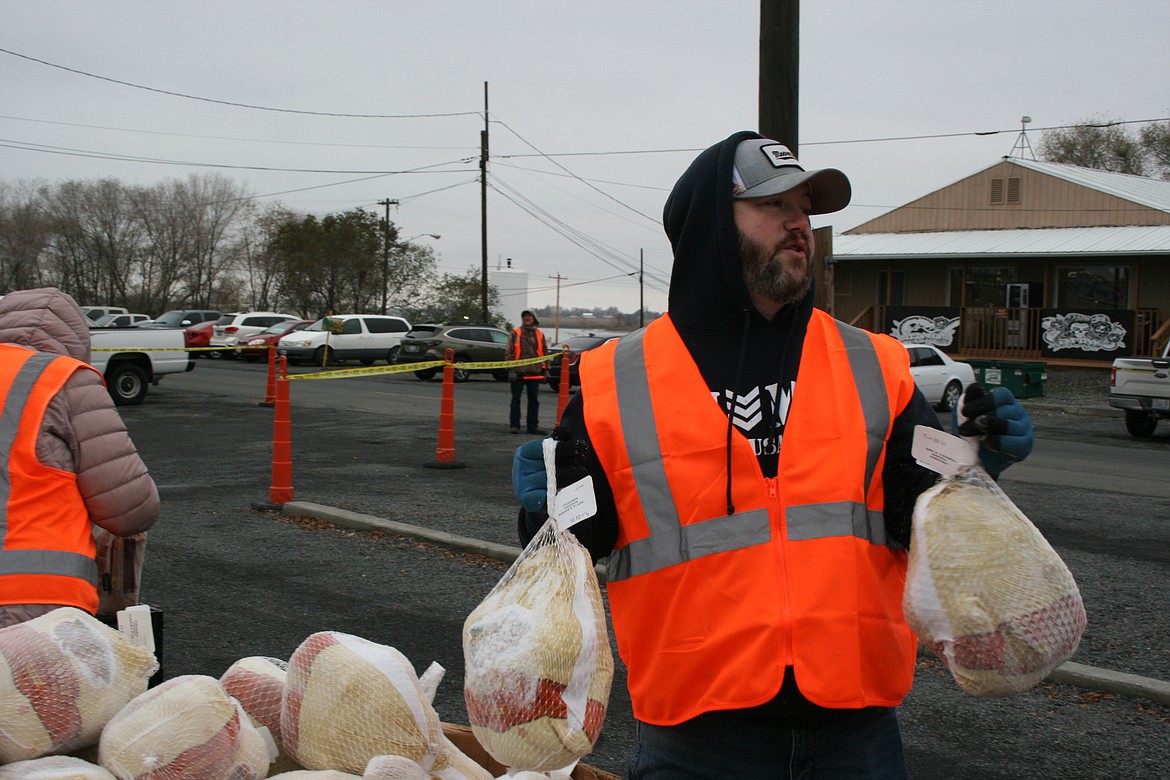 Volunteer Barry Sterner distributes turkeys in the drive-thru at the Moses Lake Food Bank Monday.
Previous
Next
by
CHERYL SCHWEIZER
Staff Writer
|
November 24, 2021 1:07 AM
MOSES LAKE — About 25 volunteers lined up in front of the Moses Lake Food Bank Monday morning, filling cars with the makings of a Thanksgiving dinner, plus hash browns and eggs. Each year, the food bank distributes Thanksgiving baskets on the three days leading up to the holiday, and Monday was the drive-thru day.
Food bank director Peny Archer said she estimated 500-600 families used the drive-thru Monday, and the food bank will give out 1,000-1,200 Thanksgiving dinners in the three days.
As cars drove up Monday, volunteers loaded turkeys, fresh onions, potatoes, frozen eggs and hash browns, among other ingredients. Most volunteers worked with the ease of long practice, as many of them have been working the Thanksgiving drive-thru for years.
Barry and Rebecca Sterner have volunteered for four years, liking it so much after the first year they kept coming back. Barry Sterner said he talked his brother into volunteering, too.
"You get to see a lot of appreciative faces. And the occasional happy puppy wanting some turkey," Barry Sterner said.
Rich Howard is a relative newcomer to town, compared to some natives, and he volunteered his first year. As a Catholic, Howard said he believes it gives him a chance to give back for the good fortune he has received.
"I've come out every year and done this," he said.
Rexane Marshall has volunteered on her own and with her church, The Church of Jesus Christ of Latter-day Saints.
"A good way to spend a Monday morning in November," she said.
Food bank board member Tom Chaplain said the response from organizations and people around Moses Lake was encouraging in a challenging year.
"The community has really chipped in to make this work," Chaplain said.
The food bank received donations of money and food, and there was plenty of volunteer labor.
"That is all volunteers out there (distributing the food)," he said.
People can pick up food for Thanksgiving today at the food bank at 1075 W. Marina Drive.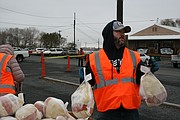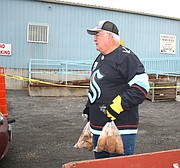 ---