Virginia Barney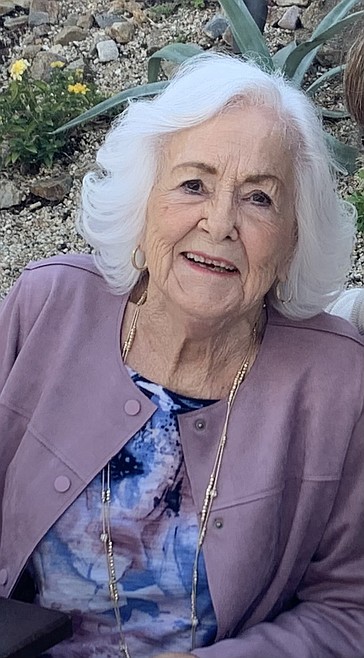 Virginia Margarette (Mink) Barney passed away peacefully on Oct. 30, 2021, in Safford, Arizona. She was 91 years old.
|
November 22, 2021 1:00 AM
February 5, 1930 – October 30, 2021
Virginia Margarette (Mink) Barney passed away peacefully on Oct. 30, 2021, in Safford, Arizona. She was 91 years old.
Virginia was born to Edd and Vera (Kistler) Mink on Feb. 5, 1930, in Gooding, Idaho. The family's early years were spent in Nevada and Boring, Oregon. In 1943, they moved to Prineville, Oregon, where Virginia finished her schooling, graduating in 1948.
She was very active in clubs and athletics, serving as president of girls athletics her senior year.
Virginia married Jack Rhoden in June of 1948 and went on to have four children together: Johnny, Kathy, Ronny and Jackie.
On Oct. 4, 1969, she married James Barney and they were together until his passing in 2019. They moved to Washington early in their marriage, where they managed three Les Schwab affiliate stores and Virginia was a dental assistant for many years. They both retired to La Quinta, California, at PGA West in 1985.
One of the highlights was turning around in her kitchen to Arnold Palmer standing there. Jim had invited him in to use the bathroom and see his collection of golf balls.
One of the perks of living on the 11th tee of the Arnold Palmer Course was that they always had a large gathering for the event. They spent many years golfing, entertaining and enjoying life. They traveled the U.S. and the world and loved every minute of it.
They loved their family and friends and enjoyed having company. Virginia was a wonderful cook and hostess. She was also a very good golfer and won several tournaments with her daughter Kathy and close friend Sheila Menti Perez. She lived her life to the fullest and always tried to have a positive outlook with Papa Jim's help.
In 2015, Virginia and Jim returned to Prineville to be closer to family. After Jim's passing, Virginia moved to Safford, Arizona, with Ron and Sherrie; she loved the warm weather.
Virginia knew her Lord and Savior Jesus Christ and is now with her dear loved ones who went before her. She looked forward to seeing them all once again. We were blessed and thankful to have her for over 91 years and to celebrate her 90th birthday together, surrounded by friends and family.
Virginia is survived by her sons: Johnny (Darla) and Ronny (Sherrie) Rhoden; grandchildren Chera, Rhonda, Kristi, Jered, Jace, Rita, Jackie, Joshua, Jerod, Shane, Katie, Shelby, Christian, and Talia; great-grandchildren Karlee, Laila, Dusti, Ashton, Taylor, Jaxson, Hayden, Mikaya, Messina, Marli, Ward, Hazen, Zion, Ellie, Gabi, Blake, Ryker, Harlow, Monroe, Cody, Sawyer, Rowyn, Demi and Ryatt, with two on the way; sister-in-law Pat Rhoden Deboard; nephews Eddie and John Bennett and Clay, Mark and Russ Rhoden; and nieces: Rita Larrance, Sheryl Rhoden, and Gina Haynes.
She was preceded in death by her parents, husband Jim Barney, daughters Kathy and Jackie Rhoden, sister Patsy Sullivan, brother John Mink, brother-in-law Denny Sullivan and nephew Todd Rhoden.
There will be a memorial service Saturday, Dec. 4, 2021, at 2 p.m. at the Prineville Funeral Home in Prineville, Oregon.
---