Giving group: Kiwanis members find reward in service to kids, community
Kiwanis President James Shank makes a point during the weekly meeting Monday. Shank and other club members said the appeal of Kiwanis is the chance to help kids and the community.
Cheryl Schweizer/Columbia Basin Herald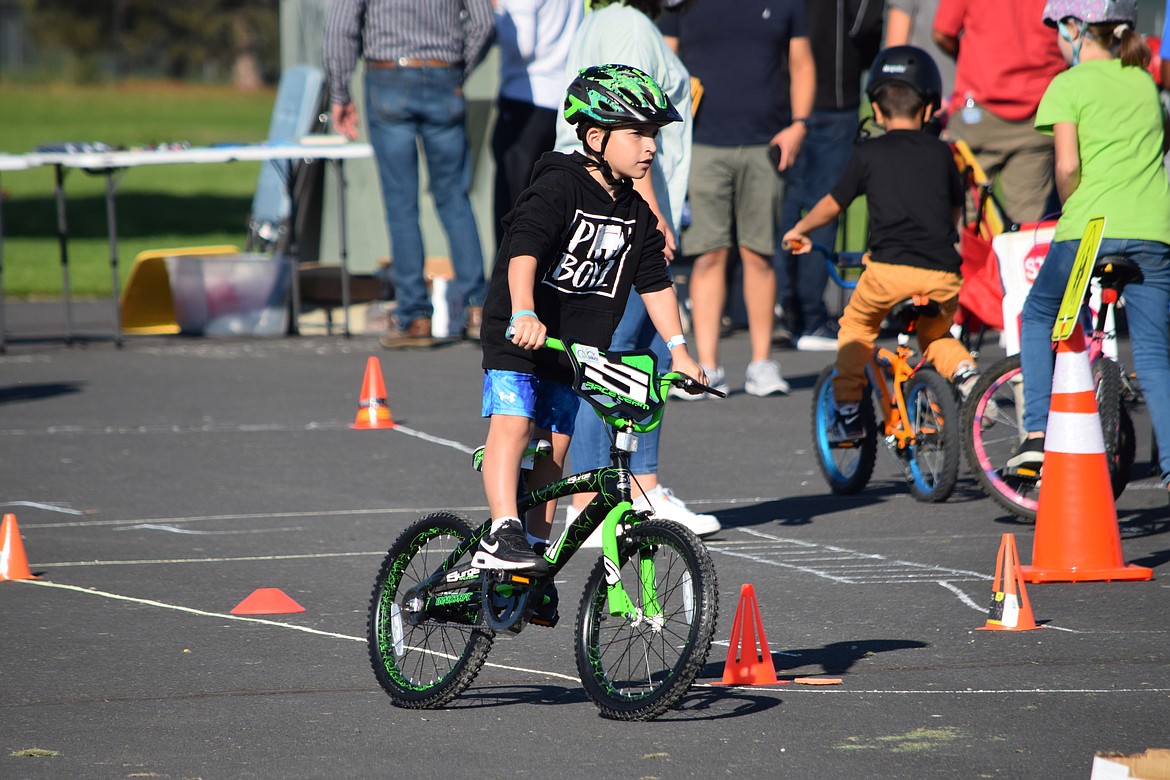 A bicyclist circles the course during the bike rodeo sponsored by the Moses Lake Kiwanis in September.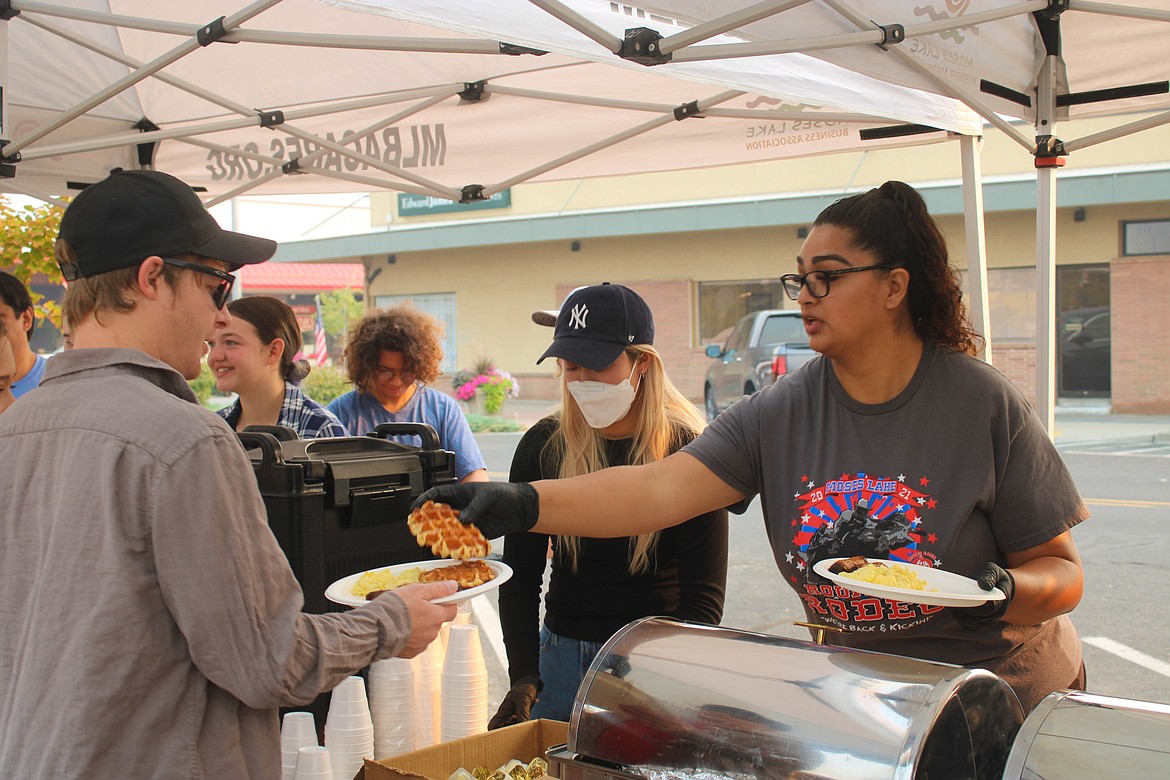 Kiwanis member Andrea Carrillo (right) serves breakfast during the Cowboy Breakfast in August.
Previous
Next
by
CHERYL SCHWEIZER
Staff Writer
|
November 22, 2021 1:00 AM
MOSES LAKE — For a lot of members of the Kiwanis Club of Moses Lake, it's about the kids.
Wanda Harrison said she's been in Kiwanis 31 years, and she joined because she liked the focus on kids, from its local projects all the way to its international efforts.
"That's exactly why I joined," she said.
Current chapter president James Shank has been in Kiwanis about four years and said he got interested for the same reason. A former teacher, Shank said his schedule didn't allow as much time for community involvement as he wanted, and he wanted to work on projects that benefited kids. That was why he chose Kiwanis, he said.
"It's a focus on kids, and helping them get to their maximum potential," he said.
Ted DeWitt is a veteran of almost 40 years in Kiwanis, 17 of them in Moses Lake, and what attracted him to the organization four decades ago is still what attracts him now.
"The camaraderie," he said. "And the civic duties that you do for the kids. It just makes you feel like you're helping out, I guess."
Andrea Carrillo has been in Kiwanis about six years.
"I joined to be involved in our community by giving back to the next generation," she wrote in response to an email.
"People join Kiwanis because they want to help the community," said chapter secretary Chris Arnberg.
In contrast to the people who've been in Kiwanis for decades, T.J. Wilson joined about two months ago. His family is pretty new to town, he said, and he wanted to find ways to get involved in the community and help kids at the same time.
"Once I went to a few meetings and got to participate in the bike rodeo, I knew this was where I needed to be," he wrote in response to an email.
The bike rodeo is one of a number of chapter projects, ranging from volunteering to ring bells for the Salvation Army during the holiday season to running a food booth at the fairgrounds during the Moses Lake Roundup.
Each one serves a different purpose. The food booth helps pay for Kiwanis scholarships for kids going to college.
"Our signature item (at the food booth) is our fresh-squeezed lemonade," Shank said.
The bike rodeo is relatively new, replacing a longtime chapter project. Kiwanians also cook the annual Cowboy Breakfast that serves as the kickoff to the Grant County Fair.
Funds raised through the golf tournament, presented in partnership with the Moses Lake Rotary Club, go to a project chosen annually by the two organizations. For 2021, the money will go to New Hope/Kids Hope, the organization that provides support for women and children who are victims of domestic violence and sexual assault. The money will go to provide support for children affected by domestic violence, he said, in the form of a kit that provides them with materials on a subject that interests them.
Kiwanis has contributed to the purchase of K-9s for the Grant County Sheriff's Office and the Moses Lake Police Department. The chapter has also purchased a trailer for Youth Outdoors Unlimited, which provides hunting and fishing trips for young people with physical challenges or life-threatening illnesses.
The club bought defibrillators for all schools in Moses Lake one year, and for Big Bend Community College the next year. The defibrillator project was suggested by Frances Irwin, a retired nurse.
"We've done great things," Irwin said.
Kiwanis also provides its members with a ready-made support system, Carrillo wrote.
"The relationships I have made in Kiwanis are amazing. If I'm ever in need of help, I know someone will be there," she wrote.
But like most service clubs, Kiwanis has been hit with declining membership, and not many young people getting involved. Bailey Jasper is 26, and said part of it is young people have other things on their minds.
"In your 20s you're still trying to figure out life," she said.
But a lot of young people don't know the opportunity is out there. When she explains what Kiwanis does, young people think it's pretty cool, she said.
Kiwanis does have programs for kids, starting with the K-Kids at the elementary level, Builders Club at the middle schools and the Key Club at the high school. Two Moses Lake elementary schools have K-Kids programs, and there's an established Builders Club at Frontier Middle School. A chapter was started at Chief Moses Middle School just around the time the COVID-19 pandemic hit.
Moses Lake High School has a Key Club chapter, and advisor David Vega wrote in an email he thinks it gives kids an important lesson.
"I think it's very important for kids to get involved in community service," he said.
Key Club members volunteered at the annual Walk to End Alzheimer's, Vega wrote, and provided manpower at the Cowboy Breakfast. They volunteered to help hang winter decorations for the Downtown Moses Lake Association and provided child care for a PTA meeting at Lakeview Elementary. The club sponsored a blood drive at MLHS and worked on a neighborhood cleanup, among other projects this school year.
"What I want the students to get from Key Club is the feeling that community service can be rewarding," Vega wrote. "I want them to learn there is a value in doing things that help others and that doing so can make a person feel good about themselves."
Shank said the experience of community service can have long-lasting effects for kids.
"It becomes something that they care about more," he said. "When you feel like you're involved in something, you want to take care of it more, and make it better."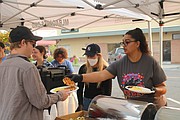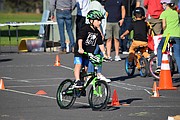 ---