Sweet dreams: Ballet Academy of Moses Lake to present 'The Nutcracker'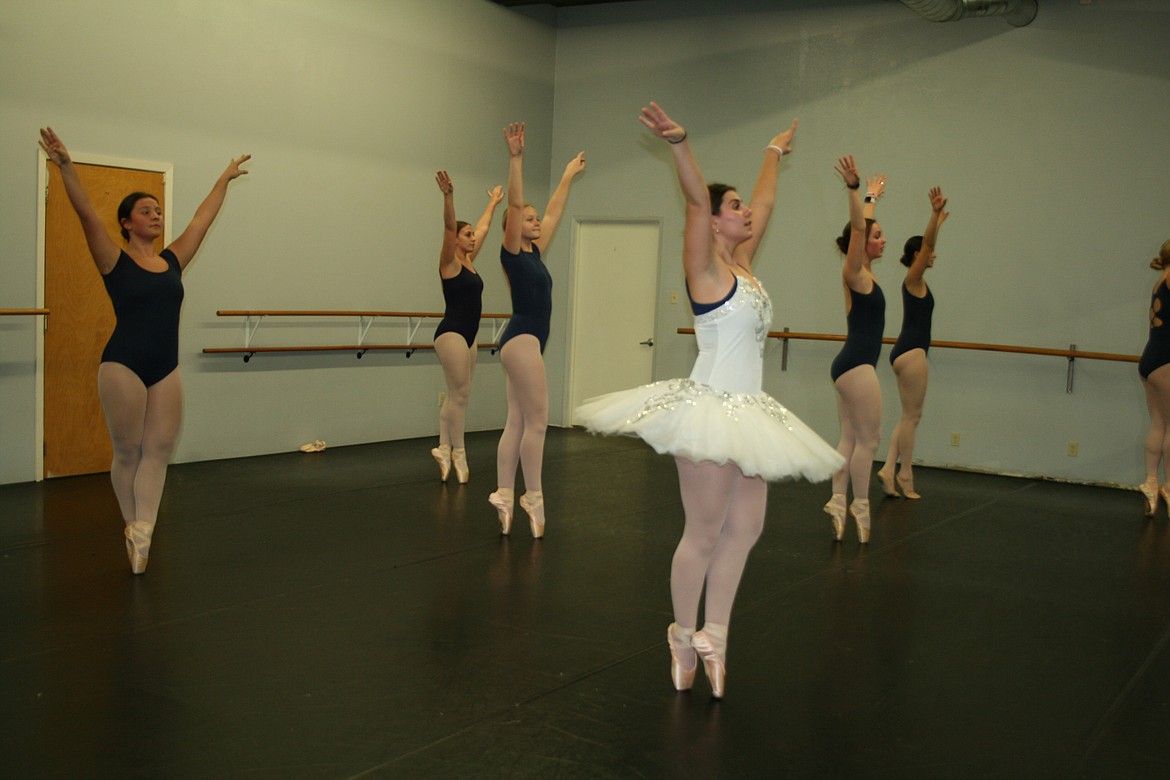 The Snow Queen (Emma Fulkerson, in white) and the snowflakes are poised during practice Tuesday for the Ballet Academy of Moses Lake's production of "The Nutcracker."
Cheryl Schweizer/Columbia Basin Herald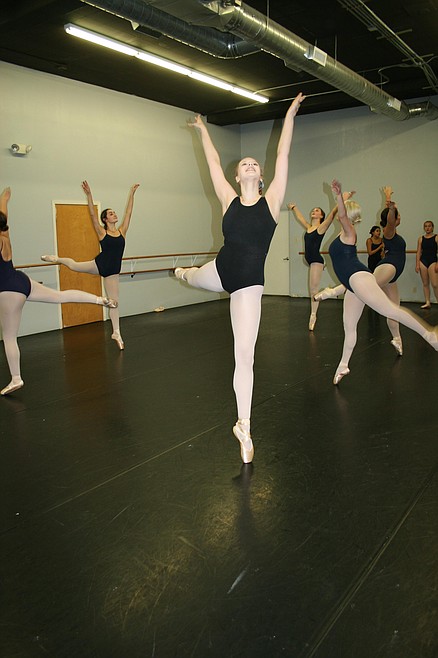 A snowflake reaches for the sky during practice Tuesday for the upcoming production of "The Nutcracker," presented by the Ballet Academy of Moses Lake.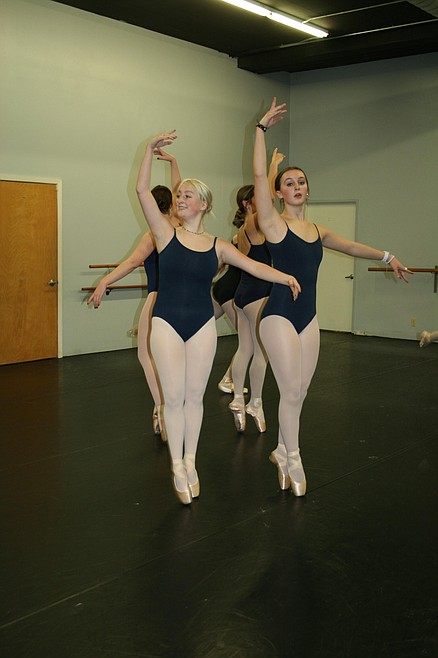 Snowflakes practice for the Ballet Academy of Moses Lake production of "The Nutcracker" Tuesday.
Previous
Next
by
CHERYL SCHWEIZER
Staff Writer
|
November 19, 2021 1:00 AM
MOSES LAKE — The Ballet Academy of Moses Lake will tell the story of a little girl's dreams of adventure on Christmas Eve on two Saturdays during the holiday season. The academy presents its production of "The Nutcracker" at 1 p.m. and 6 p.m. Nov. 27 and Dec. 18 at the Moses Lake High School theater, 803 E. Sharon Ave.
Lacey Schindler, Ballet Academy co-owner with Rian Miles, said the academy and Today's Generation Dance Company, in Moses Lake, alternate productions from year to year. The Ballet Academy was scheduled to perform in 2020, but the COVID-19 outbreak led to its cancellation.
"It was really awesome and generous of (Today's Generation) to allow us to resume our year to do it," Schindler said. "We've been very fortunate to be able to cooperate and work together, come together and help each other out when we can."
Returning to the stage has been a morale-booster, Schindler said.
"You practice to be on stage, and when you don't have a stage they (the dancers) get to the point (of asking) 'Why are we practicing? Why are we doing this if we can't get up on that stage?'" she said.
"The Nutcracker" tells the classic story of a little girl named Clara, the recipient of a special gift on Christmas Eve, a nutcracker in the form of a soldier. Clara returns downstairs late at night, falls asleep next to the Christmas tree and dreams of a series of magical adventures with the nutcracker, who's been transformed into a prince.
The ballet first premiered in the 1890s and has become a holiday classic, for dancers, as well as audiences.
"The kids, as they grow up, they go through the different parts of the story. One year you might be a mouse, the following year you might be a gumdrop. And then you kind of progress your way up through the different roles," Schindler said. "They've watched these older girls for so many years do their favorite parts, it's exciting to graduate up.
"When it dawns on them, 'This is my last 'Nutcracker,' that realization – it's kind of neat to see, they're realizing how far they've come, how hard they worked. They got there, and they didn't even realize they got there," she added.
It's traditional for most ballet companies to do their own choreography. Schindler said she choreographed about 80% of the Ballet Academy production. She incorporated choreography from former Ballet Academy owner Robin Weinrich for the Waltz of the Snowflakes.
"I was a part of that production, and I just loved that choreography so much," she said.
Victoria Gilbert choreographed the gumdrop dance.
Each production is a little different from the one before, Schindler said. She adjusts her choreography to accentuate the strengths of each dancer.
"It's fun to see. I may have had one Spanish dancer who can turn like a top, but my next Spanish dancer, she's phenomenal at leaps. So how do you adjust the choreography to showcase each dancer? That's kind of fun and challenging," she said.
The dancers are so familiar with the production they can concentrate on the details.
"I would say 'Nutcracker' is a finely tuned machine," Schindler said. "They (the dancers) know their parts and it's just fine-tuning it. It's kind of incredible to see it come to fruition."
The Ballet Academy has two different casts for the two weekends.
"You may have seen one of my students dance as a sugarplum, but in the next performance it'll be somebody different, giving more girls an opportunity to perform more parts," she said.
Tickets can be purchased online at www.recitalticketing.com. Tickets are $12 online, plus an online fee, and $15 at the door.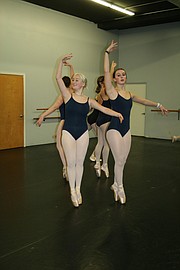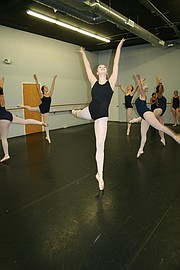 Recent Headlines
---