A Dickens of a show: QHS to present 'A Christmas Carol'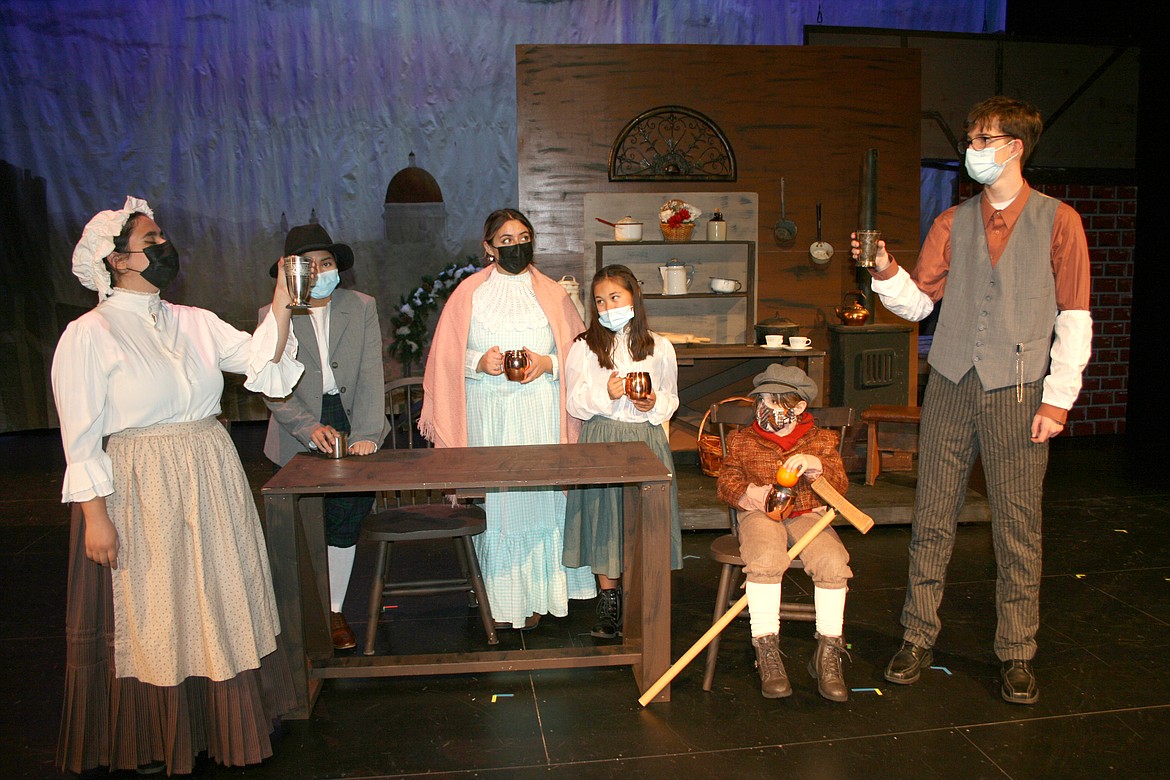 The Cratchit family (from left, Beverly Granados, Nilzelt Gallardo-Reyes, Alicia Lasley, Kimiko Condo, Krysandra Coyle and Cody Kennedy) toast the health of Ebenezer Scrooge - with varying degrees of enthusiasm - during the Quincy High School production of "A Christmas Carol."
Cheryl Schweizer/Columbia Basin Herald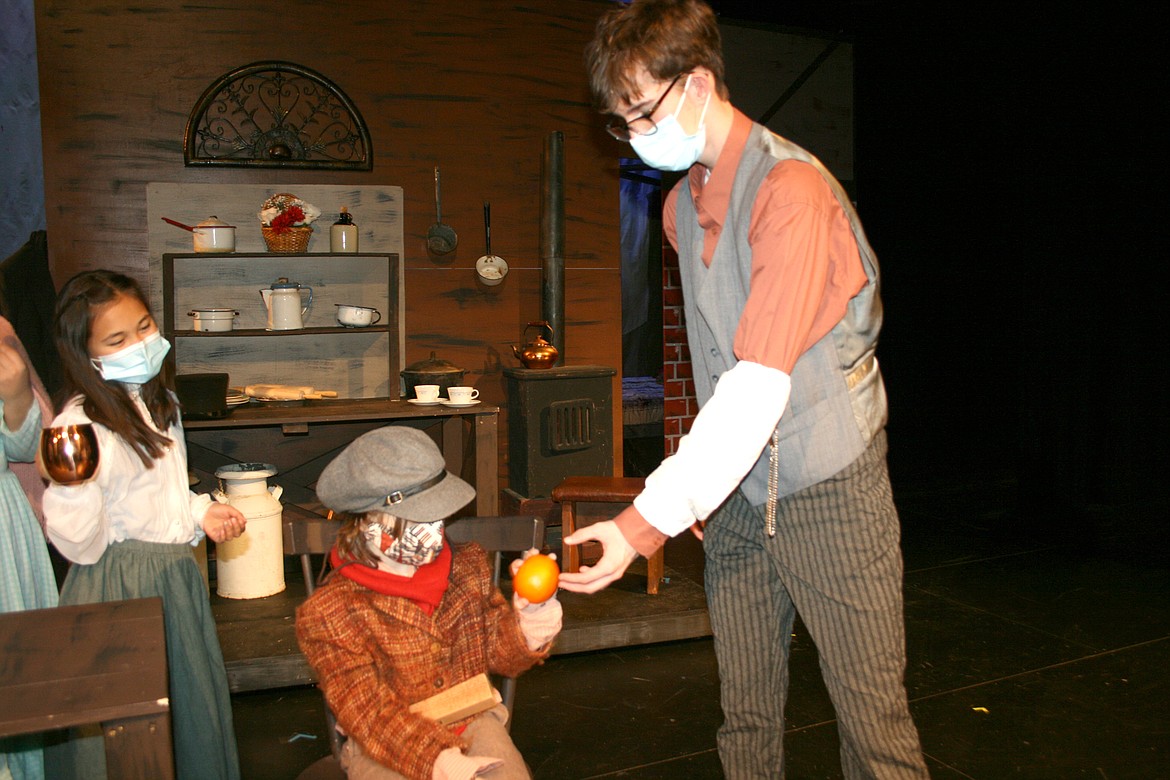 Bob Cratchit (Cody Kennedy, right) gives his Tiny Tim (Krysandra Coyle, left) a Christmas orange in the Quincy High School production of "A Christmas Carol."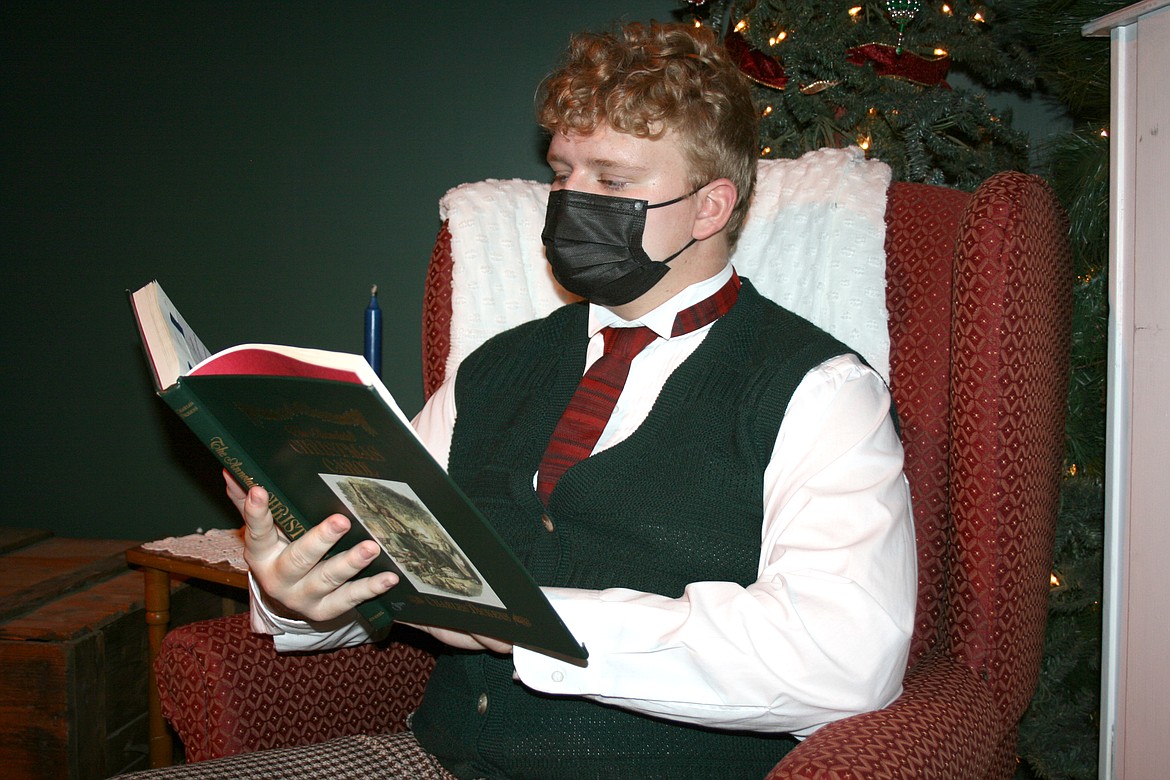 Charles Dickens (Tucker Ronish) serves as the narrator in the Quincy High School production of "A Christmas Carol."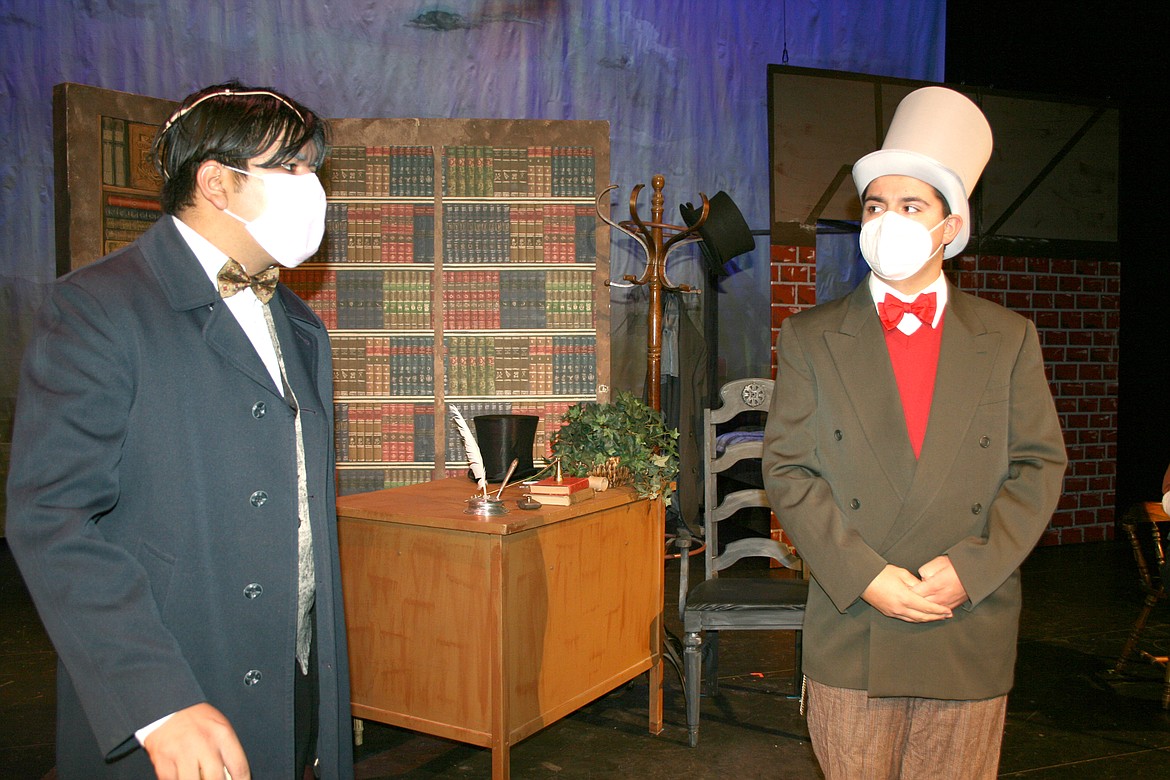 Scrooge (Aaron Cruz-Martinez, left) scolds his nephew Fred (Dawson Rubio) for his Christmas frivolity in the Quincy High School production of "A Christmas Carol."
Previous
Next
by
CHERYL SCHWEIZER
Staff Writer
|
November 12, 2021 1:00 AM
QUINCY — The classic tale of a man who learns how to celebrate Christmas on one eventful Christmas Eve comes to the Quincy High School stage courtesy of the QHS Drama Club. Performances of "A Christmas Carol" are scheduled for 7:30 p.m. tonight and Nov. 19, and 2 p.m. and 7:30 p.m. Saturday and Nov. 20 at the QHS performing arts center, 403 NE Jackrabbit St.
QHS Drama Club advisor and director Haliey Weber said although the story on which the play was based was written in 1843, it's a good choice for the fall of 2021.
"I really wanted to do a Christmas show," she said. "Especially because when I think of Christmas, I think of family and togetherness."
The pandemic is receding, but it's still here, and things aren't back to normal, she said.
"I wanted to do something that felt good and normal," she said.
And while it's a classic story, it still resonates.
"It's a great story that really shows us how loneliness and sometimes strife in our lives will lead us to make decisions which can change the lives of others," she said. "And this idea of being able to be together and to have some type of feeling of normalcy for Christmas."
The lesson Scrooge learns is timeless, she said.
"In the end, it's human connection, which takes us out of that strife and loneliness. At the end of the day, humans just need to connect. And that's been missing, a lot, in the pandemic."
"A Christmas Carol" recounts one eventful Christmas Eve in the life of Ebenezer Scrooge (Aaron Cruz-Martinez in the QHS production), who has a lot of money but not much else. He resents his nephew Fred (Dawson Rubio), who invites him to Christmas dinner, and mistreats his lone employee, Bob Cratchit (Cody Kennedy).
But on Christmas Eve, Scrooge gets some visitors, starting with his deceased business partner, and they have a message for him.
"He (Scrooge) made some pretty not-so-great choices in his life," Cruz-Martinez said. "Because the spirits visit him, it's like he kind of learns the consequences of his actions, where they lead him. And where they could lead him."
The role of Scrooge requires a major adjustment in attitude from the beginning of the play to the end, but Cruz-Martinez said that's just something actors learn to do.

The version produced by QHS includes a twist: Charles Dickens (Tucker Ronish) narrating the action.
"I'm not actually in the play. I'm more of a watcher, just like the audience," he said. "I'm basically telling the audience the story, what's happening, and where we're going, and I let the other actors fill it out. Bring it to life."
Both Ronish and Cruz-Martinez are drama club veterans, but it's a new experience for Kennedy. The first few days of rehearsal, up there on stage, were a little intimidating.
"It's really nerve-racking," he said.
But once he got used to being on stage it's been really fun, he added.
The production is mostly but not all high school students – a cast of 26, 5 to 18 years old, Weber said – and set in the mid-19th century. Weber said it's been a bigger challenge than she expected.
"This has been a monster. I was not expecting it to be as much of a monster as it has been," she said.
She also had a lot of ideas for the production, she said, and putting them into practice added to the challenge. But it will all result in an eye-catching show, she said.
"We have a lot of effects that are new," she said, such as a fog machine, and a backdrop that's a projection screen.
Tickets are on sale at the QHS office. They are $10 for adults and $7 for students.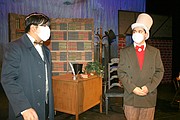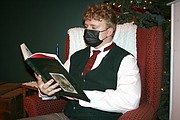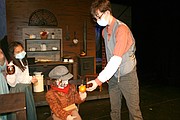 ---