Senate candidate speaks in Moses Lake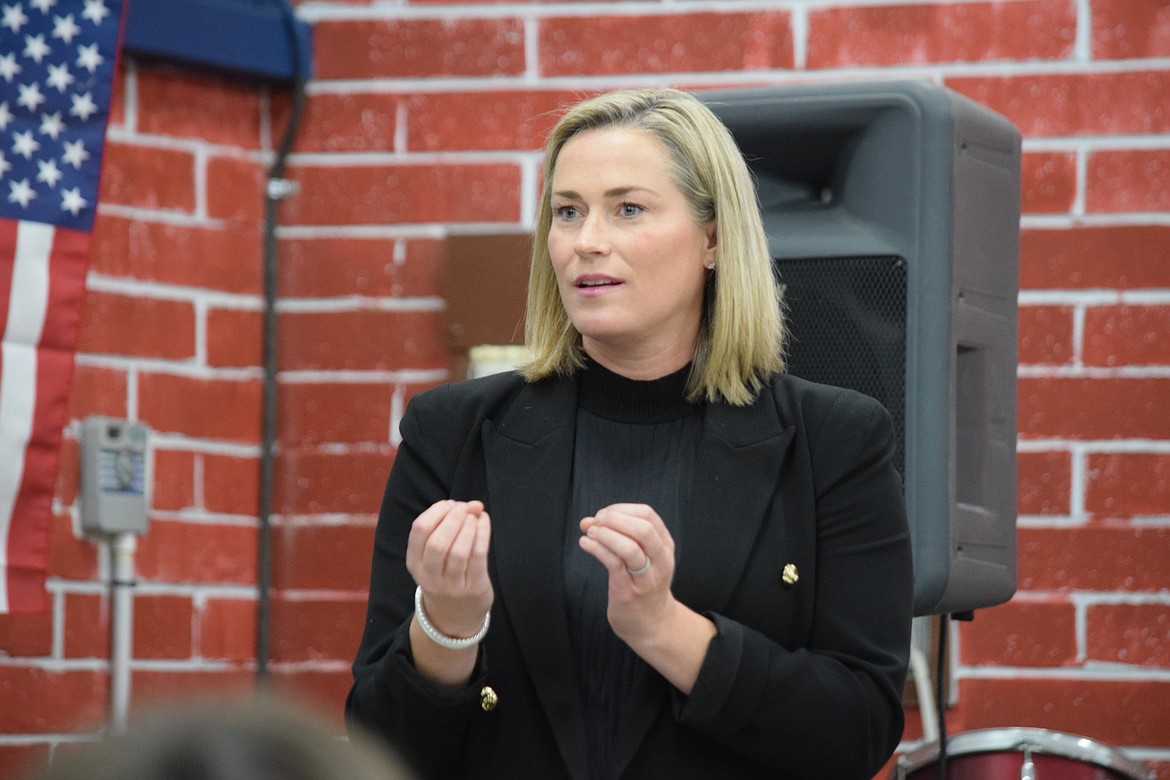 Republican U.S. Senate candidate Tiffany Smiley addresses the Republican Women of Grant County meeting at Lake City Foursquare Church in Moses Lake on Tuesday.
Charles H. Featherstone/Columbia Basin Herald
by
CHARLES H. FEATHERSTONE
Staff Writer
|
November 10, 2021 1:05 AM
MOSES LAKE — Republican U.S. Senate candidate Tiffany Smiley has a message for Washington and for incumbent Sen. Patty Murray, a Democrat.
"There's a new mom in town," Smiley said, referring to Murray's 1992 campaign for U.S. Senate, when Murray referred to herself as a "mom in tennis shoes."
Smiley, who is challenging Murray in 2022, spoke on Tuesday to a regular meeting of the Republican Women of Grant County at Lake City Foursquare Church.
"As a mom to three boys, I am deeply worried about their future," Smiley said. "I am running for their future."
Smiley said she was a 23-year-old nurse, just married to her Army-officer husband Scotty "living the American dream," when he deployed to Iraq in 2005. In April of that year, Scotty was severely wounded in an attack by a suicide bomber who left him blind in both eyes and close to death.
"That was the day our American dream blew up into a million pieces," she said.
As a result, Smiley said she quit her job and went to Walter Reed National Military Medical Center to help her husband recover, and in the process decided to fight for both his career and his life. When Army officials brought her Scotty's medical discharge paperwork to sign, Smiley said she refused. Instead, she said she focused not on what Scotty couldn't do, but what he could.
"They told us it was hopeless, but I had a different perspective," she said. "They said no one ever served blind. Well, that was the day the Department of Defense learned the power of a small-town girl from Pasco, Washington."
Scott Smiley eventually served another decade as an active duty Army officer, retiring a major, when Smiley said she ended up taking on the U.S. Department of Veterans Affairs and promoting legislation reforming the VA, which was eventually signed by President Donald Trump.
She said she was told at the beginning a fight against an entrenched bureaucracy like the VA was a waste of time.
"I have never stopped fighting for what is right," Smiley said. "It was the best waste of time I have ever spent."
Describing Murray as "uninvolved and out of touch," Smiley said people are worried about safety and security, and Washington needs an involved senator who supports law and order, lower taxes, getting people back to work and cleaning up the streets.
Smiley said since launching her campaign in April, she's raised more than $2 million and hopes to present a united Republican challenge to Murray.
"It can be done. I have great hope for this state," she said.
And Smiley said her time as a nurse, and advocating for her husband with the Army and the VA means she does not walk away from a fight.
"The country is bleeding out everywhere," she said. "I can assure you that in the emergency room, I'm not afraid to step into the middle of chaos. I was not afraid to take on the Army or the Veterans Administration, and I'm not afraid to take on Patty Murray."
"We have to stop the bleeding," Smiley added.
Charles H. Featherstone can be reached at cfeatherstone@columbiabasinherald.com.
Recent Headlines
---