Grant County officials make suicide prevention information easier to find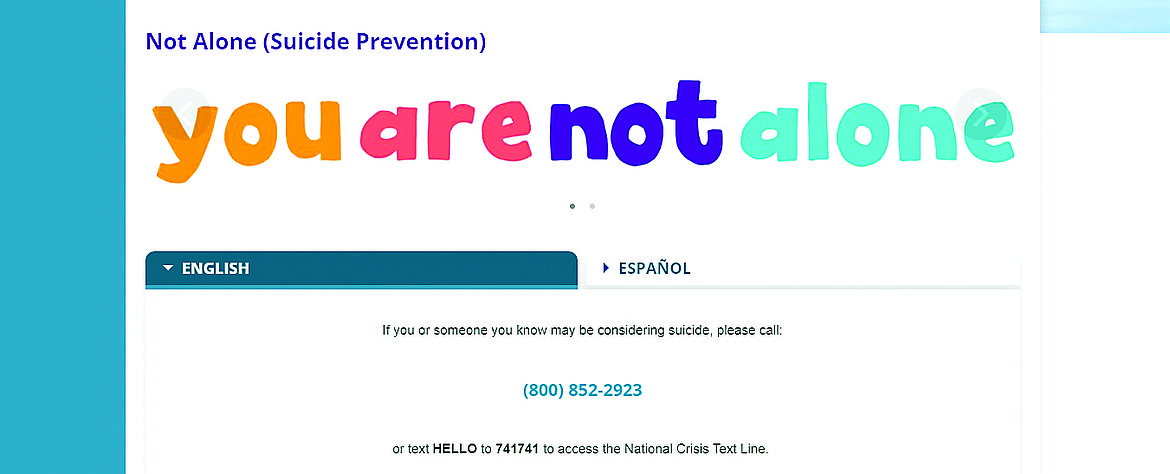 A screenshot is pictured from Grant County Renew's suicide prevention page.
by
CHERYL SCHWEIZER
Staff Writer
|
November 9, 2021 1:00 AM
EPHRATA — It's at the top of Grant County's website.
By clicking "you are not alone," there's a link for people who need information about suicide prevention and support for people thinking of suicide. Grant County Commissioner Cindy Carter said county officials are trying to make it as easy as possible for people in crisis, or who know someone in crisis, to get help.
Carter said the links on the page, which were added Thursday, will be updated as resources change or additional resources become available.
Carter said she asked Grant County Central Services Director Tom Gaines for suicide prevention information to be prominently displayed after receiving a call from a county resident who had a family member suffering from a mental health crisis. The family member didn't know where to turn to get help quickly, she said, or how to find out what help was available. That's the problem for people who haven't accessed the mental health system previously, she said -- information can be difficult to find.
Some people also are reluctant to admit they're having suicidal thoughts, she said, and in those cases information should be easy to find so people can keep the search confidential.
The county website's link takes people to the suicide prevention page of Renew, formerly Grant Integrated Services. The number listed, 800-852-2923, is for the North Central Washington Crisis Line, accessible 24 hours per day, seven days per week.
The page also has other links, including Crisis Connections, which is King County-based, but provides help for people statewide. Teen Link also is statewide, and lets teens talk with other teens. There's also a National Crisis Text Line, which people can access by texting "HELLO" to 741741. The information also is available in Spanish.
Recent Headlines
---