A piece of the past: Token tells story of century-old Quincy business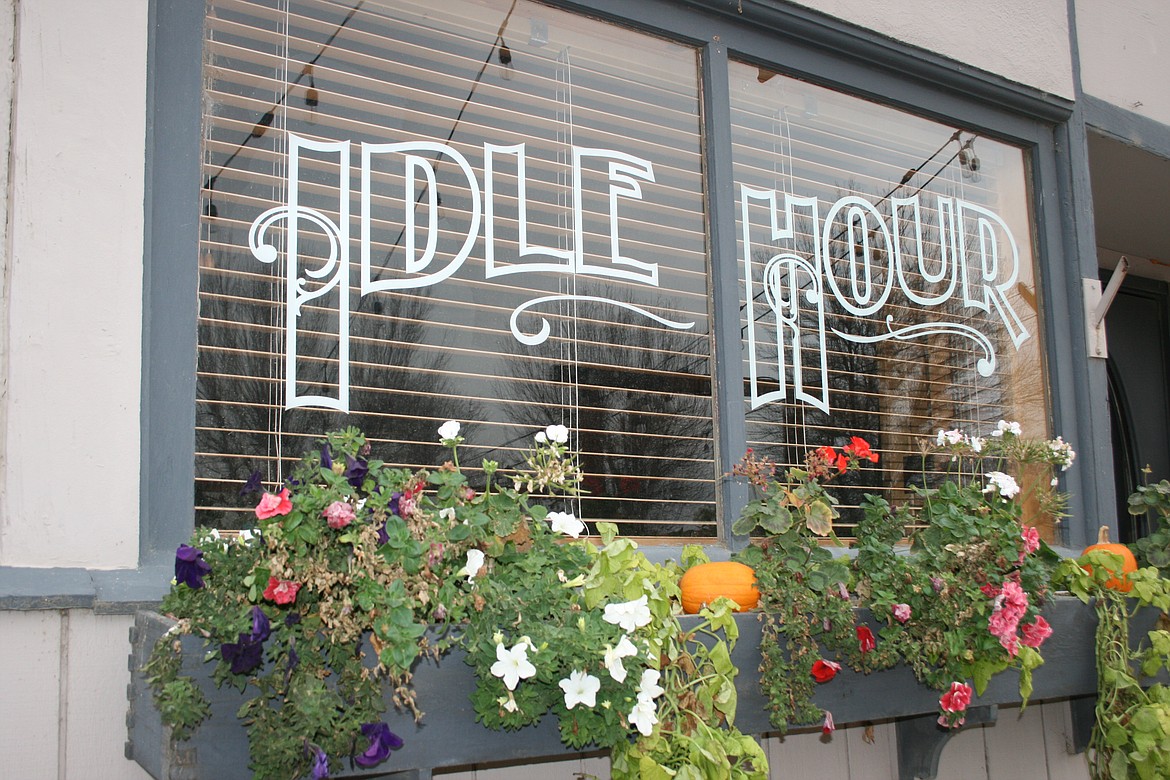 The windows at the Idle Hour Eatery & Spirits in Quincy reflect its heritage as the Idle Hour Saloon.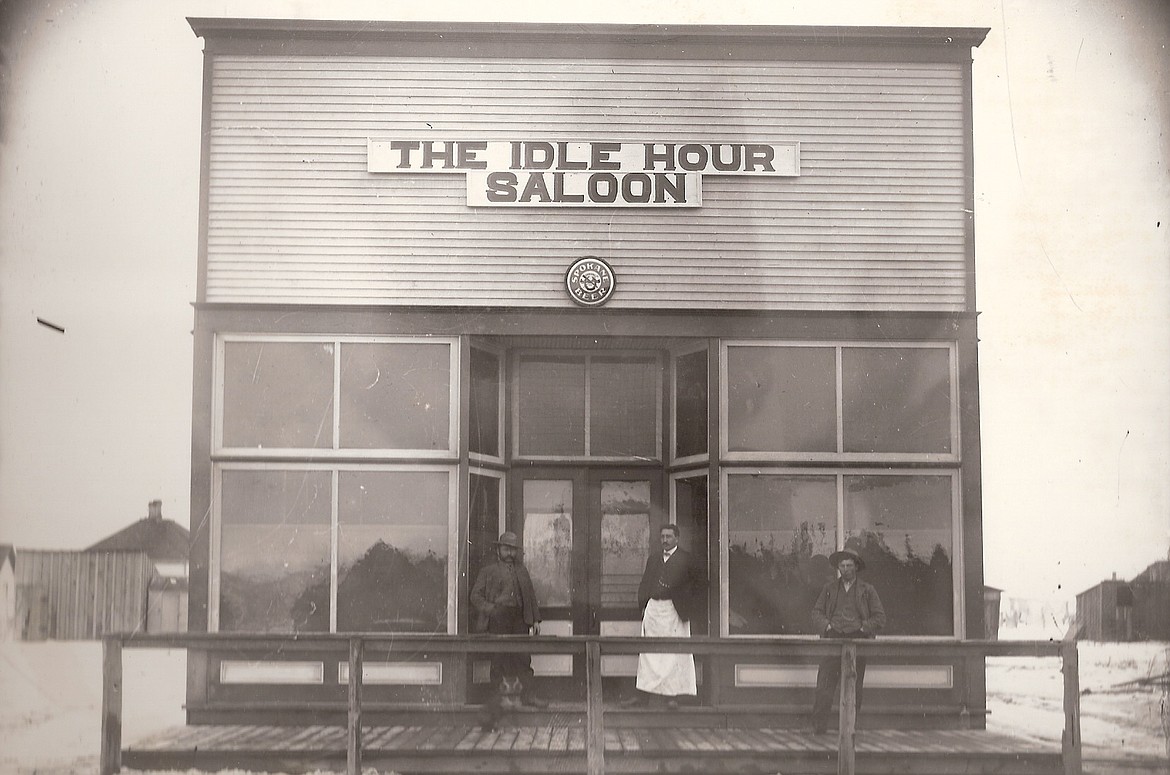 Idle Hour Saloon owner John Heuther (center) poses for a photo with a couple of unidentified patrons about 1910.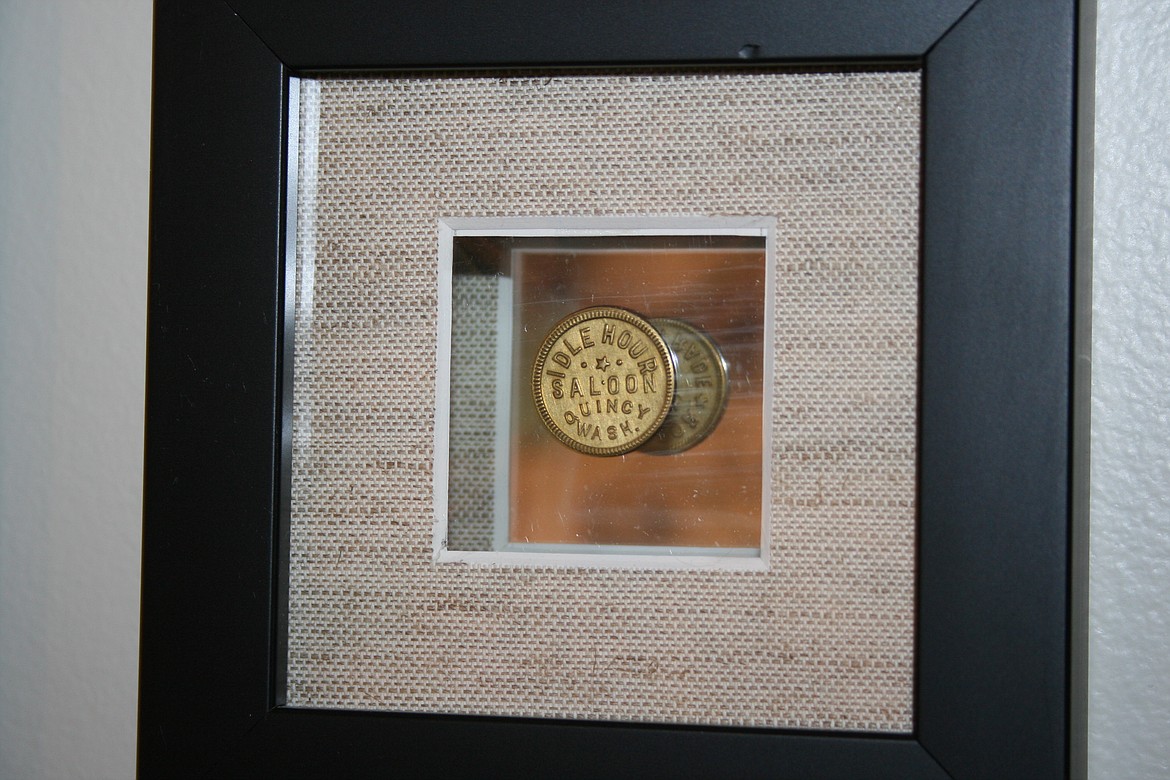 A historic artifact from Quincy's past, a drink token from the Idle Hour Saloon, which has been doing business at the same spot for more than 100 years.
Previous
Next
by
CHERYL SCHWEIZER
Staff Writer
|
November 8, 2021 1:03 AM
QUINCY — So that small object in a frame on the wall at the Quincy Valley Historical Society & Museum, the coin-like thing – is that really a coin? After all, the way a coin often ends up on the wall of a museum is if it's dug out of an archeological site.
Besides, the old Idle Hour Saloon wasn't the sort of place allowed to print its own money.
No, it's not a coin. It's called a token.
Tokens were a thing back in the day, when there wasn't always a lot of cash floating around, especially in little towns in sparsely-populated areas. A thirsty man or woman could put a dollar down on the bar and not only buy a beer, but a few tokens as well. They were insurance against the day he or she was still thirsty, but lacked a dollar.
Harriet Weber of the QVHSM said the Idle Hour was a Quincy pioneer, and is still doing business one block east of its original location, as the whole building was moved to 18 B St. SE.
"It is still the original building and everything," she said. "It's been other things, but it started out as the Idle Hour, and now it is the Idle Hour again."
The wooden steps are gone, but it's still got a false front, just like it did in 1910 or so when owner John Huether posed for a picture out front.
"There aren't that many original buildings still left in Quincy, but the Idle Hour is one of them," Weber said.
Business wasn't good at the original location, so Huether decided to move. He did what a lot of other business owners did in 1910 – he moved the whole building. And there it is today.
"The Idle Hour is still on B Street," Weber said. "After they determined – after the third try – where Quincy's downtown was going to be, B Street was the downtown street."
Towns founded around the turn of the 20th century usually acquired a couple of things early on, one being churches and the other a saloon or two. Or as prohibitionists called them, "Dens of Iniquity and Vice."
Of course, a town the size of Quincy didn't have a lot of iniquity and vice, and as a result there wasn't enough business to keep multiple saloons open, according to the records at the QVHSM.
Ed Sapp couldn't make a go of it with the Big Bend saloon. The owners of The Hub did a little better, taking over the old Big Bend and then constructing their own building. Heuther opened the Idle Hour for business about 1906, according to the QVHSM archives.
Huether was a Russian of German descent. Weber said many early settlers of Quincy had similar backgrounds.
"They were looking for a place to go," she said.
Like any modern business owner, a 1910s saloonkeeper had expenses. Grant County charged saloonkeepers $1,000 a year for an operating license, which at that time bit deeply into the profit.
The Quincy city fathers rather liked the idea of $1,000 a year to help pay for law enforcement, apparently. Retaining that fee was, according to the QVHSM archives, a contributing factor to the incorporation of Quincy in 1907.
There is evidence John Huether was a touch eccentric – he kept a live owl in the saloon. One night it escaped.
"(The owl) took a notion Sunday evening about seven o'clock to take a little vacation," according to the account in QVHSM archives. "As the closing laws were on, the owl got lonesome or else went out to drum up trade, and not waiting for an open door, took a header for a top pane of glass, which was about four feet square. Its aim was only too good, likewise its speed. The sidewalk caught the glass, and the wire netting in front of the tennis court near Molden's store caught the owl."
The bird eventually was persuaded to return to its perch in the saloon.
In the end Huether couldn't make a go of it either. By 1917, the Idle Hour had been renamed Bob Seale's Pastime Pool, run by E.A. Niblack, nicknamed Nibs.
The first 20 years of the 20th century were a time of reform movements, some of which made sense, some of which didn't. Prohibition was one of those ideas that sounded really good at the time. It went into effect in 1919.
Nibs Niblack kept going, installing a soda fountain in place of the bar, selling candy and pencils, horse liniment and colic syrup, according to information from former Idle Hour owner Gene Rosenberger.
Prohibition ended in 1933, and the Pastime Pool hall went back to selling beer. Over time it changed hands and changed names, spending many years as the B Street Tavern, then the Spud Shed.
Rosenberger, a former Quincy High School principal, and his wife Rhonda purchased the business in 1985, and it's still in the family, operated by their son Corey and his wife Taran.
Cheryl Schweizer can be reached via email at cschweizer@columbiabasinherald.com.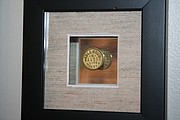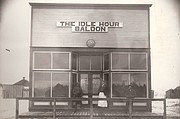 Recent Headlines
---