Moving ahead: ML School Board tables student survey decision, honors Goodrich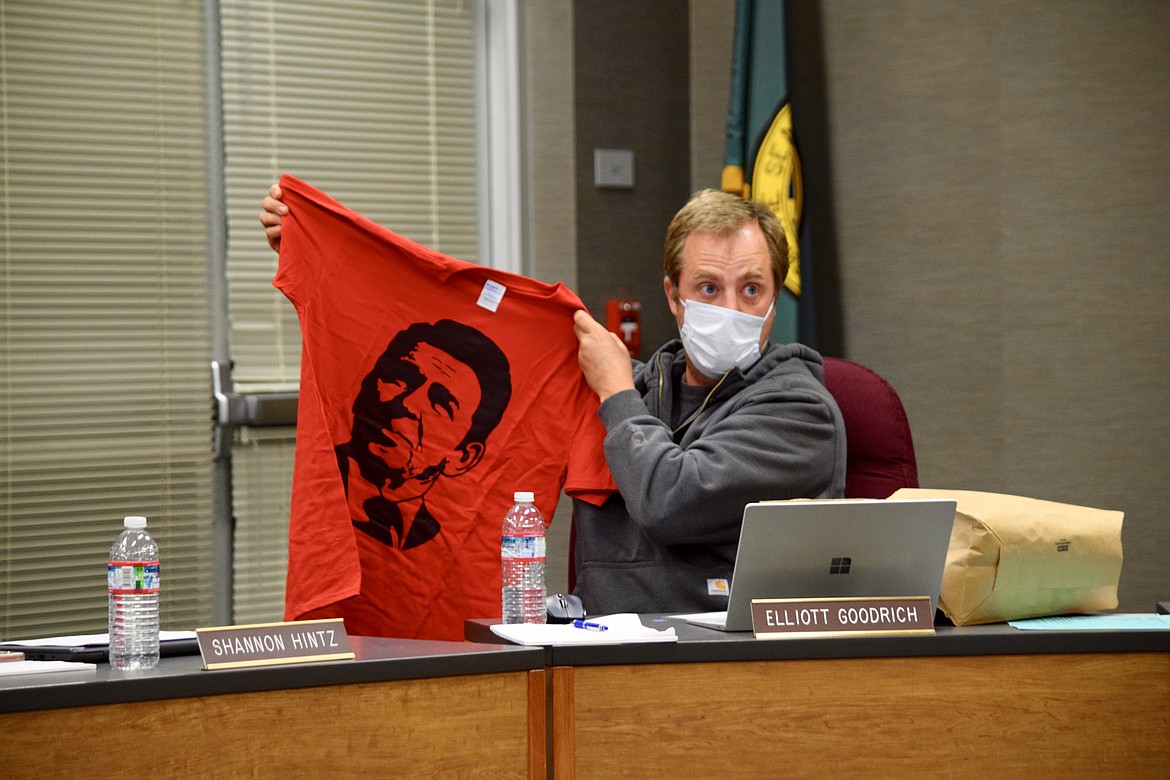 Moses Lake School Board member Elliott Goodrich, who attended his last meeting on Thursday, was honored for his four years on the board with a T-shirt depicting President Ronald Reagan as a revolutionary hero in the vein of Alberto Korda's famous 1960 photo of Marxist revolutionary Che Guevara.
Charles H. Featherstone/Columbia Basin Herald
by
CHARLES H. FEATHERSTONE
Staff Writer
|
November 8, 2021 1:07 AM
MOSES LAKE — The Moses Lake School Board at its meeting Thursday decided to wait to consider policies governing surveys given to students until after the election is certified Nov. 23.
At the center of the board's discussion was a proposed policy that would not require any student to answer survey questions regarding political affiliation, mental health, sexual activity or attitudes, illegal or "antisocial" behavior, critical appraisals of family members, legally privileged relationships, such as with physicians or clergy, religious beliefs or practices, and income, except to qualify for financial assistance or to participate in a program.
However, outgoing board member Elliott Goodrich suggested amending the proposed policy to emphasize the MLSD will not even allow surveys to ask questions about politics, family problems, sex, privileged relationships, religion, or income, noting he believed it was important to place the responsibility to say "no" on the district rather than the student and their family.
"The onus should be on the professionals not to ask, not on children and parents not to respond," Goodrich said.
However, board president Vickey Melcher said creating two categories of questions — ones students don't have to answer and ones they aren't even allowed to be asked — is too confusing, given all surveys state students do not have to answer any questions if they choose not to.
"I'm unsure why we need two different sections," Melcher said.
At a previous meeting, Kristi Hofheins, the MLSD's director for teaching and learning, noted in the Healthy Youth Survey being given to sixth-, eighth-, 10th- and 12th-graders this fall, student participation declines from 87% of sixth-graders to roughly 45% of high school seniors.
"The data shows that quite a few people opt out," Freeman said.
Goodrich's proposal, however, failed to receive a second, and the board voted to table consideration of the policy until after the election is certified and new board members can be sworn in during the first meeting in December.
As of Thursday, Moses Lake Police Chief Kevin Fuhr was maintaining a lead of 675 votes more than Rachel Roylance Gallacci in the race to succeed Goodrich, who a year ago announced he would not seek re-election.
In the other Moses Lake School Board race, Paul Hill maintained 667 votes more than incumbent Melcher. Election results are scheduled to be certified on Nov. 23.
Board members also thanked Goodrich for his service, and honored him with a Ronald Reagan T-shirt in the style of the iconic Alberto Korda photograph of Argentinian veteran of the Cuban revolution Che Guevara. Goodrich had proposed naming the Vanguard Academy, the district's second high school, after the late former president.
"I want you all to know that when I was in high school, I wore a Che Guevara shirt to school, and so the world has really come around," Goodrich said as he held up the Reagan T-shirt.
Goodrich also said he wanted to thank Melcher — the two were both elected to the board in tight contests in 2017 — and noted the meeting might also be her last on the board.
"Thank you for the good work you have done," he said. "You and I got a lot of good things done together and the school district is in a better place because of you. Thank you."
Charles H. Featherstone can be reached at cfeatherstone@columbiabasinherald.com.
---