Stuck in transit: Supply chain woes leave merchants scrambling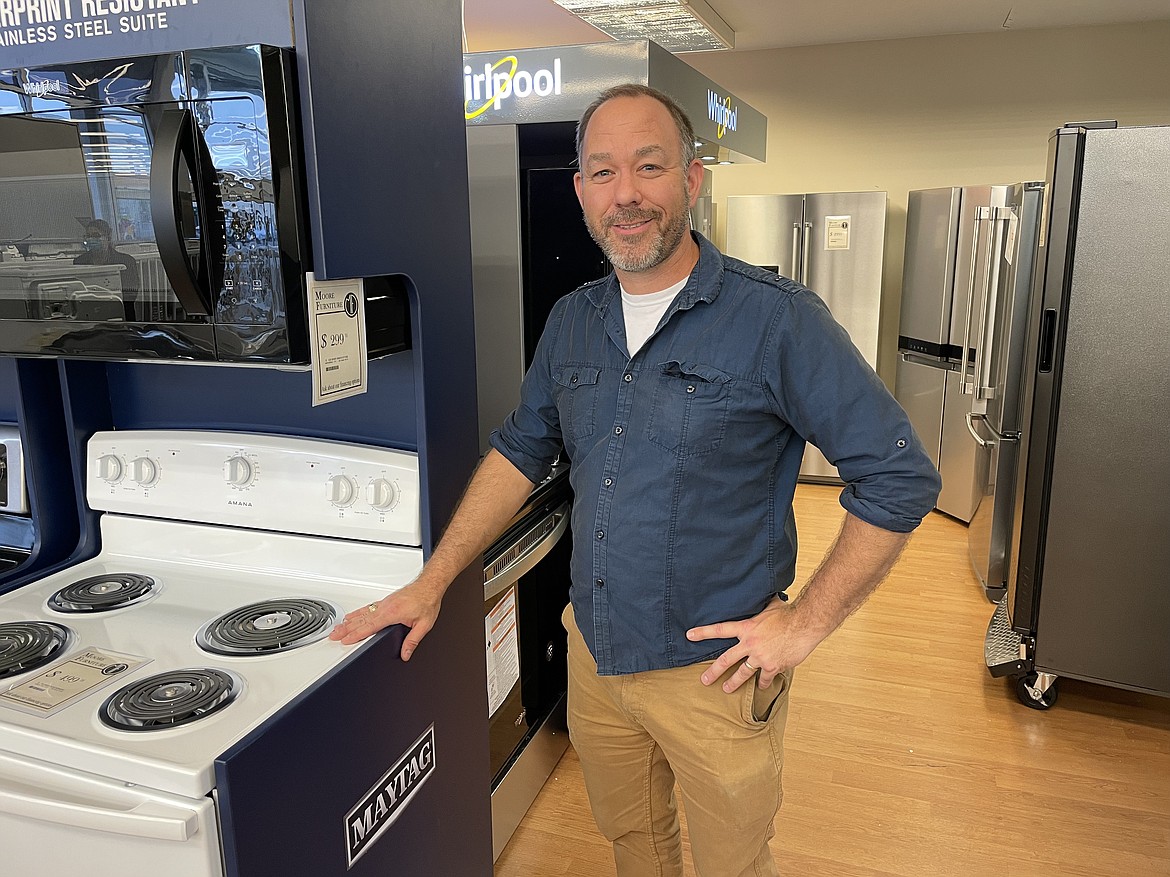 Matt Moore, one of the owners of Moore Furniture, stands in the appliance section of his family's Ephrata store. Moore said supply problems have gotten so bad he is having to cannibalize floor models to make repairs on customers' purchases.
Charles H. Featherstone/Columbia Basin Herald
by
CHARLES H. FEATHERSTONE
Staff Writer
|
November 6, 2021 1:00 AM
EPHRATA — How difficult are the world's shipping and supply problems right now?
"We've had to get creative," said Matt Moore, one of the owners of Moore Furniture in Ephrata, as he stands amidst the dishwashers, refrigerators and stoves he sells.
He points to a dishwasher on display missing a control panel. A customer who bought the same model called in with a problem, and rather than let that customer wait for the three to five months it takes for replacement parts to arrive, Moore said he simply cannibalized from the floor model — now "a zombie machine," which will sit around for several months awaiting its own repair — to fix the customer's dishwasher.
"We service what we sell," he said. "It's less of a pain in the butt for me to deal with a bad floor model. I can still sell it, but at least I got that person's problem solved."
"I don't know what other places are doing, but we try to find creative solutions where we can," Moore added.
Backlogs at major ports and material shortages are creating a lack of all kinds of goods across the country.
According to Janelle Guthrie, communications director for the Building Industry Association of Washington (BIAW), a trade group which represents construction companies and contractors, the situation has gotten so bad the state's Building Code Council has issued emergency rules allowing for temporary occupancy permits to be issued for new homes, even if heat pump units — the outside portion of air conditioners — have not been installed.
"We're seeing quite a few supply challenges. One in particular is heat pumps," Guthrie said.
Guthrie said a recent letter from Tacoma-based HVAC manufacturer and distributor Gensco Inc. to Hayden Homes and municipal building departments highlights the nature of the problem, with the company saying it currently has more than 20,000 heat pumps on backorder.
"We normally have 20,000 units in-stock and 10,000 on order. Now, demand is outpacing supply," the company wrote in the letter.
As winter looms, this doesn't matter so much, since there is no shortage of internal heating units and even homes without external air conditioners will be adequately heated in the cold winter to come.
Guthrie said, however, there are other significant shortages, such as electrical panels, wire, windows that comply with the state's new building code, transformers, septic pumps, water heaters and plumbing fixtures.
Some of those shortages are related to not enough equipment to meet the new state building standards for things like windows and fuse boxes, Guthrie said. But some of the problems are caused by the same supply and shipping problems prompting so many other kinds of shortages.
"One of our builders said their plumber is having to purchase parts and fixtures on eBay, and some electricians are, as well," she said.
Moore said his company has stayed ahead of the supply problems, but it requires a lot of work and a lot of planning, and it's unpredictable what problems will come up next. Moore said furniture makers and appliance manufacturers he works with have had difficulties getting some raw materials like foam, glass and now semiconductors, which make it hard to complete finished goods and ship them.
"You have shortages of specific materials that creep up all of a sudden that no one predicts and it lasts for a couple of months and creates bottlenecks everywhere," he said.
On complex products like kitchen appliances, Moore said even the lack of something small can make things difficult for a manufacturer.
"The more complex your item is, like a range or a dishwasher, it's got several hundred components and several different types of raw materials and probably 100 sub-suppliers that go into making the product," he said. "If you're missing one, you don't finish the product."
Moore also said the mess of global shipping, particularly on the west coast of the U.S., where empty containers are stacking up in ports, is making the situation worse. It prompted a number of companies to reduce product lines to higher-value and bigger ticket items, tighten up logistics lines, or in the case of appliance maker Whirlpool, increasingly rely on air cargo to bypass track, ship and rail bottlenecks, Moore said.
As a small, family-owned furniture and appliance retailer, Moore said he struggles to stay a step or two ahead of supply issues, and expects things won't get better until at least 2023.
It's especially bad for anyone who needs a replacement appliance immediately.
"You don't want to be the person who says my fridge is dead; I need one today," Moore said. "I can help you, but not many places can. But I may not have what you need."
"We're doing our best. I try to keep stuff in stock, but it's getting harder to do," he said. "It's a challenge."
Charles H. Featherstone can be reached at cfeatherstone@columbiabasinherald.com.
Recent Headlines
---