MLSD evaluates flag, survey, public records policies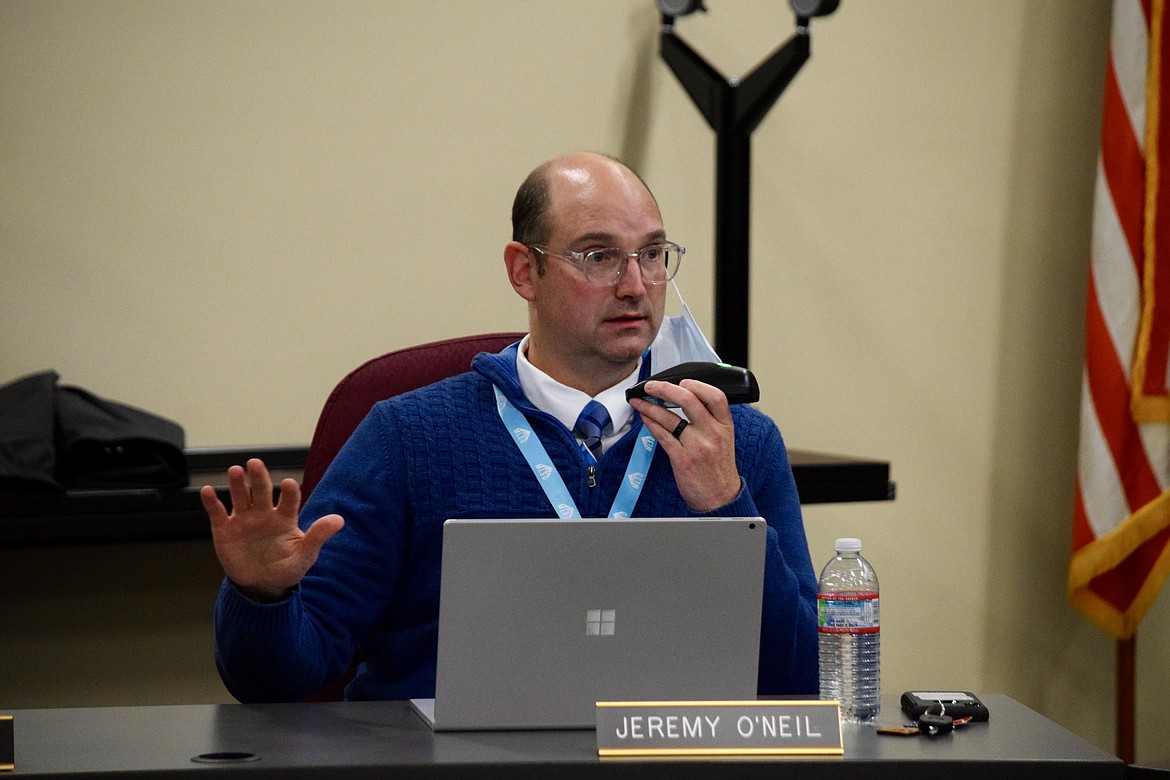 Moses Lake School District Chief Operations Officer Jeremy O'Neil explains how the district processes public records requests during a meeting Thursday.
Charles H. Featherstone/Columbia Basin Herald
by
CHARLES H. FEATHERSTONE
Staff Writer
|
November 1, 2021 1:05 AM
MOSES LAKE — It would be difficult, if not impossible, for the Moses Lake School District to create a policy overseeing what kinds of flags, banners and posters teachers could display in their classrooms, according to interim superintendent Carole Meyer.
Speaking at a regular meeting of the Moses Lake School Board on Thursday, Meyer said the Washington State School Directors' Association (WSSDA) does not have a model policy and the district's attorneys said it may be too difficult to create.
"It won't happen overnight and it could take weeks or months, and it may not be worth the risk," Meyer said. "Superintendents don't write policy; we look to our legal teams."
The Moses Lake School Board asked Meyer to look into the possibility of creating such a policy, after a parent at a previous meeting complained of a gay pride flag in a middle school classroom and what the parent said was the school's poor response.
However, several residents spoke during the meeting about how important it is for students to know there are places where they can be safe.
Danielle Johnson, a math teacher at Frontier Middle School who also specializes in at-risk youth, said the conversation about the pride flag "disgusted" her deeply, and she felt the school board was openly questioning her existence despite having taught in Moses Lake for 10 years.
"Some students may find the only support and acceptance they get is at school," she said.
Jay Mather, a long-time elementary school teacher, told board members the pride flag is a symbol of acceptance that lets students know a classroom or office "is a safe place for all."
"There are students in the district who need to know that," Mather said.
Board member Elliott Goodrich said the board never talked about "singling out the pride flag" at the previous meeting, but rather about all political or potentially controversial symbols.
"Everybody has a right not to feel discriminated against," Goodrich said.
The board also continued to evaluate its policy covering student surveys as the district prepares to give the Healthy Youth Survey to sixth-, eighth-, 10th- and 12th-graders.
The survey has been given every two years to students in districts that agree to it since 2002. However, the 2020 survey was postponed because of the COVID-19 pandemic. This year, the MLSD will give the survey without any of the questions on sexual orientation, identity or experience.
Board members agreed at the previous meeting to a policy governing all future surveys that would prevent the MLSD from administering surveys asking students about political views, "sex behaviors or attitudes," religious views and practices, illegal behavior and mental issues.
MLSD Executive Director for Teaching and Learning Kristi Hofheins said the district gives very few surveys, roughly 20% of students opt out, and district policy and survey instructions tell students they don't have to answer any questions they don't want to.
"We never require kids to answer questions," she said.
Moses Lake High School Principal Triscia Hochstatter asked board members, however, not to eliminate questions from surveys because precise surveys allow administrators, counselors and teachers to design programs to meet specific student needs.
"Counselors use the data to inform their practice," Hochstatter said, noting the data from the 2018 survey was used to create a support group for anxious students that was "well received."
After a request from board member Alana DeGooyer, the board asked MLSD Chief Operations Officer Jeremy O'Neil to make a presentation at the next meeting on all the ways previous surveys have influenced district policies and programs.
Finally, O'Neil told board members since 2017, on average, the MLSD has received around 25 public records requests per year — roughly two per month. However, the MLSD received 52 public records requests since July 2021 alone, he said.
At the previous meeting, board members asked O'Neil to present on public records requests as the board considers rewriting its policy, including possibly hiring a records specialist who will handle requests.
O'Neil said the last three months aside, he wasn't sure there was enough work to justify a permanent records officer for the MLSD.
"We've done a pretty good job of responding, but that depends on the type of request," O'Neil said.
O'Neil said he will wait for more data on the time it takes to fulfill public records requests, but hopes the pace and volume of requests for documents will slow down soon.
"Heaven help us if there's controversy at every corner," he said.
"This is Moses Lake," Goodrich responded.
Charles H. Featherstone can be reached at cfeatherstone@columbiabasinherald.com.
Recent Headlines
---