The stage is set: Masquers gear up for first opening night in over a year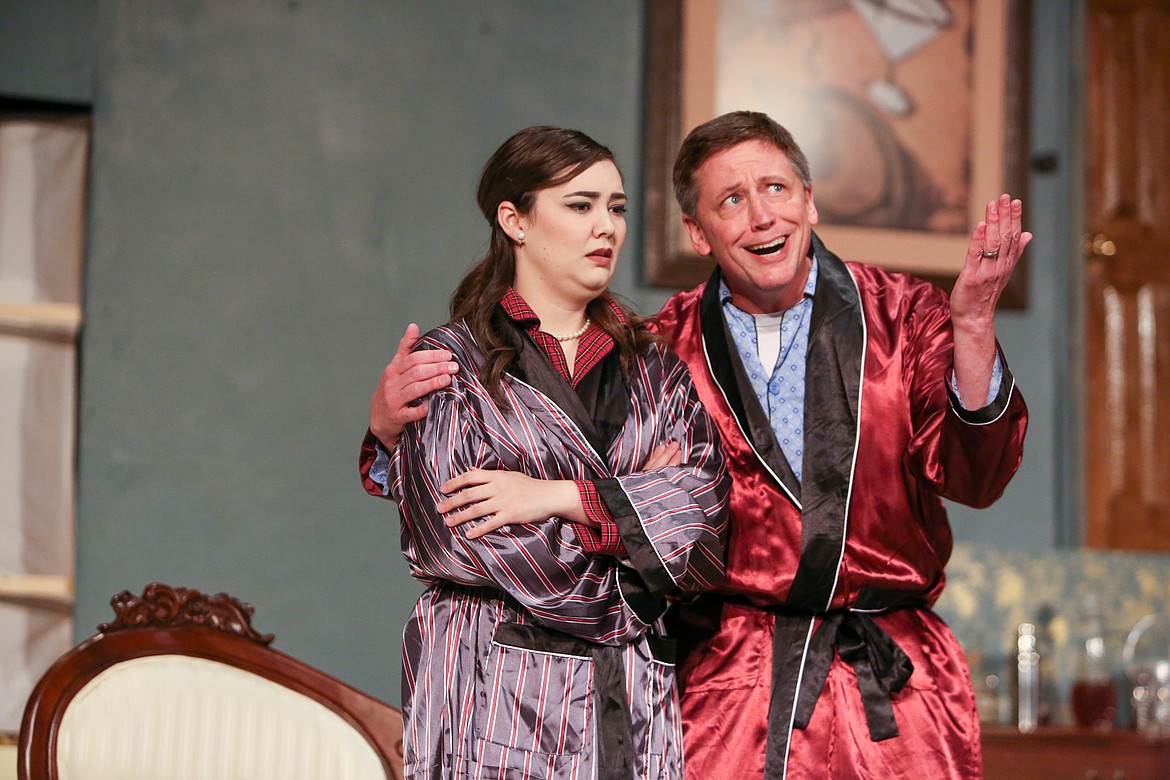 Laura Knittle, as Daphne Stillington, and Greg Becker, as Garry Essendine, run through a scene of "Present Laughter" in dress rehearsal on Tuesday evening at Masquers Theater.
Casey McCarthy/Columbia Basin Herald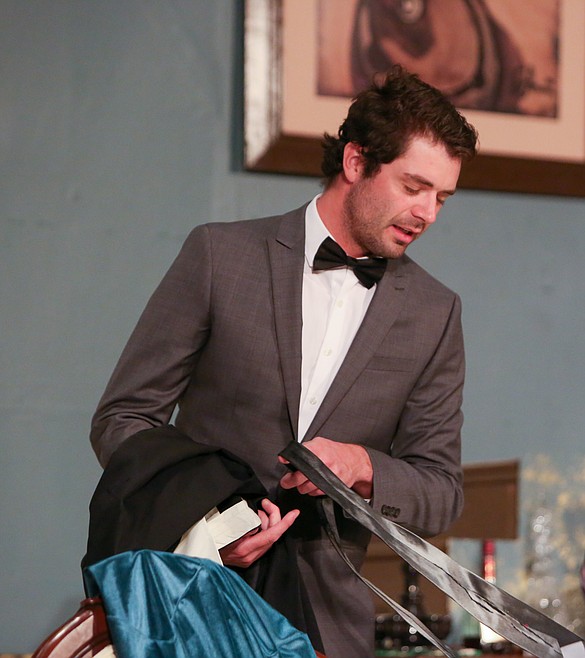 Farmer Roseburg plays Fred the butler in "Present Laughter" opening Friday evening.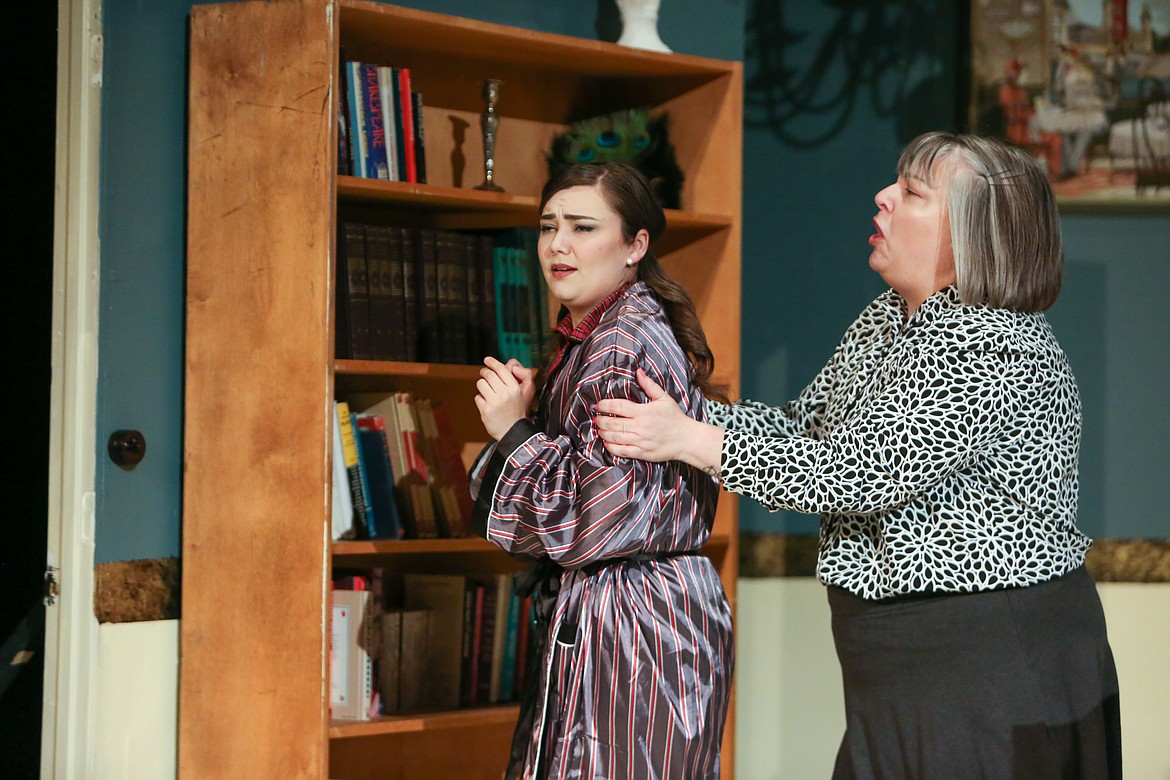 Laura Knittle, left, as Daphne Stillington, and Marla Allsopp, as Monica Reed, run through a scene in the opening act of "Present Laughter" on Tuesday evening at Masquers Theater ahead of opening night Friday.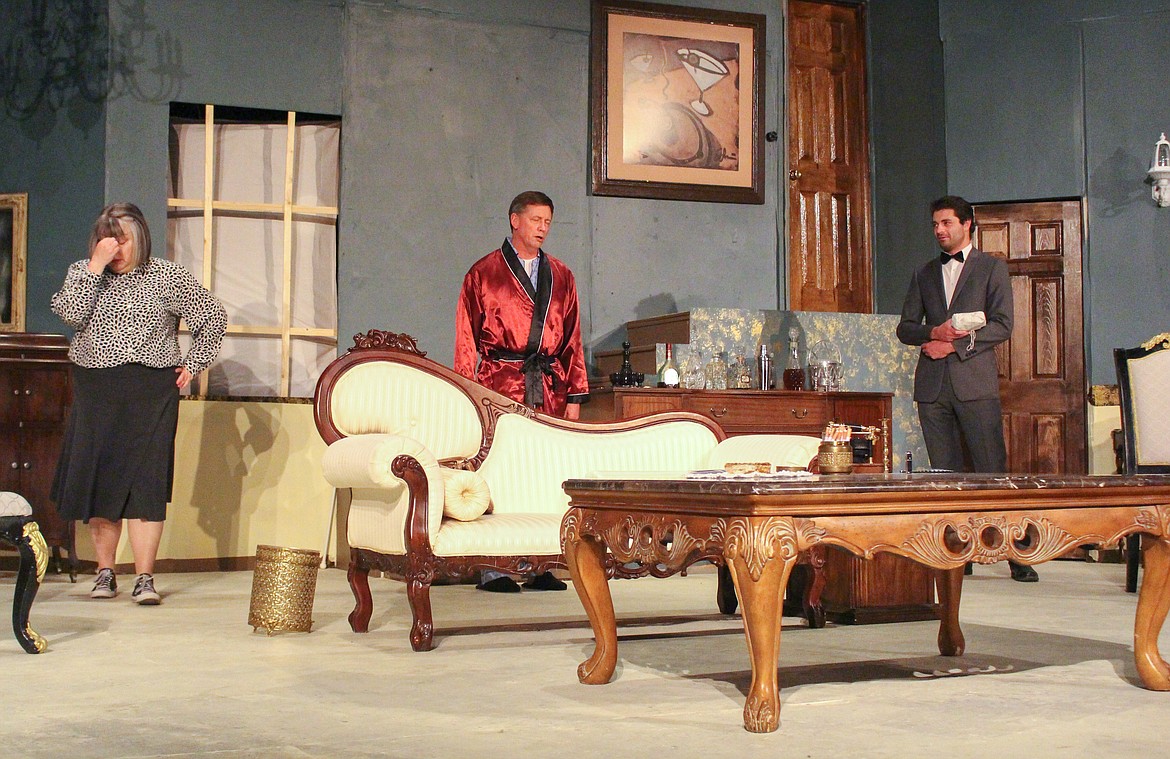 Left to right, Marla Allsopp, Greg Becker and Farmer Roseburg run through a scene on stage in dress rehearsal on Tuesday evening at Masquers Theater in Soap Lake ahead of opening night.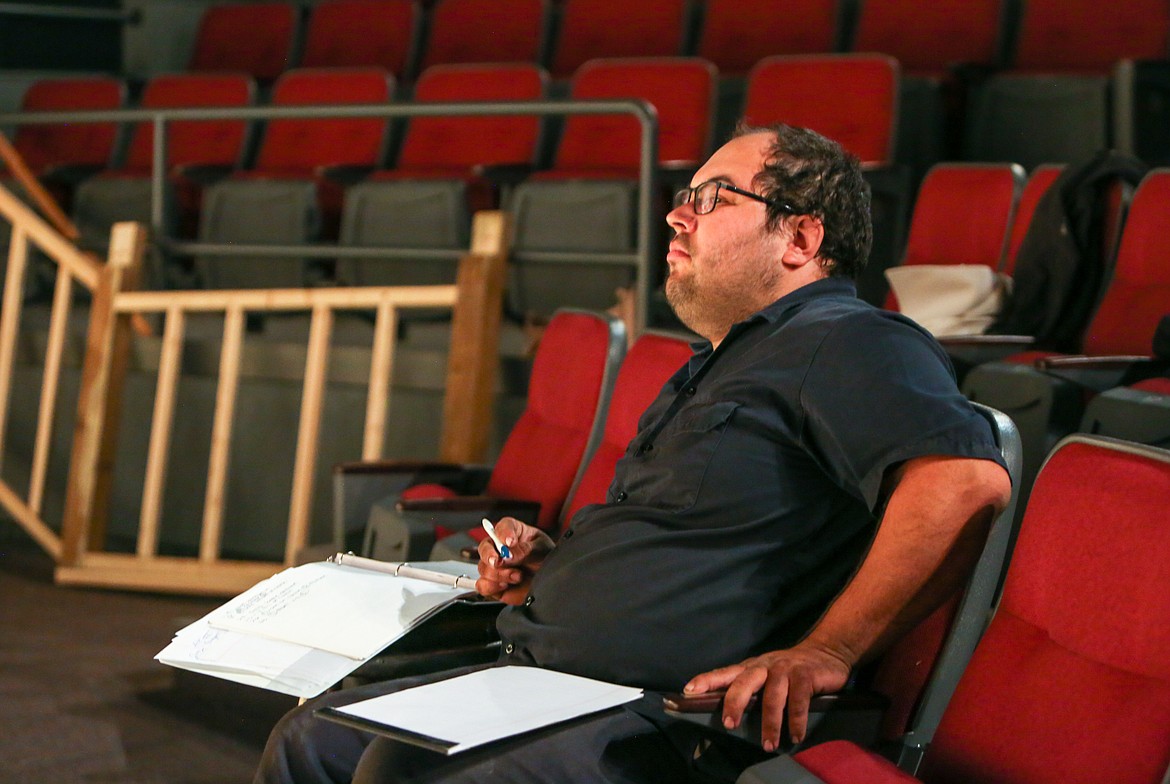 Jesse Huntwork watches the dress rehearsal Tuesday evening at Masquers Theater in Soap Lake. "Present Laughter" is Huntwork's directorial debut.
Previous
Next
by
CASEY MCCARTHY
Staff Writer
|
May 28, 2021 1:00 AM
For the first time in more than a year, the stage is set, the lights are down and opening night is the premier performance of "Present Laughter" at 7:30 p.m. Friday at Masquers Theater in Soap Lake.
Seating for the production will be at 50% capacity for the performance, which will have nine performances through June 13. Reservations can be made by calling the ticket office at 509-246-2611.
Actors and the director of "Present Laughter" discussed the emotions and buildup that have come with the return to the Masquers stage.
Jesse Huntwork is going into his sixth or seventh year working with Masquers and has been involved with at least 10 plays as an actor at the venue. He is making his directorial debut with the play, "Present Laughter," and was named to the theater's Board of Directors earlier this year.
In the 1930s Noel Coward play, the British farce focuses on aging actor Garry Essendine and the people closest to him as they try to keep him from falling apart. After being shut down two weeks into rehearsals last year due to the COVID pandemic, Huntwork said things kicked up about eight weeks ago.
Overall, Huntwork said it's been an emotional return for the Masquers community.
"You don't realize how much you miss something until it's gone," Huntwork said. "I missed our actors, I missed the smell of the theater, I missed the stage lights, I missed freaking out a week before we open, just missed the whole atmosphere."
Huntwork said he has had successes, particularly with some of the new actors making their stage debut this weekend. He said he is proud of the phenomenal job they've done getting ready in the eight weeks of rehearsals.
Farmer Roseburg is one of the first-time performers.
Roseburg said he auditioned last year after a close friend had been adamant about how fun it was performing at the theater. His only other theater experience came in a grade school production of "Oliver Twist."
He is taking on the role of side character, Fred, the butler, in his stage debut.
"It's a small part, but that's kind of what I was looking for when I got into it, just to see if I liked it or not; a lot of small lines and in and out of the play a lot," Roseburg said.
Roseburg said earlier this week he expected he'd be more nervous for his first performance. But, he said he's honestly just excited for Friday night.
Greg Becker will take on his first lead role as Garry Essendine in "Present Laughter" Friday night, in just his third performance on stage. Becker said he got started performing with Masquers a few years ago, after bringing his son to audition for a Christmas production.
"There weren't many people reading for parts, so I decided to go for it and I ended up as a weatherman in a play called, 'Tracking Santa,'" Becker said. "I was invited back for a part in 'You Can't Take it With You,' a small role, maybe 60 or 70 lines."
As a newcomer to stage performance, Becker said the time away from the stage didn't affect him as much as maybe a more seasoned performer.
He said there's certainly a bit more anxiety involved in preparing for a lead role, where he has about 10 times as many lines as he's had in past shows.
"When it's a small role, you go to rehearsal and a lot of times you're on stage for a few minutes, but then you may go back and wait for 20, 30 minutes before it's your turn again," Becker said. "From a lead role, I'm on stage a good 90% of the time."
Becker said memorization was never one of his best skills, but memorizing lines is a little easier for him when he can remember them in context of the story. He said it helps working with great performers alongside him on stage at Masquers. Once he has his lines down, he said he can go from memorizing them to trying to make them "real in the story" on stage.
Carol Boyce has been performing on stage in productions at Masquers Theater for about 10 years, making the drive from Electric City. Boyce said there wasn't a bit of hesitation about the commute again when she got the call about acting in "Present Laughter."
"Driving down is no problem. I'm glad to have a little bit of a smaller part so that I don't have to worry about a ton of memory," Boyce said. "I'm older, so sometimes stuff doesn't quite stay there all the time. But I'm ready, I'm excited, I'm so jacked to be down there."
Boyce will be playing the role of Miss Erickson, Garry Essendine's Swedish maid. She said she was a little surprised with her ability to bring the character to life. While it took a little time to get back into the rhythm of performing after such a long time away from the stage, Boyce said being around everyone on stage helps pull everything together.
Huntwork said he was a little surprised the show was happening after it seemed the county might drop back to Phase 2 once or twice during the rehearsal period. Days before the show premiered, Huntwork said the energy was extremely high.
"The energy is just surreal, it's through the roof," Huntwork said. "I see it on stage, I see their emotions, I feel their emotions and it's a very powerful feeling to have that again. It's something I've missed."
Recent Headlines
---