Big Bend wrestling champions reflect on their success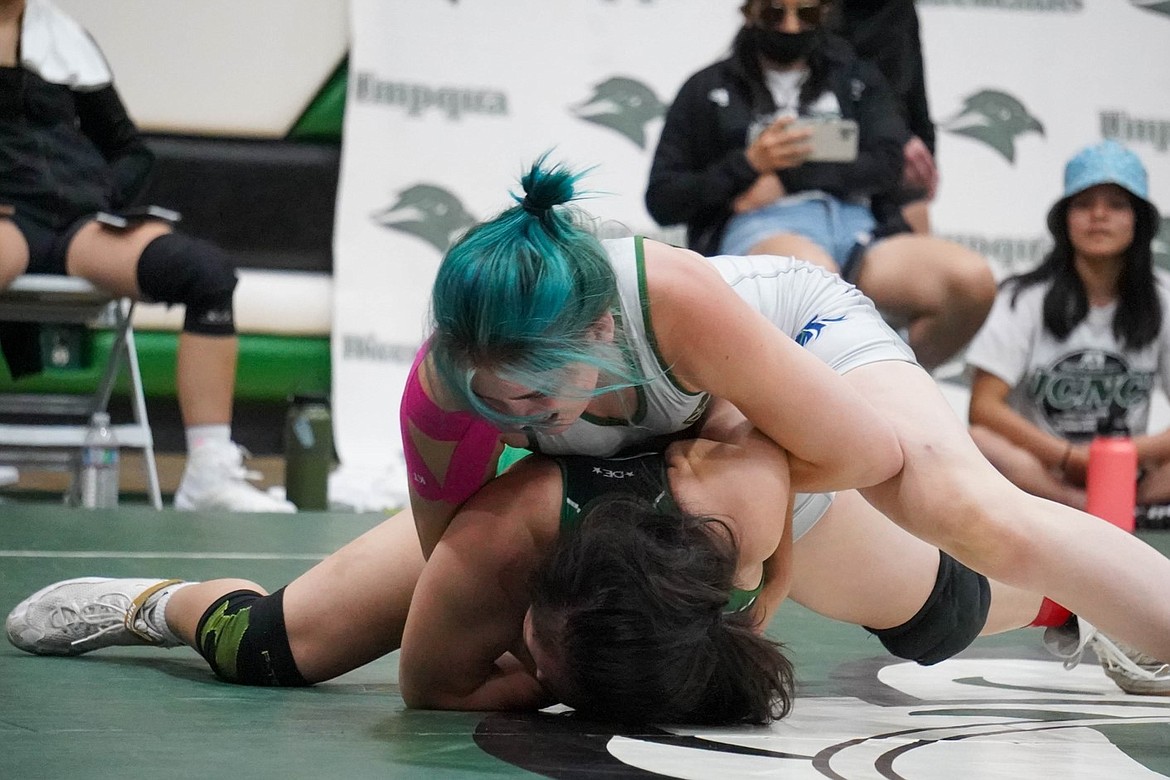 Big Bend's Cora Orton goes for the pin at the Women's Junior College National Championship in Roseburg, Oregon, on Friday, May 14.
Casey McCarthy/Columbia Basin Herald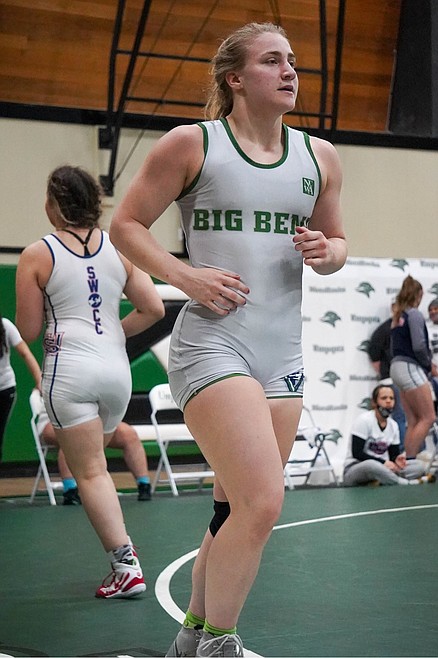 Big Bend's Avery Ackerman steps onto the mat at the Junior College National Championship in Roseburg, Oregon on Friday. May 14.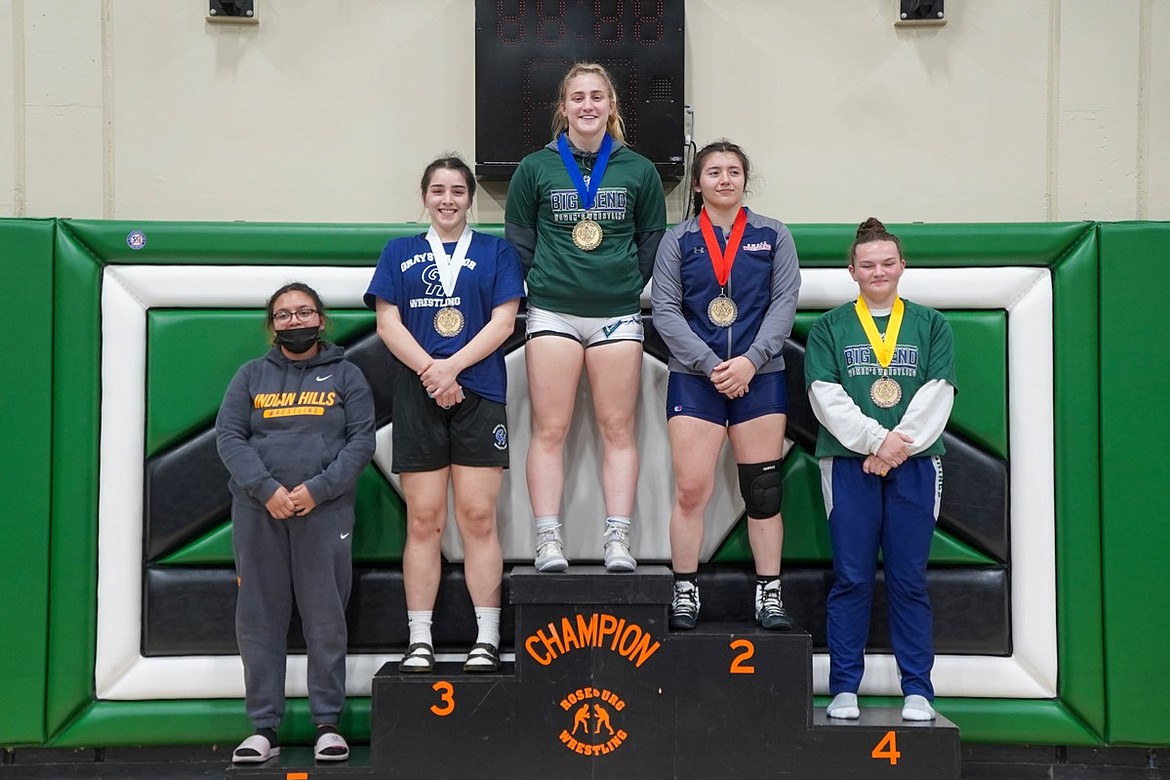 Big Bend's Avery Ackerman stands atop the podium at the Women's Junior College National Championship on Friday, May 14, after taking first in the 170 weight class.
Big Bend Community College's Aliyah Yates holds her hand high after winning a bout at the Women's Junior College National Championship on Friday, May 14.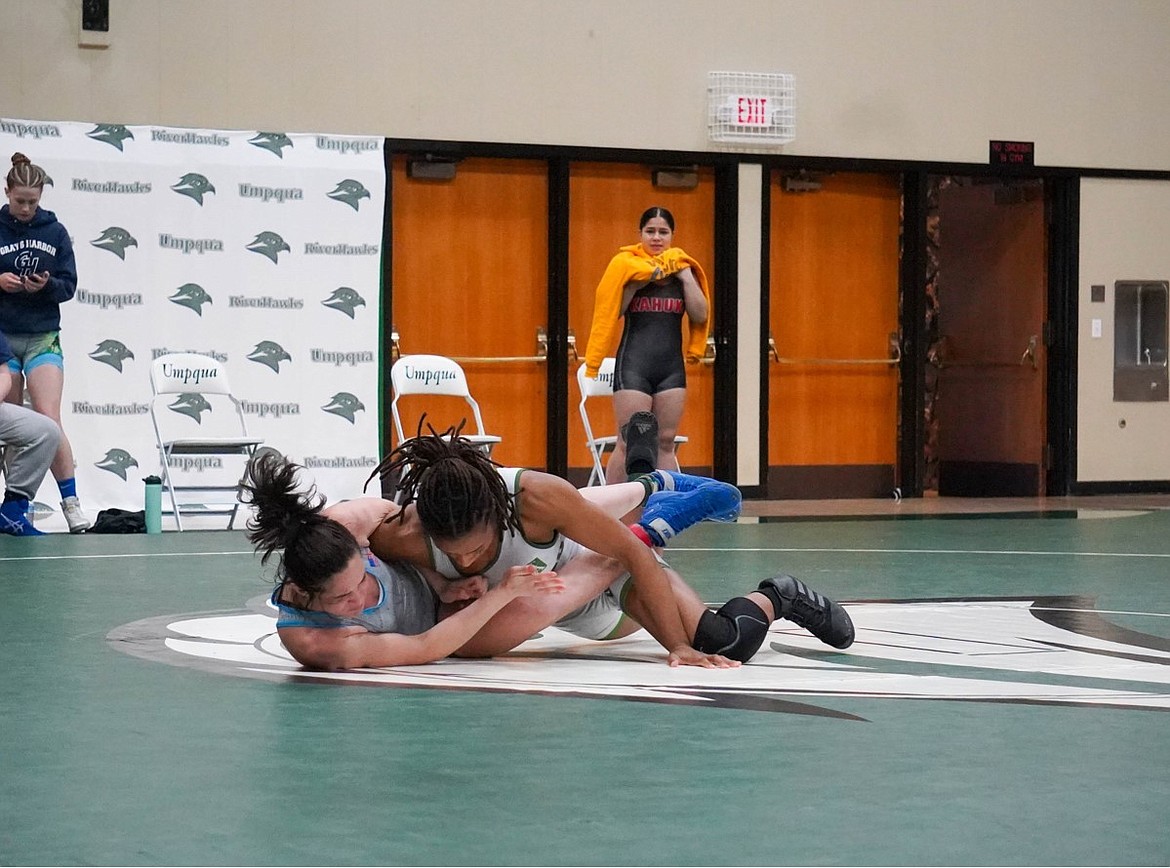 Big Bend's Aliyah Yates looks for the pin against her opponent at the Women's Junior College National Championship on Friday, May 14.
Previous
Next
by
CASEY MCCARTHY
Staff Writer
|
May 25, 2021 1:00 AM
MOSES LAKE — Despite some big obstacles, Big Bend Community College's women's wrestling program capped its season May 14 and 15 with a third-place team finish and three individual national champions at the first-ever Women's Junior College National Championships in Roseburg, Oregon.
A week later, Big Bend wrestlers Aliyah Yates, Avery Ackerman and Cora Orton reflected their success.
Yates, a sophomore, had a strong finish to her second season with the program, taking second at United World Wrestling Junior Nationals a week before taking the national title in the 136 weight class in Oregon.
Yates said taking the championship felt great, especially since it was the first-ever event.
"I feel like I'm paving the way for a lot more girls to do their thing," Yates said.
Now that she has time to reflect, Yates said she never thought she'd make it this far and have such an impact on other people's lives.
"Right before I left, I had a lot of people come up to me and say that I had inspired them in some way, shape or form, so that meant a lot to me," Yates said.
Now that she's dealt with the hurdles presented by the coronavirus, Yates said she feels like she's ready to take on anything. She said this year taught her to remain focused and not let what's happening in the world throw her off her game.
She added it's going to be great interacting with people more as regulations ease up.
"I feel like a lot of opportunities are going to pop up, not just for me, but female wrestlers in general," she said.
Yates added she has been enjoying some relaxing time with her family in California.
Ackerman defeated Southwestern Oregon Community College's Evangelina Toruno in the 170 weight class to take the championship at the JCNC tournament in Oregon in just her second season wrestling.
Ackerman said she tried to not be overconfident heading into the final tournament of the season, but remained focused on the goal at hand.
"I thought 'I just need to get this done, this is it,'" Ackerman said. "I felt like I did way better technically that weekend: more moves, more technique. I was just ready."
Ackerman said it helped having the Junior Nationals tournament in Irving, Texas, to get ready for the Junior College National Championships. She said the team initially didn't expect to have any nationals or finals at all, but kept pushing and working in practice nonetheless.
Once the team found out the season was set, she said it really helped take their work in practice to the next level.
"I felt like we were still pushing hard in practice even when it was an unknown, but then when we knew, we had to kick it into gear and really grind out in practice," Ackerman said.
As she continues her wrestling career, Ackerman said she's focused on improving her technique as she heads into her third season wrestling. She said her body's kind of been "in shock" having time away from wrestling after a busy few weeks, and it's been nice to give it a rest.
Orton said she was pretty disappointed in how she finished at the Junior Nationals tournament in Texas before the JCNC event. Orton said she cares a lot about wrestling and losses can stick with her.
"Going into college nationals, I just started not caring as much, not in a bad way," Orton said. "I chose to come out there and have fun without a lot of anxiety, I tried to push that out and just go out on the mat to have fun."
Orton's approach paid off as she walked away with the first-place finish in the 130 weight class. She said she felt like she made a lot of progress this season, especially in teamwork.
"I've never had such a family-like team before and I felt like Big Bend showed that," Orton said. "Basically, I learned how to be on a team and be part of a team when it comes to wrestling."
She said this season was chaotic not knowing if their matches would be canceled each week, which made things feel "last minute."
For next season, Orton said she wants to work on finding the right mindset consistently. In the past, she said she's had a tendency to psych herself out at times and believes if she can get her mind where she wants it, her game will go to the next level.
Casey McCarthy can be reached via email at cmccarthy@columbiabasinherald.com.
Recent Headlines
---