Two men turn selves in after drive-bys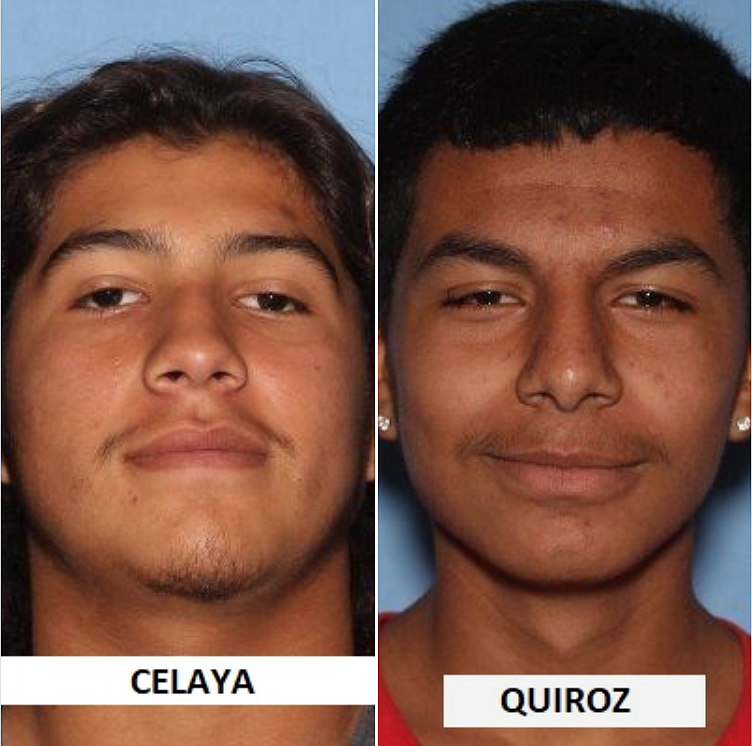 Melchor Celaya, left, and Rodrigo Quiroz on the right.
Grant County Sheriff's Office/courtesy photo
by
CHERYL SCHWEIZER
Staff Writer
|
May 21, 2021 1:00 AM
MATTAWA — Two of three men — wanted by the Grant County Sheriff's Office in two drive-by shootings and a car theft Thursday morning in Mattawa and Grant County — turned themselves in Thursday evening.
Interim Mattawa Police Chief Mike Williams said Rodrigo Quiroz, 19, of Mattawa, was arrested for drive-by shooting and possession of a stolen vehicle, and Melchor Celaya, 19, of Mattawa, was arrested for possession of a stolen vehicle. Both turned themselves in at 5:15 p.m. at Mattawa City Hall, Williams said.
Celaya was said to be Mattawa Mayor Maggie Celaya's nephew.
Williams said both men were "familiar to the police," which was the "fairest" way to characterize the situation. A third suspect, a Hispanic man, is still at large, but police were not releasing information about him.
The stolen car was reported at about 5:40 a.m., Williams said. The two shootings were reported at about 7 a.m. The first shooting was in the unincorporated area of Grant County, and the second shooting was in the city of Mattawa, Williams said, at the home of the person who was the target in the first shooting. No injuries were reported and the victim's identification wasn't provided.
"We're not far enough in (the investigation) to say whether it was or was not gang-related," Williams said.
Ken Jones, field operations chief deputy for the Grant County Sheriff's Office, said the stolen car was found at state Route 243 and Road 24 Southwest, near Mattawa. The suspects fled on foot and were armed and considered dangerous while authorities searched throughout the day.
"We've been hunting them all day," Williams said Thursday evening.
Wahluke School District superintendent Andy Harlow said the MPD notified district officials of the search about the same time a social media alert was issued.
The search was in the area of Road 24 Southwest to Road 22.5 Southwest, about four miles from the school district campus. At the recommendation of law enforcement, the schools didn't go into lockdown, Harlow said.
"We probably talked to law enforcement every hour" during the school day, Harlow said.
Anyone with information on the shootings can call 509-762-1160.
---